HERE'S ONE FOR YOU: who is the only player to take the field opposite Diego Maradona in Buenos Aires, play in the Nou Camp the day Gary Lineker scored a brace on his Barcelona debut and feature in sides from Belgium and Germany all the way to Canada and Japan?
Quietly spoken today, the playing career of St Patrick's Athletic manager Liam Buckley reads like a fast-paced novel, darting from location to location, league to league sprawling across continents and countries, crossing paths with the world's greats and taking the field with them as equals too.
Just read the almost prophetic match report when a League of Ireland XI played Argentina in May 1980:
A 12th-minute goal by the man acclaimed as a new Pele, Diego Maradona, was all world champions Argentina could manage against a plucky League of Ireland side in the River Plate stadium in Buenos Aires on Wednesday.
Alan Patterson in the Irish goal played outstandingly and made two superb saves before Maradona, for whom Barcelona are reported to be ready to pay six million dollars, cracked in the winner.
The local side faded after the interval and the Irish began to put together some fine moves with Leo Flanagan and Liam Buckley in sprightly mood."
It was four years later that Buckley received his first call up to the senior international team, managed by Eoin Hand.
Replacing the immovable object that was 1984 Frank Stapleton, Buckley took to the field in Dalymount Park against a Poland side which featured Zbigniew Boniek, winner of the Ballon d'Or just two years previous.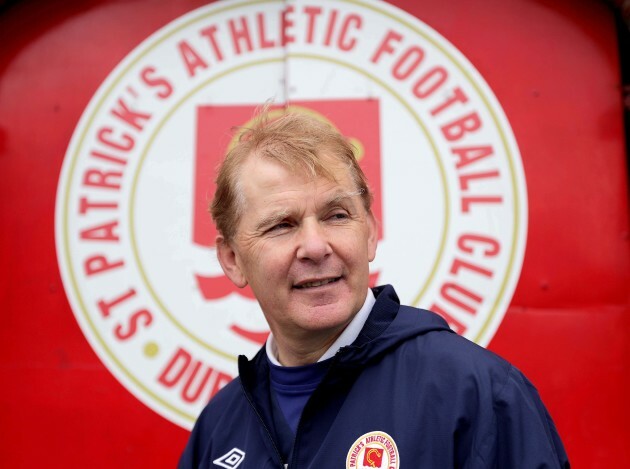 Morgan Treacy / INPHO St Pat's boss Liam Buckley. Morgan Treacy / INPHO / INPHO
He recalls the anticipation at a possible first cap in the green and white jersey as a 24-year-old who had just left Ireland to play in mainland Europe a few months earlier.
"It was very prestigious for me to get into the national team," he said speaking to The42 this week.
"For me personally it is the greatest accolade you can get in football to play for your country.
"I was just hoping to get some sort of a game against Poland and then I came in late on. I remember I had a chance early on. Liam Brady fizzed the ball into me and I miscontrolled it, and, he laughs "he let me know about it."
Buckley at the time had just completed a summer move to Belgium, scoring three goals in his first four games for KSV Waregem in the Belgian First Division.
He had won the Premier Division the year previous with Shamrock Rovers, who would go on to win three more in a historic four-in-a-row from 1983 to 1986, striking up a devastating partnership with Alan Campbell, who finished top goalscorer that season with 24.
INPHO "Liam Brady fizzed the ball into me and I miscontrolled it... he let me know about it." INPHO
Three of that Rovers side got the call from Eoin Hand to feature against Poland due to a largely depleted national side devoid of its Liverpool core, as the reigning European champions went on a club tour, bringing with them Mark Lawrenson, Jim Beglin and Ronnie Whelan.
Buckley and Shamrock Rovers team-mates Pat Byrne and Jack McDonagh featured in the squad to face Poland, alongside a 25-year-old Mick McCarthy in defence, making his international debut.
"I remember I walked into the dressing room and knew very few of the players personally. Of course we knew them all from seeing them on TV every week.
"But I remember Liam Brady walking in and shaking hands with everybody, and I was thinking to myself 'jesus he doesn't know me'", says Buckley.
"But he came up to me and shook my hand and said 'how are you Liam, I see Rovers are doing well and that you're scoring goals.'"
"He really had done his homework on the whole squad, which was really nice on his part and made it that bit easier for me and made me feel a part of the group.
"We drew the game, I think I had one or two other chances, one that the Polish goalkeeper did really well to save down low in the bottom corner. But overall I just remember me and my mother and father being really proud.
"And then equally from a league perspective as well because it was nice for the League of Ireland to get recognition bearing in mind you had players like Liam Brady playing at Juventus in the same team."
A few months later a friendly in aid of Stewart's Hospital was arranged as Mexico went on a world tour in preparation for hosting the 1986 World Cup. Ireland and Mexico had never played one another before and Buckley was drafted in, earning his second and, as it would prove, final cap.
The starting 11 featured some familiar names to the 24-year-old striker: Mick McCarthy, Jim Beglin, Tony Grealish, Kevin Moran, Chris Hughton.
Billy Stickland / INPHO Buckley featured alongside debutant Mick McCarthy against Poland 33 years ago. Billy Stickland / INPHO / INPHO
"It was a phenomenal experience because you are watching these guys on TV every week," Buckley recalls.
"When you train with them they are just footballers, like you are. When you do play alongside these types of international players it does help you because you want to get up to their level quickly from a technical point of view.
"It was a very humbling experience to come from our league and represent your country. Players like Pat Byrne were great, Pat was a fantastic footballer and Jack McDonagh as well.
"We had a great team and a great group at Rovers at the time – Jacko went on to have a career on the continent and Pat had a great career in England and Scotland.
"They would be some of my fondest memories in football, primarily because when you're representing your country it's the highest honour you can have. I've had some good highs since, like winning the league and the FAI Cup with Pat's and having played in the Nou Camp.
"But I remember my parents being at the match against Poland and they were all hoping that I would get a game, so when I did it was just a fantastic experience."
Buckley was the hot topic of Irish domestic football at the time, echoing a similar situation to Cork City's Sean Maguire, a player many feel warranted a place in Martin O'Neill's squad for Friday's friendly against Mexico.
A striker with a League of Ireland background who did earn his right to wear the jersey, Buckley admits Maguire deserves a call up from O'Neill.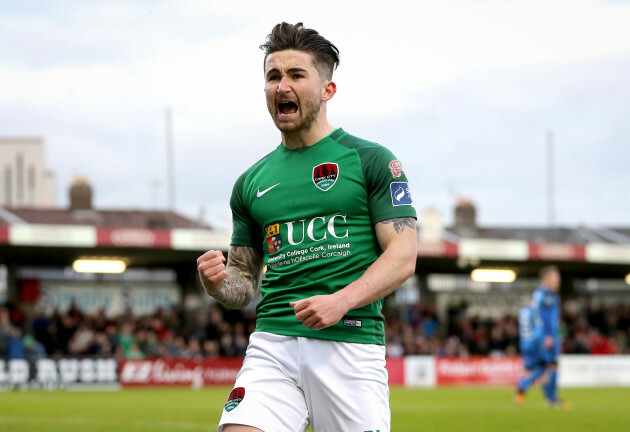 Ryan Byrne / INPHO Buckley believes Sean Maguire deserves a place in the national squad. Ryan Byrne / INPHO / INPHO
"I'm not sure how common it was back then (for LOI players to be called into the national squad). I think Seanie Maguire has done particularly well here now, goals are no bigger at international level – the ball is no bigger, the pitch is no bigger. He scores goals wherever he goes and he is a top player.
"He might be off during the mid-season break and we wish him well. The more representation we get from this league the better. Going back to those days you didn't have LOI players that often but you did sometimes, and it gives life to our league.
"That debate (around LOI players being picked for the national team) will probably go on into the future as well. The resources that you have in England are a multitude of what they are here, but we have had fantastic players in this league over the years.
"It is what it is. We have our place in football from a league perspective and it is standalone from where I'm at. The way I look at it, the league is what we have.
"It's a professional league in our country – we can make it better and I'd love it to be better and have more resources. But that will only happen over time."
Reading through newspaper clippings from the period, it seemed that Buckley was unfortunate not to receive another call up. Even then the tone of the media refleted a constant debate surrounding the standard of the domestic game.
One Irish Times article following the Mexico game in 1984 read:
There was no denying the quality of Buckley's contribution which, taken in conjunction with those of his Shamrock Rovers clubmates Byrne and McDonagh, delivered a telling retort to those who denigrate the standard of the domestic game here."
Indeed the last player to feature in a competitive fixture for the national side while playing in the League of Ireland was Buckley's former team-mate Pat Byrne – over 30 years ago against Denmark in a World Cup qualifer in 1985.
A man with first hand experience of that debate, perhaps Buckley is right when he says the fight to feature more League of Ireland players within the national side will continue. Now and forever.
The42 is on Instagram! Tap the button below on your phone to follow us!