IRELAND WOMEN FACE a season of change after naming 12 uncapped players in their 30-strong squad for the upcoming Six Nations.
Former captain Fiona Coghlan, centres Lynne Cantwell and Grace Davitt, and back rows Siobhan Fleming and Laura Guest have retired from international duty, meaning a major loss of experience.
That said, new head coach Tom Tierney can rely on the quality of players such as Sophie Spence, Niamh Briggs, Nora Stapleton, Gillian Bourke, Marie-Louise Reilly and Tania Rosser, all of whom were instrumental in last year's fourth-place finish at the World Cup.
Tierney and IRFU Director of Women's Rugby Anthony Eddy have included 12 new faces in the Six Nations group, with Nicole Cronin, Katie Fitzhenry, Sene Naoupu [wife of Connacht number eight George], Hannah Tyrrell and Megan Williams all having developed with the Ireland Sevens team.
Leinster's Jeamie Deacon, Emma Dunne, Katie Norris, Fiona O'Brien and Elise O'Byrne-White, as well as Exiles pair Jade Wong and Sarah Mimnagh are the other uncapped players.
It's a very exciting time for Women's Rugby in Ireland," said Eddy. "We have had a number of camps over the past few weeks and have had to make some tough choices reducing the squad to 30 players."
"It's a new dawn for the women's team with a new coaching set-up, including Head Coach, Tom Tierney and 12 uncapped players named in the squad. That we can bring in this new talent is testament to the work done previously."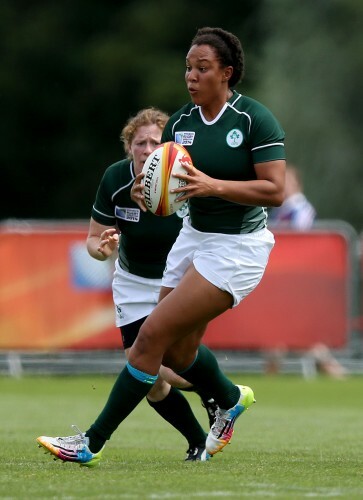 Dan Sheridan / INPHO Belvo's Sophie Spence is part of the Ireland group. Dan Sheridan / INPHO / INPHO
"We are all looking forward to the first game and kicking off a new year for the Ireland Women's Team."
Tierney's side face Wales in a Six Nations warm-up match in Ashbourne RFC at 1pm this coming Sunday, before opening their campaign away to Italy on 6 February in Stadio Mario Lodigiani.
Tierney and Eddy are expected to name a new captain following Sunday's meeting with Wales.
30-woman Ireland squad for the Six Nations:
Gillian Bourke (Olympico de Pozzuol/ Selección de Madrid)
Niamh Briggs (UL Bohs/Munster)
Kerrie-Ann Craddock (Saracens/Exile)
Nicole Cronin (Shannon RFC/ Munster)*
Jeamie Deacon (Blackrock/Leinster)*
Emma Dunne (Old Belvedere /Leinster)*
Ailis Egan (Old Belvedere /Leinster)
Katie Fitzhenry (Blackrock/Sevens)*
Paula Fitzpatrick (St Marys/Leinster)
Orla Fitzsimons (St Marys/Leinster)
Fiona Hayes (UL Bohs/Munster)
Alison Miller (Portlaoise/Connacht)
Sarah Mimnagh (Wasps/Exile)*
Claire Molloy (Bristol/Connacht)
Larissa Muldoon (Skewen RFC)
Jenny Murphy (Old Belvedere/Leinster)
Sene Naoupu (Galwegians/Sevens)*
Katie Norris (Blackrock/Leinster)*
Heather O'Brien (Highfield/Munster)
Fiona O'Brien (Old Belvedere/Leinster)*
Elise O'Byrne-White (Old Belvedere/Leinster)*
Ruth O'Reilly (Galwegians/Connacht)
Marie-Louise Reilly (Old Belvedere/Leinster)
Tania Rosser (Blackrock/Leinster)
Jackie Shiels (Richmond/Exile)
Sophie Spence (Old Belvedere/Leinster)
Nora Stapleton (Old Belvedere/Leinster)
Hannah Tyrrell (Old Belvedere/Sevens) *
Megan Williams (St Marys/Exile) *
Jade Wong (Richmond/Exiles)** denotes uncapped player at this level.