Murray Kinsella reports from Sydney
THE EXPECTATION HAD been that the furore around Gerbrandt Grobler this season would result in the IRFU stating that they would never again sign-off on one of the provinces bringing in a player with a doping history.
However, IRFU performance director David Nucifora says the union will look at the issue on a "case-by-case basis" moving forward.
South African lock Grobler joined Munster last summer but suffered an ankle injury early on in his time with the province.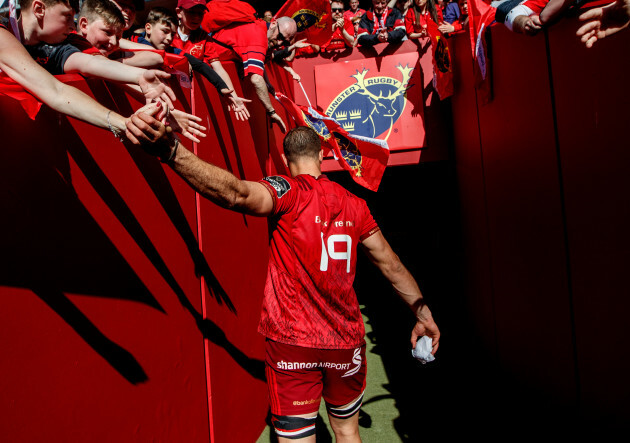 James Crombie / INPHO Grobler became a popular figure with Munster fans. James Crombie / INPHO / INPHO
The issue of his previous two-year doping ban for using the anabolic steroid drostanolone was only flagged by the media when the 26-year-old recovered full fitness and came into contention for his competitive debut in February.
Following the debate over whether Munster should have been allowed to sign Grobler, IRFU CEO Philip Browne indicated that the union would "consider our policies" and "consider how we deal with a similar set of circumstances in the future."
That came after an IRFU report on anti-doping in 2017 had quoted Browne as saying the union has a "zero tolerance policy to cheating within rugby."
Speaking in Sydney this week, IRFU performance director David Nucifora – who signed off on Munster bringing in Grobler – was asked if the union's policies had been updated and he indicated that there will be no blanket ban on players who have doped in the past.
"We'd look at it and we'd look at the individual case of what's happened," said Nucifora.
"I think it wouldn't be smart to put a stamp and say 'anyone who has had a doping conviction cannot play rugby here.' That wouldn't make any sense whatsoever, so I think moving forward you continue to look at it on a case-by-case basis.
"That's the only way you can deal with those things because they're all different. A doping offence – yes, that's the title – but you look into the doping offence and there are myriad of different things that can lead to a doping offence.
"None of them are good, obviously, but they all have their own set of circumstances. Each one of those would need to be examined."
Grobler left Munster this summer, having signed for England Premiership side Gloucester, and Nucifora indicated his belief that the episode was not harmful to the reputation of rugby in Ireland.
"I don't think it damaged the perception of rugby in Ireland," said Nucifora. "We are one of the leading countries in how we deal with doping and education around it. I don't think it damaged it at all.
Presseye / INPHO Carlo del Fava, who had served a two-year doping ban, played for Ulster from 2007 to 2009. Presseye / INPHO / INPHO
"Rugby itself and Irish rugby, particularly, put a lot of time and effort into education around it, so there's other sides to it too.
"As a young man, he made a mistake at the time. Do we rub him out and he never plays again? I think when you look into the circumstances and weigh up the individual, then you make a decision.
Exclusive Six
Nations Analysis
Get Murray Kinsella's exclusive analysis of Ireland's Six Nations campaign this spring
Become a Member
"Not everyone will agree with it, obviously, not everyone did, but there's also room to say 'some people do deserve a second shot.'"
Asked to shed further light on "the circumstances" that were relevant to the Grobler case, Nucifora indicated that the player's desire to recover from injuries, rather than gain any muscle mass, had been his motivation for using a banned substance.
"You've seen the size of him, I don't think it was size," said Nucifora. "He's a giant of a man.
"I don't really want to go into it but it was more to do with injury and contracts and scenarios around that. The decision was made by the player, again, so he's moved on to Gloucester and he'll continue his rugby career over there.
"I think it just got overwhelming to the individual, to be honest, the reaction. He just made the decision that 'I want to go'. It wasn't really an issue for us after that."
The42 is on Instagram! Tap the button below on your phone to follow us!