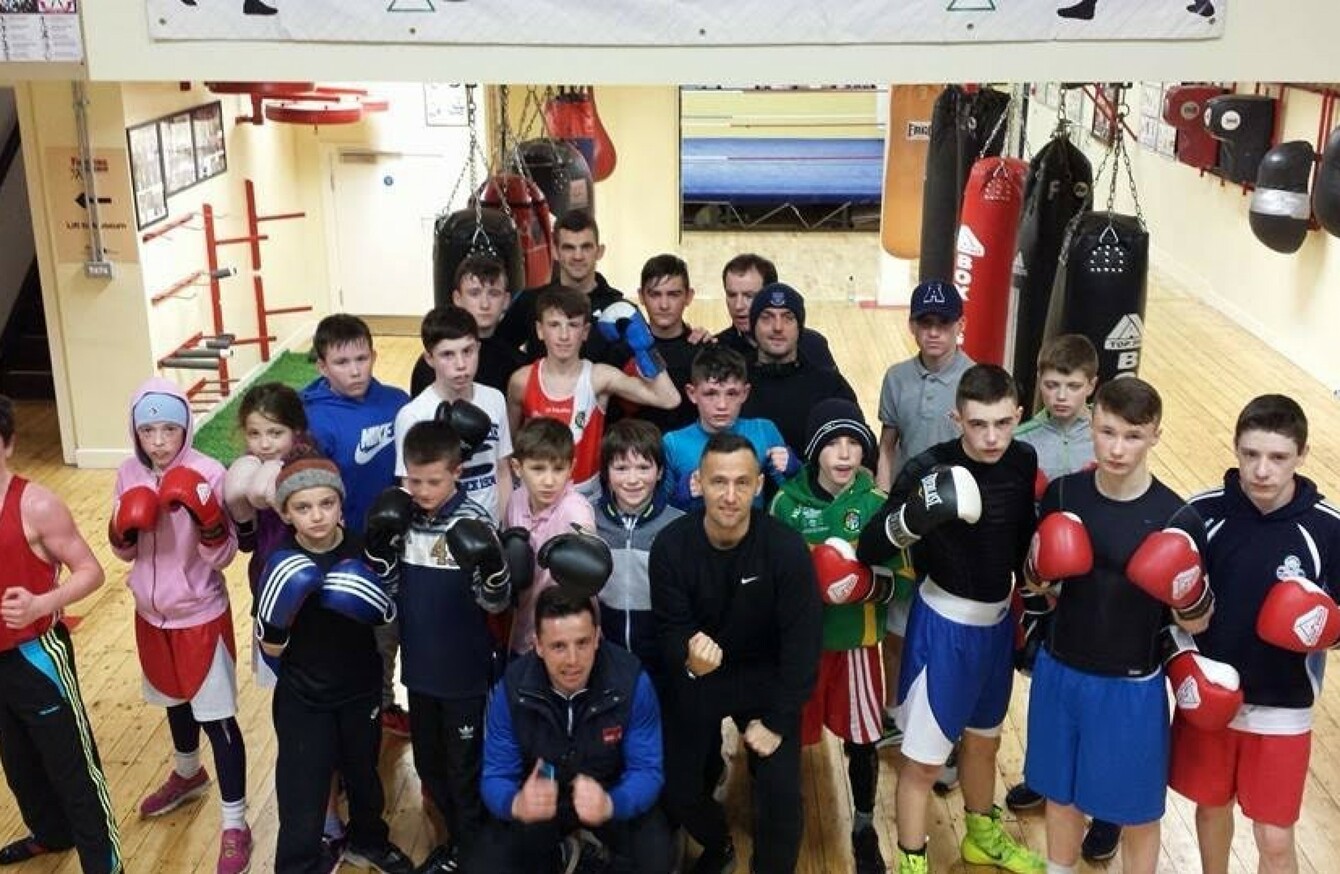 The coaches pose with some of the young fighters of Crumlin Boxing Club.
The coaches pose with some of the young fighters of Crumlin Boxing Club.
WHAT DO CONOR McGregor, Katie Taylor and Daniel Day-Lewis have in common?
The answer is that all three have spent time training in Crumlin Boxing club.
The facility is one of the oldest and most prestigious boxing clubs in the country.
According to its website, it was set up in the 1930s when a tobacco company donated the premises, and hence, the 'Imperial Tobacco Boxing Club' was born.
It eventually came to be known simply as Crumlin Boxing Club, and despite its impressive legacy, the premises underwent a turbulent few years in the 1980s that meant it was derelict by the time Phil Sutcliffe Senior (Head Coach), Paddy Whelan (Crumlin's first President) and Gary Griffin came to its rescue in 1992.
Spearheaded by Sutcliffe, an accomplished fighter and two-time Olympian in his day, the club was rebuilt into a much more impressive facility, before again being refurbished last year after receiving funding from Dublin County Council.
In addition, in spite of its recent troubles, the club has still managed to thrive in terms of its ability to pave the way for a number of outstanding boxers. Since 1991, it has produced over 30 champions at local and national level. Moreover, last year, this excellent track record was acknowledged, as Crumlin was named 'Best Club in Ireland' by the IABA, while its coaches were also honoured for their roles in its rejuvenation.
This acclaim is hardly a surprise, as it includes a number of exceptionally talented current elite fighters, including Philip Sutcliffe Junior, who is a former Irish senior amateur champion and has been a pro since 2013, recently fighting (and unfortunately suffering his first career defeat against) Anthony Yigit, the number-two-ranked boxer in Europe. Other extremely promising prospects include 20-year-old Aidan Doyle Kelly (two-time Irish champion), 16-year-old Courtney Daily (six-time Irish champion) and Cian Doyle (three-time Irish champion), who is also 16.
Adding to its legacy is the number of notable athletes that the club counts as former members. Willie 'Big Bang' Casey, for instance, is an ex-EBU (European) Super Bantamweight champion who fought the legendary Guillermo Rigondeaux for the WBA World Superweight Bantamweight title in 2011.
A young Katie Taylor also spent some time in the club, but probably its most famous former member is an individual who ultimately went on to make a name for himself outside of the boxing world.
A young Conor McGregor was a member between the ages of 11 and 17. And by all accounts, the then-largely-unknown Crumlin native was a highly promising fighter. Over the course of roughly 40 bouts in which he competed, he won a Dublin Novice Championship. Damien Murphy, the development executive of the club, tells The42 that McGregor had "the potential" to make a serious impact in the sport if he chose to pursue it.
Considered a diligent trainer, McGregor possessed a particularly strong left hook, which has gone on to serve him well in his alternate career path. And while the Irish MMA superstar has long since left the boxing world behind, both his mother and sister still often come to Crumlin for keep-fit classes.
In addition, Murphy believes McGregor's willingness to experiment with a number of different sports ultimately was highly beneficial in the Dubliner's quest for superstardom.
I know friends of his from school and he was quiet enough — he was very dedicated to all the sports he was involved in. When he was involved in the club with us, he was also playing football for Lourdes Celtic. Then he began to get involved with the likes of kickboxing, MMA, Brazilian jiu-jitsu with John Kavanagh.
"I was also a member of SBG myself back in 2011. I studied Brazilian jiu-jitsu with a friend of mine. Conor always had a varied interest in many sports, and he was very good at managing that and his real passion in life has always been sport.
The guys who are best in MMA are the guys who are successful at a bit of everything because they're the ones who can best adapt to the different fighters they're up against with varying degrees of skills."
Yet despite McGregor's boxing prowess, Murphy believes the much-hyped prospect of an encounter with Floyd Mayweather will ultimately never come to fruition.
"I suppose it's unlikely. It's more for the showbiz that goes with Mayweather and McGregor to some degree. That's how he has developed such a following, for the type of personality he is.
"But the club is very proud of what he's achieved. It helps us in terms of our profile, with him having been a former member."
McGregor is not the only individual who spent a considerable degree of time in the gym despite being more well known for activities outside of boxing.
See Sport
Differently
Get closer to the stories that matter with exclusive analysis, insight and debate in The42 Membership
Become a Member
As he prepared for a starring role in the 1997 film The Boxer, acclaimed Hollywood actor Daniel Day-Lewis received training from the legendary Barry McGuigan in Crumlin.
However, despite all the progress of recent years, as acknowledged with coaches Phil Sutcliffe Senior and Paddy Brady having just received lifetime achievement awards from the Lord Mayor of Dublin Críona Ní Dhálaigh, the desire for further progress remains.
The club is consequently aiming to raise funds through sponsorship so that its top fighters can compete, not just in Ireland, but all over the world, thereby getting opportunities to further enhance its reputation.
The club is very successful at Irish level, but what Phil wants for his legacy is to have success at European, World and Olympic level," Murphy adds. "Success would be getting more fighters on the IABA's elite programme and high-performance programme. For them to go on and have further success would be fantastic and would be representative of what the club has done for boxing in this country."
Such success would undoubtedly help the club to flourish and ensure it continues to perform a vital role within the community — which has been affected by gangland crime in recent times — for years to come.
"At the moment, we would generally provide children in the community of the ages of six and up the chance to learn how to box," Murphy explains.
Essentially, Crumlin is a working-class area, so some of the children would be vulnerable to the pitfalls of drugs and crime. Our initial job is to save as many of them as possible by teaching them how to box and other social skills — self-respect and to believe in themselves.
"We'd also teach them the importance of eating healthy and education, because this is where they're going to be really successful in life. But what they learn from boxing, they can apply to their own lives. And so essentially, they get out what they put in."
The42 is on Snapchat! Tap the button below on your phone to add!