FUNDING FOR A number of Ireland's London Olympians has been cut this year, figures released today by the Irish Sports Council show.
In total €1.6 million will be provided in direct assistance to the country's top athletes, a slight decrease on the €1.7 million issued under the carding scheme in 2013.
At the top end Ciarán Ó Lionáird has been cut from €20,000 to €12,000 despite winning 3000m bronze at the European Indoor Championships last year.
"Despite a Euro Indoor medal and fastest indoor 1500 in Europe in 2013, I've been cut by 40pc in @irishathletics funding," a frustrated Ó Lionáird tweeted this afternoon.
"No words really.
"You wonder why kids in Ireland don't want to do athletics? Medal and you're cut. What does that tell young dreamers? Terrible message."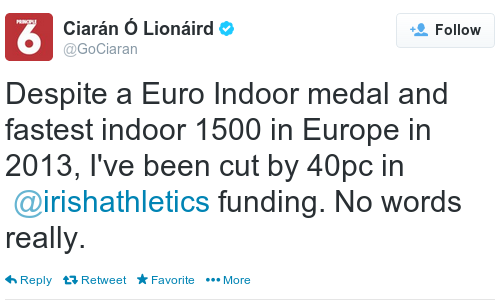 Ciarán Ó Lionáird Ciarán Ó Lionáird
Ciarán Ó Lionáird Ciarán Ó Lionáird
Ireland's other medallist in Gothenburg, Derval O'Rourke, will receive €12,000 again this year. O'Rourke finished fourth in the women's 60m hurdles but was upgraded to bronze in the official records following a failed doping test by Turkey's Nevin Yanit.
Olympic boxer Darren O'Neill has also been cut from €20,000 to €12,000 while his London team-mate Adam Nolan has been dropped entirely having received a €20,000 "world class" grant 12 months ago.
In total 85 athletes from 15 sports will receive funding under the scheme this year, 18 of whom — 9 Olympic and 9 Paralympic — are on "podium" level grants of €40,000.
World boxing silver medallist Jason Quigley and top triathlete Aileen Reid are among those who have been bumped up to the top tier.
This year's scheme marks the first time that Athletics Ireland, Swim Ireland and the Irish Sailing Association have taken direct control of the carding process, one of the changes recommended following a review in 2012.
Kevin Ankrom, high performance director at Athletics Ireland, said: "The selection panel is confident that we have delivered fair and equitable carding selections with robust criteria which will support targeted athletes in order to deliver more medals on the world stage over the next three years."
Ankrom also pointed out that athletes receive other services on top of their carding including sports science and medical assistance, travel support, injury treatment and rehabilitation, and coach support.
"We have in the past and will continue to be in the future very supportive of athletes who are injured," he added. "In 2013 we worked with leading carded athletes to ensure they gained access to world leading consultants and paid in full for their surgery and travel."