WHEN AISLING FARRELL stepped into the gym for the first time last year, her primary motivation was to feel 'a bit healthier and confident in myself' ahead of a holiday to Thailand.
But what began as an attempt to increase her exercise intake evolved into a journey into the world of bodybuilding.
"It was a bit of a gradual thing" she explains to The42. "I didn't really go to the gym much in college and it was my last year just before I went on a holiday. I started going to the gym but I didn't know what I was at so I approached one of the guys in the gym and got some advice."
The man she approached was former bodybuilding competitor Stuart Ward of Body Health and Fitness in Sandyford. He introduced her to the art of bodybuilding and the Longford woman, who knew very little about the sport beforehand, is grateful for his influence.
"I first met him in UCD and he started training me. The more I trained with him, the more I fell in love with it. He was the main motivator really. He got me really interested in it and pushed me to better myself all the time and I just loved it."
She adds:
"I would credit everything I've seen so far in bodybuilding to him. I couldn't recommend him any higher to anyone who is looking to getting involved in bodybuilding and have a healthier outlook on life and fitness."
The 26-year-old is a qualified doctor who specialises in general medicine. Her profession requires her to work shifts that last up to 10 hours and with no room to fit in team sport commitments around that schedule, the flexibility involved in bodybuilding offered her an outlet.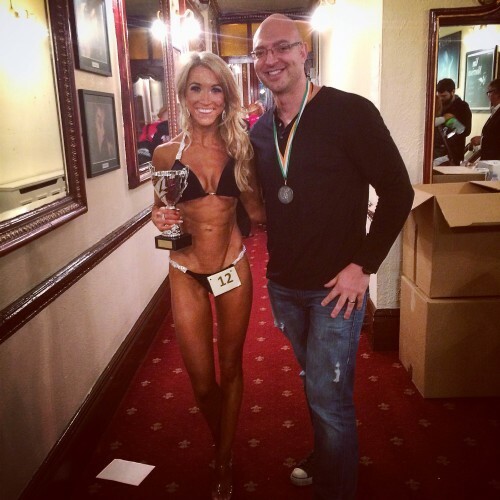 "What I like about the bodybuilding as a sport is that with my job sometimes you could be in work until eight or nine o'clock, or some mornings you might start really early. So for team sports it was always quite difficult for me to get involved because you could never commit. With bodybuilding it's great because you know if you're going to be working late you can go in early in the morning and you're just accountable to yourself."
She adds:
"It's a great sport in that it's open to all age groups so there would be younger girls than me competing but there's also categories for people over 40 so there's a huge age range."
Initial conversations about pursuing bodybuilding sparked intrigue in Farrell, and after attending an event which was organised by the Republic of Ireland Bodybuilding Federation (RIBBF) in April of this year, her interest was sealed.
"I went to the RIBBF Spring Classic and I absolutely loved it and Stuart asked me what I thought about competing and I said yes. We started training in June of this year for my first season which I'm in the middle of at the moment. It was something I never ever considered doing. I always admired girls that would do it but it was never something I saw myself doing. "
Preparation for bodybuilding competitions requires specific training programmes. Her regime typically involves weight sessions five to six times a week with an injection of cardio as the competition approaches. The transition into bodybuilding has also revolutionised her diet. Before, it was cappuccinos and danish pastries for breakfast but those processed foods have since been replaced by oats, sweet potatoes, lean steak, almonds and eggs along with several other natural foods.  The only aspect of the adjustment that she didn't anticipate was the quantity of eating involved.
"I eat an incredible amount of food and that was one thing I didn't realise about bodybuilding – the amount of food that you actually have to eat, it's huge. You're trying to build muscle and training is so heavy that you need to be eating a really good diet. I eat quite healthily anyway even when I'm not in competition."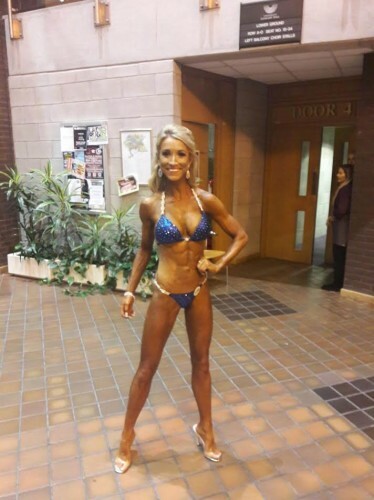 Tanning the skin and learning the various poses are two key characteristics that distinguish bodybuilding from every other activity. Adjusting to the dark colour of the tan was enjoyable for Farrell and she relies on a coach to help her with her posing.
I have an amazing posing coach in Jennie Mayberry. She is incredible. The posing is quite difficult to master and it takes quite a lot of confidence to do it. But Jennie was amazing, she was so full of advice and tips for me. Like everything, there's always room for improvement.
Farrell's bodybuilding exploits have the full support of her family as well and they even adopt the role of a coach somewhat in the days leading up to competition.
"They have been incredibly supportive not just in going to the competitions but also in helping me out with a bit of extra cardio, so they would go out for walks with me or my brother or my boyfriend would come with me to the gym. If we're cooking at home, they would make sure that we're making something that I'm ok to eat so they've been great.
"I have to say, I'm really enjoying it. As I say, I'm only a beginner and new to the whole thing but I have made some amazing friends so far, some are competing for years and others are like myself and are starting off in their first competitive year."
Although still in the embryonic stages of her career, Farrell has already achieved a slew of progressive results in competition. She placed in the top four in the sports model category at the NABBA (National Amateur Body-Builders Association) competition in September and followed that up with an eighth-place finish in a competitive bikini category at the RIBBF (Republic of Ireland Body-Builders Federation) nationals last weekend.
"NABBA was my first competition and I qualified for the Worlds (competition) which is on 6 November. I placed in the top four and I couldn't believe that to be honest for my first ever competition so I was chuffed."
"For the RIBBF, I entered the 'Bikini First Timers' category and there was a massive amount of girls who entered that category. I placed eighth out of 20 competitors so I was happy with that but I've a lot of work to do to try and place a bit higher the next time."
This weekend saw Farrell refocus for the NIFMA (Northern Ireland Fitness Models Association) competition where she secured first place, which included winning the 'Miss Toned' contest. And she already has targets to aim for in 2017.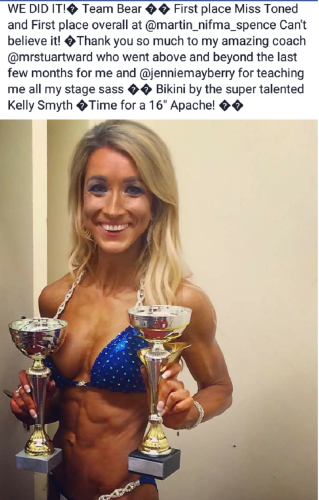 via Aisling Farrell Facebook. via Aisling Farrell Facebook.
"My first goal this year was to compete and looking forward I want to take on board the feedback I received and work on building on my muscle mass and bringing a better package to the stage next year."
The42 is on Snapchat! Tap the button below on your phone to add!