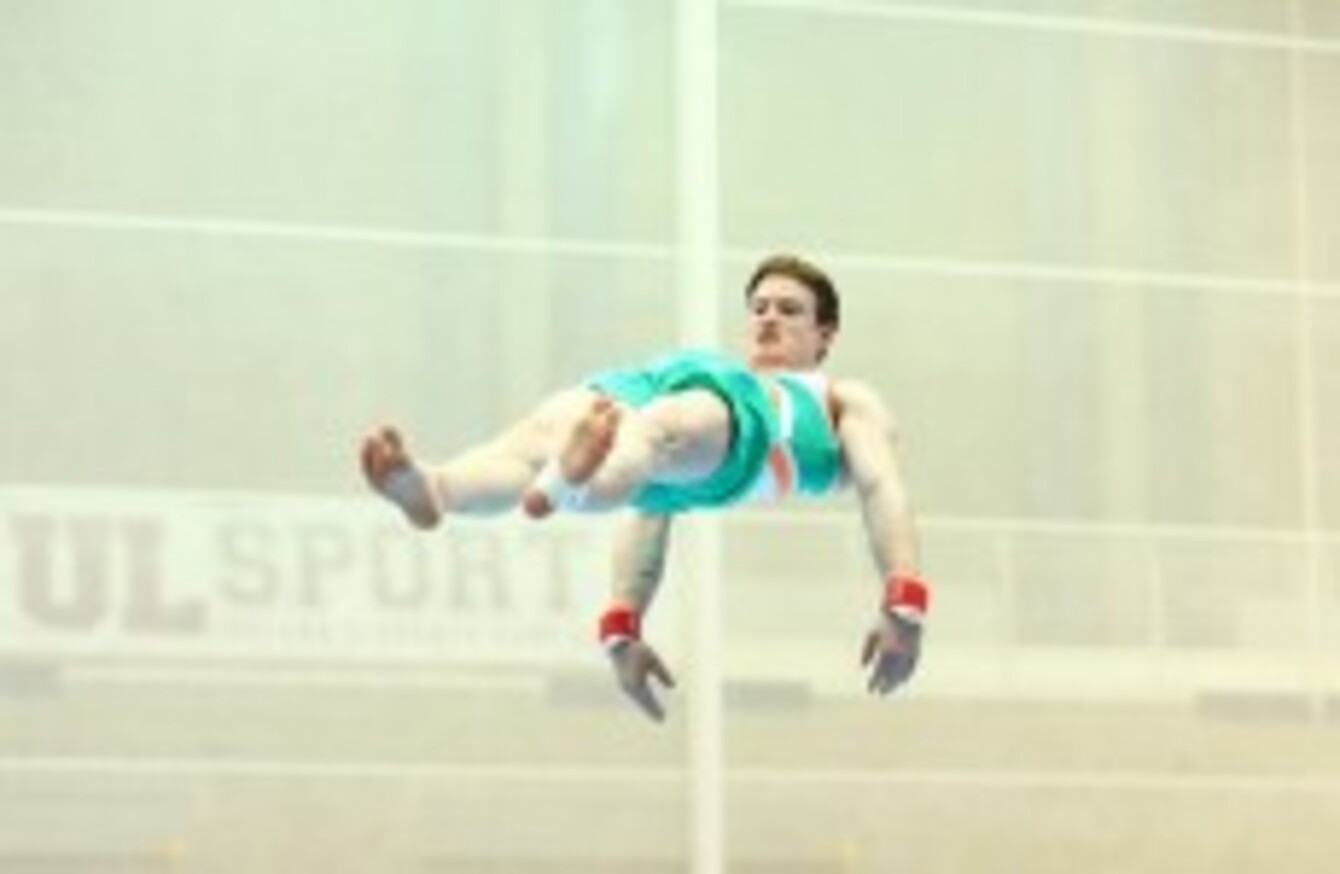 Irish Olympian Kieran Behan.
Image: Cathal Noonan/INPHO
Irish Olympian Kieran Behan.
Image: Cathal Noonan/INPHO
IRELAND'S GYMNASTS HAD their best ever medal haul at international level today when they won men's team gold and women's team silver at the Northern European Championships in Limerick as well as three individual medals.
Olympian Kieran Behan led the way, taking individual silver in the men's allround competition by getting the day's top scores on rings and parallel bars and he was only pipped for overall gold by Norway's Stian Skerahaug by the margin of half a point.
Taking individual bronze just a point behind him was Cork-based Andrew Smith who was the day's topscorer on floor and with Jack Neill, Rohan Sebastien and Rhys McClenaghan all making it into the top 26 it was enough to secure team gold ahead of Norway and Finland.
Second place on beam, third on bars and a top five vault saw teenager Ellis O'Reilly take individual silver and fifth and ninth places overall for Ulster's Casey Bell and Nicole Mawhinney respectively helped secure the women's team silver, just four points behind Wales.
Both teams did really well, our women's scores were the highest we have ever achieved at this level, " said Gymnastic Ireland's performance and technical manager Sally Filmer.
"They had a fantastic beam competition and were really solid also on vault. Both teams are in preparation for next month's World Championships which is the main Olympic qualifier for Rio 2016.
"We were also carrying some junior athletes in preparation for the Rio test events so this was a hugely promising performance by all of our gymnasts and the huge home support also helped."
Ireland still have a further chance to win more medals. Making the top eight in 15 events also means eight gymnasts have qualified for over a dozen of today's/tomorrow's (Sun) individual apparatus finals at the University of Limerick sports arena.
Results 
Men's Individual Allround – 1 S Skerahaug (Nor) 83.5pts, 2 K Behan (Irl) 82.9, 3 A Smith (Irl) 81.95.
Women's Individual Allround – 1 L Bevan (Wales) 52.05, 2 E O'Reilly (Irl) 51.9, 3 J Ruckley (Wales) 51.2, 4 I Sazonova (Icel) 50.95, 5 C Bell (Irl) 50.8.
Men's Team – 1 Ireland 248.8, 2 Norway 246.3, 3 Finland 235, 4 Sweden 230.2, 5 Denmark 203, 6 Iceland 200, 7 Wales 170, 8 Isle of Man 100, 9 Faroe Islands 99.9.
Women's Team – 1 Wales 156 pts, 2 Ireland 152.9, 3 Iceland 150.3, 4 Denmark 148.2, 5 Scotland 147.1, 6 Norway 142.3, 7 Finland 136.5, 8 Faroe Islands 91.75, 9 Isle of Man 75.6.