IMMENSE DEDICATION AND a certain level of obsession invariably go hand in hand with being a top-level athlete, and Sinead Jennings and Claire Lambe are certainly no strangers to either characteristic.
On 30 August, this day week — the World Rowing Championships begin in Aiguebelette, France. It is an event that both Jennings and Lambe hope will make endless hours of training ultimately worthwhile.
The Irish duo will compete in the lightweight women's double sculls, with not just medals but also Olympic qualification up for grabs — in order to secure their place on the plane to Rio, Jennings and Lambe must finish in the top 11 at the event.
So an extremely difficult task lies ahead, particularly when you consider that Ireland has only ever had two female rowing representatives at the Olympics before — one of whom, Latvia-born Sanita Puspure, took part in London 2012 and is also competing at this event in the Women's single sculls.
Aged 38, Rio will likely be Jennings' last chance to qualify for an Olympics — something she has never achieved despite an illustrious career in the sport.
The Donegal native has already had plenty of success at the World Championships, however. She took bronze in 2000 and gold the following year, despite still being a relative newcomer to the sport.
In 2008, Jennings took a break from rowing and began a stint in cycling. After missing out on London 2012 qualification, though, she announced her retirement from sport — an understandable decision for someone who is now a mother-of-three and who works highly demanding hours as a doctor. However, last year, she was ultimately convinced to return by coach Don McLachlan.
"I only moved to cycling, because I didn't really have a double that was going fast enough to qualify for the Olympics," Jennings tells The42. "I'd already achieved everything I wanted to in rowing apart from getting to the Olympics and competing for a medal. I went to cycling purely for that reason — to get to the Olympics.
"I do love cycling and triathlon and stuff like that, but I'm not really into the tactics of cycling, and the risk of injury and the really long five-hour stage races and the moving around. It's not for me at all. You don't have that feeling with rowing — it's much more a part of my life.
"So in 2012, I kind of retired. I was going to focus on my family and career. But Don came and visited. He told me how well Claire was going and was there any way I'd consider and basically, I said I'd love to give it a go if I could fit it in with work — I was doing VP training at the time and was doing 100-hour weeks."
After deciding to make a comeback, Jennings didn't exactly ease her way back into proceedings. Just three days after having her third child, she returned to training.
"I was pregnant with Hannah but I said I'd love to come back afterwards," she explains.   "[Don] definitely kept the door open for me, which was brilliant, and I suppose that's one of the reasons I got back in the boat so quickly. I knew the first set of trials last year were in October and at the end of June.
"So it's definitely having a coach as good as Don [that persuaded me to come back]. I've never had a coach who could dedicate himself so well to a double. We complement each other well in the boat to the point where we're giving more to the boat, rather than just competing as individuals."
Jennings and Lambe are relatively inexperienced as a pair, but they remain optimistic that they can make an impact next week.
The veteran athlete has tried to qualify for the Olympics before and is familiar with the heartache of near misses — she came within .1 of a second of qualifying for the 2004 Athens Olympics with then-lightweight partner Heather Boyle.
Meanwhile, Lambe, despite being significantly younger and less experienced than her partner at 25, has also endured Olympic frustration.
A month before her final chance to qualify, Lambe's boat was pulled owing to weight management issues, and her London 2012 dream died as a result.
TEDx Talks / YouTube
Nevertheless, the future looks bright as far as Irish women's rowing is concerned. Jennings suggests that the level of competition among lightweight women is "probably the most competitive" that it's ever been in Ireland.
"I'm delighted to have people around me like that," she adds. "In the past, I've always worried more about the other people and how well they were going, and not about myself. I think that detracted from my own performance. Whereas now, I'm fighting as hard as the others to get that spot on the boat, so it pushes everything on."
Jennings also explains that her respective achievements in the past provide a level of reassurance when not everything is going to plan.
"It certainly does give you that bit of confidence, especially if the race isn't going well. You can tell them to cop on, you're faster than these people. You can pull it together and come through it, and you do. It's great to have that confidence. If you didn't have that result, sometimes it'd be harder to say I'm better than these people. The result certainly helps with that."
Lambe — who claimed fourth place at the Senior European Championships in 2013 — agrees that in rowing, success breeds further success.
"When you have the bad race, or a bad couple of days, you know it doesn't define you," she explains. "You're a bit more robust in your confidence. I've had a few good results in my singles, but I've still to make a podium at a world event.
"Sinead has the world championship to her name and that gives me confidence as well, knowing that I have someone here who knows how this is done. I can totally trust in that and hopefully gain from it as well."
Jennings says that the fact that the World Championships is a prestigious event in itself takes the pressure off Olympic qualification to a degree.
"There's a lot more to think about rather than just qualifying. You've got your heats, quarter-finals, semi-finals, finals. So there's a lot of focus on them and of course, you'll always be trying to make the finals.
"So that takes away the massive panic of 'oh my god, if we don't qualify,' you're just thinking about racing as well as you possibly can."
Nonetheless, Lambe acknowledges that the pressure often remains in some form.
"Especially as it's coming close to the World Championships, every time my alarm goes off in the morning, I think 'oh god'. It can be draining — you think 'how many days do we have left,' 'how's training going to go today'. But we have other things going on. I use stuff outside of rowing as a distraction, I suppose.
"I do a bit of engineering work and Sinead has her family. You obviously have to keep busy as well. You can't just be sitting at home thinking about the next training session. But it's definitely at the forefront of our minds at the moment."
Retaining maximum focus can be particularly challenging for Jennings, who also has three children to take care of.
"With work and other things in life, you can push it to the side and prioritise rowing, but with family, you have to prioritise it first and make the most of every rowing session as well, so that definitely is the toughest part.
"But they're a great distraction as well. I never spend too much time [thinking about] an injury or a bad session because the girls are great."
Tony Marshall Tony Marshall
(Ireland's Sam Lynch (l) and Gearoid Towey (r) in action at the 2004 Olympics)
Moreover, Jennings' husband, Sam Lynch, is not exactly unfamiliar with what she's going through. After all, he's a former world champion and Olympic rower himself.
"That makes it easier for me," she says. "He's careful not to [overimpose]. I'm coached by Don, so first and foremost, I would defer to Don. But it's great when Sam comes down and says things like 'I've never seen you row so well in a double before'. And he doesn't make it up. He says 'that double could be world class and it's definitely worth pursuing it.'"
And Lynch is not the only Olympian in the family. Jennings' younger sister, Catriona, was one of Ireland's representatives in the women's marathon at London 2012. She even pursued a career in rowing thereafter, attempting to emulate her sister's level of success, but unfortunately, the younger sibling was ultimately forced to concede defeat in her bid for Rio last December.
"It would have been lovely if we could have tried a double together. I think the running suited her better. She's not as tall as me and really has more of a build for a marathon runner. But we go for runs and stuff and I suppose it would have been the dream to have the two sisters running together, but it wasn't to be.
"But she's so supportive now, she's coming out to events with my parents to show support. She's never seen myself and Claire row together, so I can't wait for her to see that."
Meanwhile, hot temperatures are expected in France next week, but Jennings is confident the duo can withstand the conditions, despite their preparations being less than ideal.
"Unfortunately we haven't got the funding to go on warm-weather training camps, but I think we both love the heat anyway, so we should be fine. You feel a lot looser and more flexible when rowing.
"We're lucky as the event only takes seven minutes. It's not like a marathon where you're rowing out there in the sun for over two and a half hours. We'll just be very careful. We'll stay in the shade before our warm-up and use ice cubes and wet t-shirts and wet hats and stuff like that."
And the heat will be far from the only challenge Lambe has had to confront this year.
The Dubliner — who also works part-time for a Wave Energy Developer, Jospa — along with doubles partner Denise Walsh was forced to fund her own entry into the European Championships in Poland earlier this year.
After setting up a page on gofundme.com, Lambe was taken aback by the tremendous level of financial support she ultimately received.
"This year's been tough enough because last year, we missed out on getting funding. I knew I was going to be covering all the training full time. Then we realised we were going to have to pay quite high levies to go to competitions, so we even have to pay €1,000 each to go to the World Championships.
"We set up the gofundme page and the level of support was unbelievable. So many people got behind it and within a couple of weeks, we had paid four grand. Obviously, the result is so important, but these people just want to see us get there and give it our best shot.
"I find it hard to accept that we have to pay to represent our countries at the World Championships. But then I do understand that we don't have a big budget at all. We probably should be away on a hot weather training camp, but we don't have the money to do it and we probably won't have the money until we get the results. So I do understand where our high performance director is coming from in that sense, but it's still hard to take."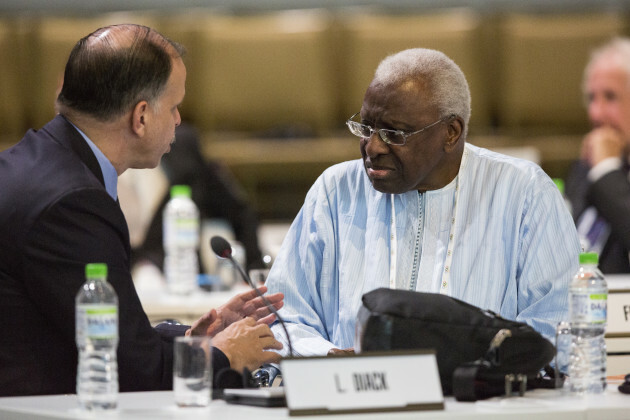 Joshua Paul Joshua Paul
(Despite the International Association of Athletics Federation's President Lamine Diack defending athletics in light of recent revelations, both Lambe and Jennings feel the upcoming Olympics has been "tarnished" as a result)
While the duo still dream of reaching the Olympics, they both agree that the event has been tarnished to a degree by the recent revelations in The Sunday Times and on German TV network ARD/WRD. Their reports claimed that almost one third of medalists at the Olympic Games and World Championships between 2001 and 2012 had recorded "suspicious" drugs tests.
"It's really tough from an athletics and a cycling point of view, but to have to compete and know that your fellow competitors are probably doping must be tough," Jennings says. "We're lucky. In rowing, there isn't as much money in it, so there isn't really an incentive to dope.
"And the world rowing doping governing body have been really good. We have a life ban if anybody's caught doping. Two or three years ago, the Russian team were caught with some suspicious debris outside of their hotel. They were given substantial fines and banned for a year.
"Even as a parent, when I was cycling, I was saying I wouldn't encourage my children to cycle because of the presence of drugs. Now, athletics is just as bad and it's really hard for spectators as well, as it will certainly tarnish it for them."
Lambe adds: "There aren't many cases in rowing, but that's not to say it's not there at all. But you just can't start a race thinking that it is, you just have to focus on yourself and do the best you can."
Indeed, while for certain individuals, sport is solely viewed as a route to fame, glory and riches, Lambe and Jennings seem to have a genuine love for rowing and — for all their tireless dedication — perceive it with a refreshing sense of perspective.
"There's no sport like rowing where you can just get out there," Jennings says. "I was saying to Claire this morning when we were sitting in the middle of the lake waiting to start, at peace… I was saying we were so lucky given all the people at work at this time of day.
"But when you get the boat up and running, it just feels so amazing. It's just such a tension reliever and it's a fabulous sport. Rowing also has a lot of camaraderie. All your friends are nearly in rowing. Even when we're not rowing, we're always around rowing, watching our friends race, so it's hard to leave that behind, whereas you wouldn't get that in other sports really.
"I'm enjoying the journey so much and appreciating the lifestyle. That's the one thing about being away from rowing — it's given me a true appreciation of how much I love the sport. So if [the Olympics] doesn't work out, I've had a great time anyway. I think even my girls have seen what a healthy lifestyle it is and how it's about training for something you love, so it's good for them as well to have seen that. But it's going well, so hopefully [Rio] will happen."
The World Rowing Championships take place from 30 August to 6 September. More info here.