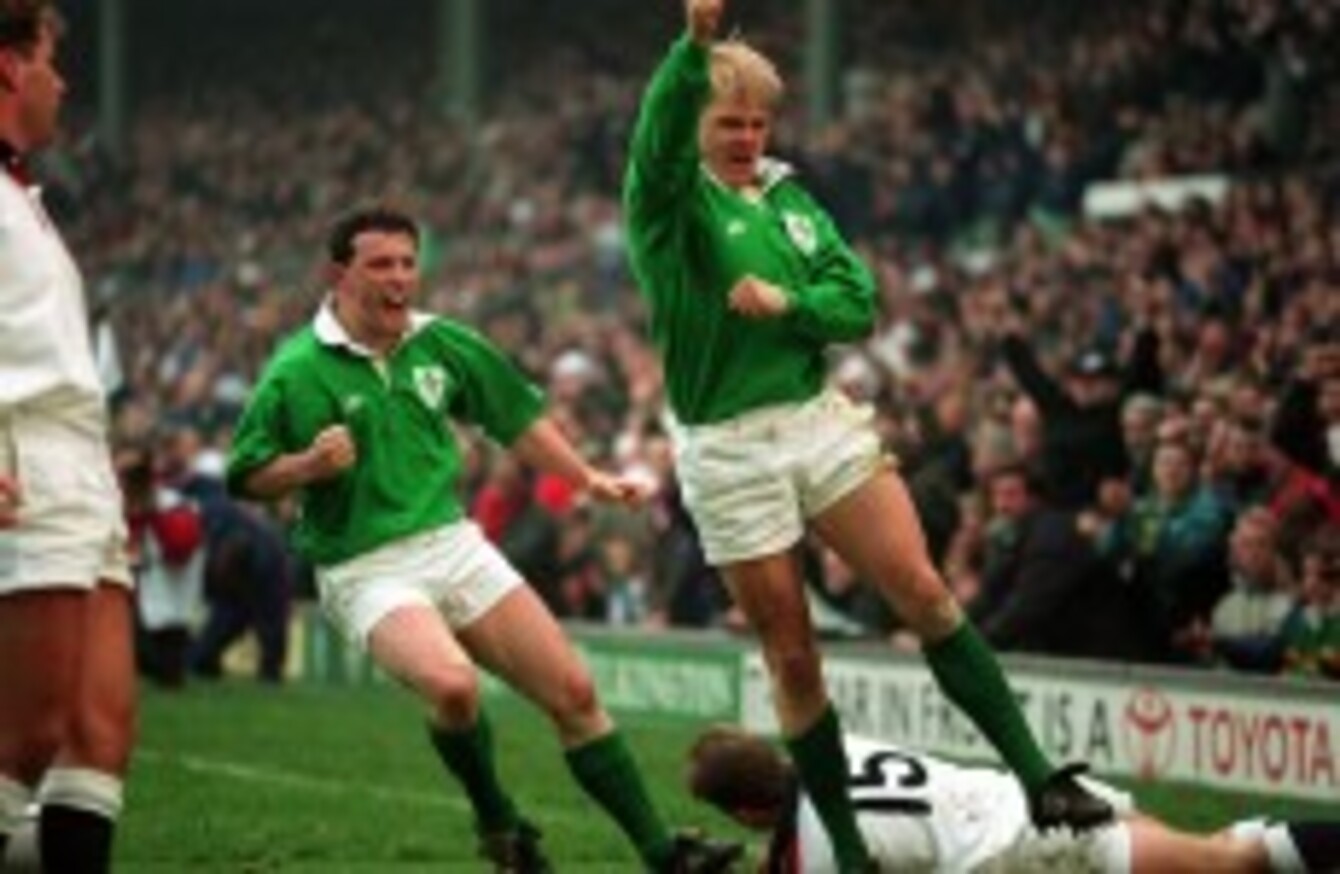 Simon Geoghegan celebrates scoring a try
Image: © INPHO/Billy Stickland
Simon Geoghegan celebrates scoring a try
Image: © INPHO/Billy Stickland
WITH THE CRUCIAL Six Nations tie at the Aviva nearly on the horizon, The42 looks back at some of the best rugby moments between the two sides, with a massive patriotic allegiance to the Green Army.
We had to narrow it down to five in no particular order, but it could easily have been double that. Enjoy these spine-tingling trips down memory lane — some of which could well get you up out of your seat with excitement.
What is it about the old enemy that so often brings the best out of the Irish?
Ireland 17 England 3, Lansdowne Road, March 6, 1993
Like the plot of the film Dodgeball, this was a true underdog story. An England side packed full of Lions getting well and truly battered by a heroic Irish team, typified by a late Mick Galwey try.
Irish centre Phil Danaher nails Will Carling with a crunching tackle, causing him to spill the ball, and after some great recycling, the mercurial Galwey touches down in the corner to seal a memorable Irish win.
In a scene you could only see in Ireland, a woman in a yellow top sprints onto the field amid wild celebrations and congratulates the try scorer — it turns out to be the Kerryman's sister.
Irish players were carried shoulder-high after the final whistle on a day when an entire nation stood still and basked in a victory, which ended a rut of six consecutive losses to England.
Source: Conor Ryan/YouTube
Ireland 28 England 24, Twickenham, March 18, 2006
After a week of unprecedented success in Cheltenham and only 24 hours after St Patrick's Day, Irish eyes were once again smiling when Shane Horgan's last-gasp try signalled a sweet victory in Twickenham.
Trailing by three points deep into their '22 and with less than three minutes left on the clock, Ronan O'Gara took a chance with a speculative chip. The Gods were smiling, as the egg-shaped ball somehow landed to Brian O'Driscoll, who offloaded to Horgan.
After his initial attempt was stopped just short of the line, the Leinster winger displayed guts and bravery in abundance to regroup and somehow acrobatically score one-handed right in the corner at the death.
It went to the Television Match Official (TMO) and with drama at a fever pitch, Nigel Owens eventually awarded the try, which O'Gara converted from a near-impossible angle to seal the win on what was clearly Ireland's day.
Source: MottiRugby/YouTube
Ireland 43 England 13, Croke Park, February 24, 2007
A moment most sporting fans thought they would never see, and one which this website's name is partially inspired by. Temporary relaxation of Rule 42 meant that while the Aviva Stadium was in construction, Irish rugby's new home would be Croke Park — a ground traditionally associated with GAA.
From the respect which God Save the Queen was greeted with to the passion with which Amhrán na bhFiann was belted out and the tears of the normally unflappable John Hayes and Jerry Flannery among others, the preliminaries were spine tingling.
The action on the pitch didn't disappoint either, as Ireland dismantled their neighbours in a manner exemplified best by Shane Horgan's Gaelic Football-style second-half try when fielding a crossfield kick from Ronan O'Gara overhead and touching down.
It was the perfect finish to a perfect day for the Irish, with grown men and women crying, as Olé, Olé, Olé rang loud around Dublin city in an unforgettable sporting moment.
Source: docathail/YouTube
Source: Gavin Costello/YouTube
Ireland 13 England 12, Twickenham, February 19, 1994
There couldn't have been a better man in the right position at that time than Ireland's electric winger Simon Geoghegan.
Once described by legendary rugby commentator Bill McLaren to be "as quick as a trout up a burn," the blonde flyer was amazingly omitted from the Lions tour in 1993, but showed them what they missed out on by jinking his way into Irish history.
In an excellently executed Irish move, the backline sprayed the ball beautifully across the wing to Geoghegan who, despite being outnumbered two to one, showed a clean pair of heels to touch down in the corner.
Geoghegan's moment of genius set up a famous win — their first at RFU headquarters in 12 years and England's first home loss since 1988. It was yet another indelible mark left on Irish rugby by the unforgettable winger.
Source: Conor Ryan/YouTube
Ireland 18 England 5, Twickenham, February 8, 1964
A blast from the past, but thankfully the wonders of technology have allowed us to witness the sheer genius of players like Mike Gibson (described by legendary commentator Bill McLaren as the most complete footballer he ever saw), Jerry Walsh and Pat Casey.
Casey's Twickenham try highlights everything that is pure and beautiful in the game of rugby: the ingenuity and elusiveness of Gibson, the deft offload from Wallace and the magnificent angle taken by Casey, who then powered over the English line.
The poetry of the try is never lost in time and it was crucial in helping Ireland to beat England in the Five Nations at Twickenham for the first time since 1948.
Source: Conor Ryan/YouTube