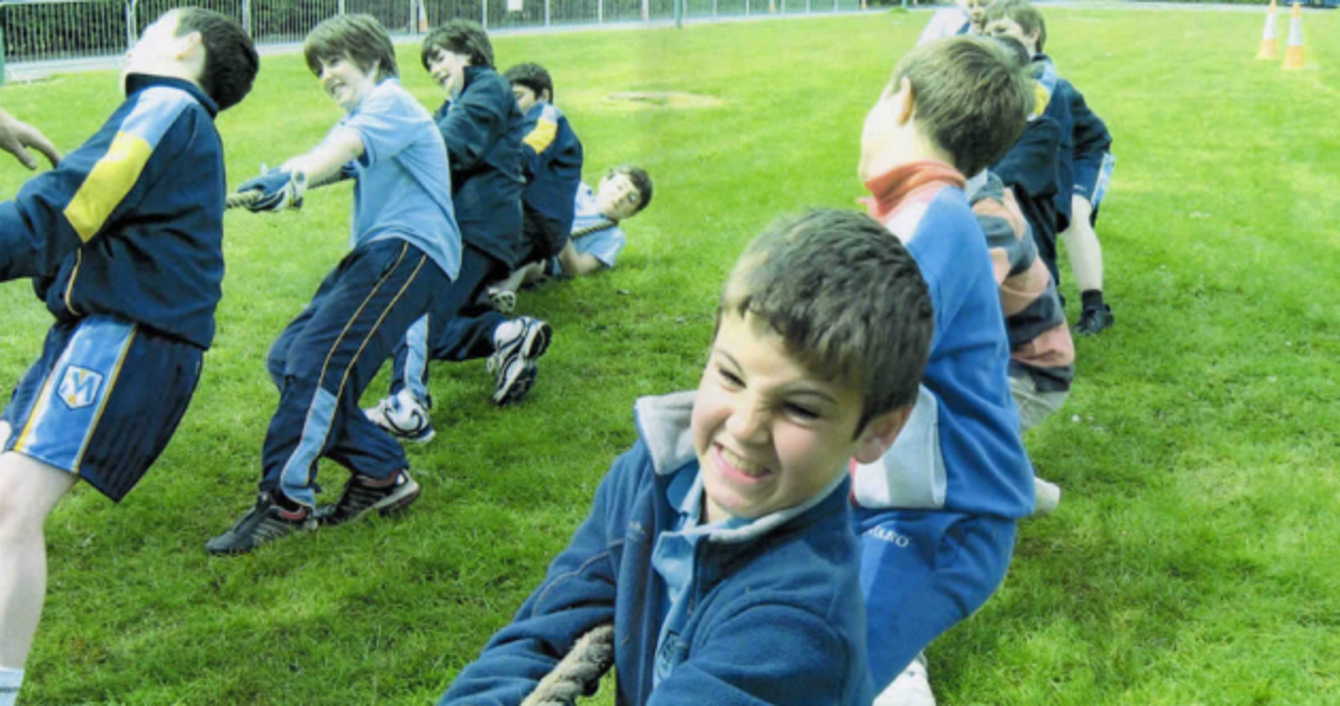 Image: Credit: Irishtugofwar.com
Image: Credit: Irishtugofwar.com
SPORTS DAY AT SCHOOL – a time when one diligent teacher came back from a trip to town with a plastic bag of cheap medals and you prayed you were teamed up with athletic classmates.
Inspired by the excellent '15 things we all did in primary school' piece on TheDailyEdge, we engaged our memories to those bygone days when you got to play sports for a whole school day [or, if it was raining, have colouring-in competitions].
When a couple of the less sporty staff members of TheScore.ie and TheJournal.ie revealed their dread for sports days, we nodded in understanding ways before benching their comments.
Here are our favourite School Sports Day memories:
"Trying to nab your mother's stretchiest tights as a leg tie for the three-legged race so you'd have a bit of 'give'."
Team-work making the dream work. (Credit: Adam Davy/EMPICS)
"The inevitability of the rounders tournament descending into arguments. I don't think a rounders game has ever ended amicably."
The tug of war and generally bossing it, my team won three years in a row and I've the medals at home to prove it.
"Former students [that had moved on to secondary school] were often asked back to ref games and help out. They never got paid but did get two Mars bars, two Chomps and a cola."
You wouldn't argue with these referees. (Credit: Dan Sheridan/INPHO)
"Eh, losing everything because Katie Taylor was in your school. Give the little people a chance would ya!"
My absolute favourite sports day memory was in Third Class when one of the girls was doing her best Hulk Hogan impression but actually succeeded in ripping her t-shirt wide open while doing the actions. She was one strong 9-year-old!
"Someone inevitably getting hit by the welly in the throw the welly contest ."
"The egg-and-spoon race actually being a potato-and-spoon race. This actually happened at my school. Potatoes instead of eggs."
Strangest looking egg we've seen in a while. (Credit: scoilmhuire.ie)
Also in the egg-and-spoon category:
"Making a hole in the bottom of the potato for the egg-and-spoon race. I'm not sure about the science of this but it seemed to make it less likely to fall."
Exclusive NZ - IRE
Rugby Analysis
Get Murray Kinsella's match analysis and Garry Doyle's updates from New Zealand exclusive to members
Become a Member
"The sack race – plastic fertiliser bags (well rinsed out) at the ready. Very slippy and not at all suitable for purpose. No such thing as a medal for everyone in my day. If you were a loser, you got nowt."
Getting some good air there kiddo. (Credit: Adam Davy/EMPICS)
"We only had two basketball courts so, during sports days, the teachers often got students to stand on table or chairs and make hoop shapes with their extended arms. This caused lots of controversy when the makeshift hoop would shrink in size depending on the whim of the students."
"The slow bicycle race. Last person over the finish line won. The only rule was your feet weren't allowed touch the ground. It might have just been Monasterevin thing though."
YouTube credit: N. Jeanne Burns
"The general optimism that starts the day – 'I fancy my chances at long jump and the 100m' – giving way to total dejection as you turn out to be just as mediocre as you were the previous year. Oh, and blaming it on a phantom injury."
We never went to schools like Prince Charles. That is an 8-pound field gun apparently. (Credit: AP Photo)
"Getting a head start and still coming fourth! I determined, on that day, to train and train and train and that I'd SHOW THEM ALL. I never showed them. Also, I remember the yearly Mi Wadi."
"No-one could beat me at long jump. They called me 'The Gazelle'."
'We're bringing home some medals'. (Credit: Cathal Noonan/INPHO)
"Every child who ever passed the finish line [regardless of the event] falling on the ground like they were taking their last breath. I think it was the sheer joy of knowing you were actually allowed to destroy your clothes."
What are your favourite School Sports Day memories?