WHEN I SPOKE to Eddie Gallagher last month, he was a man who, by his own admission, had been through "hell".
The Irish tug of war athlete had endured nine months and endless hours of torrid training, which he somehow combined in conjunction with his day job.
The 90-minute journey to and from training meant he did not get home until midnight sometimes, before needing to be up early again for work the next morning.
He even at one point admitted: "You tend to say: 'why am I putting myself through this? My hands are all cut, my back is breaking, why am I doing this?'"
Now, however, he has his answer. Gallagher played a starring role, as his team emerged from last week's World Championships in Castlebar, County Mayo, with one bronze, two silvers and a gold.
Finally, the nine months of constant training, the nine months of sleep-deprivation, the nine months spent apologising to wives and partners was suddenly justified for members of the Clonmany B team within the space of a few days.
"We're still recovering," Gallagher tells TheScore.ie. "It was a fantastic week for the club — the youth team took a gold and a silver as well. So it's a fantastic result — we're delighted with the way it turned out. It's hard to take in — the buzz of getting over the line is unbelievable.  All the hard work paid off."
To take four medals from a competition that only lasted a couple of days was a feat of incredible endurance more than anything else.
Beginning on Wednesday 19 February, they competed in the 640 kg class and made a significantly encouraging start, reaching the final before being beaten by Ayrshire of Scotland. While disappointed, Gallagher has few complaints about this outcome, graciously conceding that their opponents were fully deserving winners on the day.
Having come so near to obtaining gold though, the remainder of the competition was always going to be a test of character. Yet they dealt with this setback in the most admirable way possible, claiming gold in the 600 kilo class on the following day, beating fellow Irish side Country Club as well as Abadino of Spain along the way.
"It was always going to be a good final," he says. "Speaking to supporters, they said the reason it was so good was that there was about four teams that stood out. Abadino were in the semi-final, and we thought, if we could put them away, we were in with a chance. And when we went out for that semi-final, the team just clicked. It was as if someone flicked a switch. The way we disposed of them in the second end — you just don't do that to Abadino. We powered them off the mat.
"So it set up a nice final with our neighbours — a very gallant Country Club. The first day, Country Club won the gold medal in the 560. They were defending champions and they're a fantastic team. But we pushed them out two straight ends and on the same day, our youth team won gold in the 560 event. So that it was a fantastic result all round."
More medal success followed thereafter. The next day, Gallagher and four of his teammates, in addition to three athletes from County Louth side Mountain View, represented Ireland in the 640 international event.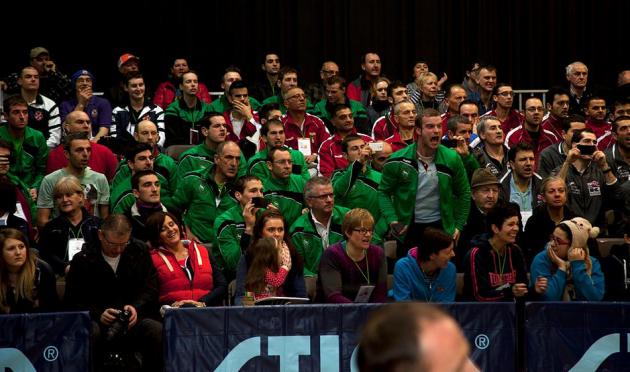 (Supporters keep a close eye on the action at Breaffy House)
Despite having already experienced two intense days, Gallagher and co managed to perform impressively for the third afternoon in succession, reaching the final, only to lose out once again to a Scottish side.
"It was a good final and I just watched it on video there again," he explains. "It was a better final than the other 640 — we put up more of a fight, but Scotland still went on to claim gold."
And then on the final day, the 600 international event had the full Clonmany B team representing Ireland and bidding for glory. Yet, once again, they encountered some familiar foes.
Exclusive Six
Nations Analysis
Get Murray Kinsella's exclusive analysis of Ireland's Six Nations campaign this spring
Become a Member
"Unfortunately, it was the hard round of the draw and we got Scotland again and they had that bit more in the tank than we had. They beat us in the semi-finals but we managed to get a bronze medal against Spain."
Overall, Gallagher was delighted with Clonmany B's first gold-medal success at the World Championships since 2008 — a triumph for which he made the squad but not the team (there are just two remaining members from the 2008 team in total).
The occasion was made all the more special by an enthusiastic and vociferous crowd at Breaffy House.
"It was packed to the rafters every day," Gallaghers recalls. "The atmosphere was unbelievable. They had the commentator who travels all around the world. He's done four strongman competitions and other stuff. He had the crowd on their feet every time." However, he did have one slight reservation with the venue: "If anything, the place was probably a bit too small — there was a lot of people standing because all the seats were taken up."
Meanwhile, Irish and foreign athletes alike were made to feel utterly at home in such surroundings.
"Everyone was impressed by the hospitality that the Irish showed. Teams were staying in hotels all round. They were all going on about the Guinness. Of course, you come down and you have to try the Guinness. So I think everyone enjoyed it and had a good time."
And there was one team, in particular, that Clonmany and the rest of the Irish contingent warmed to.
"Our good friends, the Chinese Taipei ladies, who came over to train with us the week before the World Championships, ended up coming away with three golds and two silvers. In the 600 club day on the Thursday, we actually pulled against the Chinese Taipei men. I can't remember much about the crowd because you're focused on the contest, but our supporters were telling us that the Chinese Taipei women were shouting for the Irish team ahead of their own team. It shows how, over the last couple of years, we've built up a good bond with them. I came off after we won the gold and they were all celebrating with us. It was fantastic. And again, as with every World Championships, the amount of friends we made was just incredible."
(The Chinese Taipei women's team celebrate winning gold)
Gallagher pays tribute to all those who made the event possible, from the sponsors to coach Pat Doherty and Pat Gill from Spin Revolutions who "brought us to the next level of our fitness".
He continues: "The only reason we could do what we did was that our recovery was fantastic. We had to sit in a bath of ice until we nearly froze ourselves, because we can't go out and perform like that on a daily basis unless your recovery is right. The training we've done all year has paid off. You have to hand it to the coach. It's a masterstroke what he's done, taking this team to the extreme heights of success. Even the youth team is a credit to him and the rest of the members of the club. For me personally, it's a dream come true. To get a gold was the icing on the cake.
"There's a quote that always sticks in my head — 'every champion was once a contender whose just failed a job'. Over the last nine months, that was stuck in my head. It was a high goal to become world champion, but the feeling when we crossed that line will never leave me."
And while tug of war may not be Ireland's most popular sport, it has built up a cult following — not least in Clonmany, where the team received a rapturous reception at their homecoming.
The one question remains though — now that Gallagher and his teammates have reached the pinnacle of their support, what's left for them to achieve?
"I want to take a year out, but the next incentive is the World Championships that are being held in Holland in two years' time. After we won the gold medal [in Breaffy House], we got in a huddle, and it was emotional for the whole staff, but we all agreed to come back for Holland.
"I know my break is going to draw me back one season, but we've all agreed to give Holland a crack and try to defend our title.
"Some of the youth team guys will be hoping they'll be taking our places and I've no doubt they will. It's nice for them to get their rewards after the training they've done. Next year, they'll train with the senior team full time just to give us a bit of help. And I've told them all that if they keep going, anything is possible — I'm proof of that."
For more info on the Irish tug of war team, you can visit their official website here.