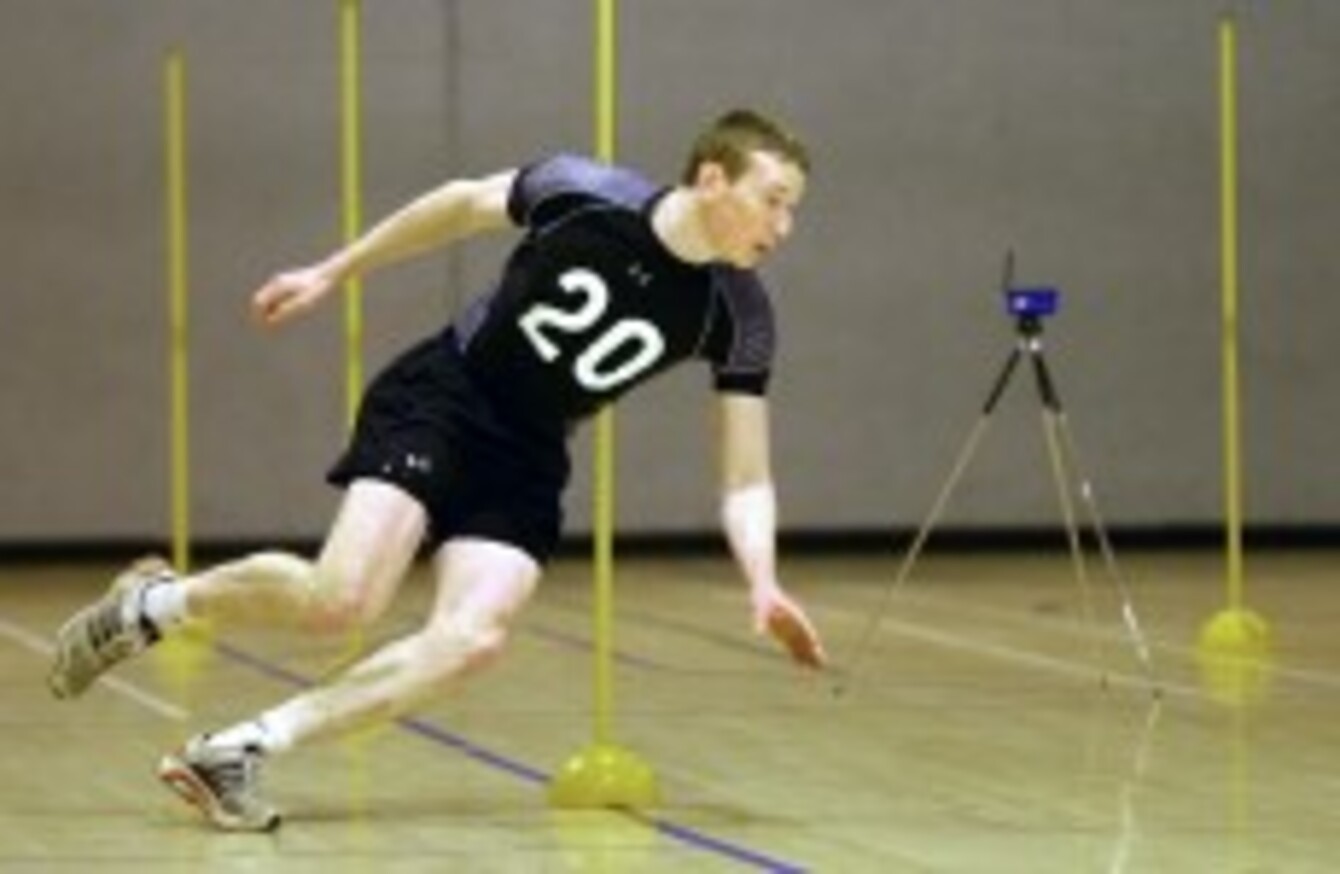 Cork's Damien Cahalane tries out the facilities in the DCU sports hall - but are they the best in the country?
Image: Lorraine O'Sullivan/INPHO
Cork's Damien Cahalane tries out the facilities in the DCU sports hall - but are they the best in the country?
Image: Lorraine O'Sullivan/INPHO
THE CAO APPLICATIONS close this week so before you decide your chosen career path and college, just remember it can't be all study when you get to wherever it is you're headed, okay?
Some of the facilities in Irish universities are top drawer, and here we've listed some of those and a taste of what they offer.
We won't say which is the best because the Fitzgibbon and Sigerson are only around the corner and there's enough rivalry there already…
So when you decide to take that well-deserved study break next year, to check out from those history lectures and chemistry tutorials, be sure to check out the gym and training facilities.
University of Limerick
It was named Sunday Times University of the Year for 2015 so it has to be pretty up to scratch, we suspect.
Now the judges may have never lifted a barbell or did a spinning class before coming up with their decision for that award, and based it instead on strong research commercialisation, dedication to the student experience, and a rising academic performance in the college.
But let us tell you this, the UL Arena is bloody awesome.
What's cool?

It's got some of the best training facilities in Europe, let alone Ireland. That's why some of the best athletes in the world come to train here. There's a dedicated Altitude Training Centre (Ireland's first), a 50m swimming pool as well as the National Strength and Conditioning Centre.

The state of the art indoor rowing tank and an Olympic standard gym only add to its appeal.
University College Cork
The Cork college is one of Ireland's oldest and best performing. The gym facilities are a little off campus at the Mardyke but free access for students more than makes up for this. And that walk is no more than warm-up running distance away anyway.
What's cool? The indoor running track (3 x 60m sprint lanes; 3 x 130m jogging track) is spanking new, the climbing wall is highly impressive, while the Centre of Excellence and the Arena Clinic give students access to the best health professionals and performance analysts.
Dublin City University
The North Dublin college is one of the newer institutions and will celebrate its 40th birthday this year. It's made quite a statement in that time and is now regarded as Ireland's sporting campus, whatever that means.
What's cool?

Well, if you're handy at the hurling or football, camogie or ladies' football, you'll be glad to hear they're generous with the scholarships and last year handed out 40, with 17 counties represented.

The DCU sports academy is over 10-years-old now and if you're really good you'll get your accommodation, tuition, all the athlete support services you can dream of and a host of other cool perks.

We suspect an Olympic appearance will help your application. It has all the usual top notch stuff like all-weather pitches, gyms, tennis courts, pools and even a tepidarium?
Maynooth
First off, it's not NUI Maynooth anymore, folks; just Maynooth.
With just over 9,000 students, it's small and compact, meaning the gym or the campus facilities are rarely clogged. The college broke new ground in recent years when they won the Collingwood Cup for the first time, while the university's golf, GAA and, er, ultimate frisbee team tend to do well.
What's cool? The Paddy Harrington Golf scholarships are awesome and give wannabe pros the structure and environment they need to progress. From access to Carton House and Royal Dublin GC to psychology and nutrition, it's quite a set-up. There are scholarships for the 'Big Four' and even snooker too.
NUI Galway
Here's a smashing place to get a degree and have the best craic while staying in pretty good shape too.
Around 16,500 students bang smack in the city centre means it's a lively spot at the best of times but thankfully, the new University Sports Complex on campus caters for all.
What's cool?

The gym equipment will rival anything in Ireland, the national league basketball arena caters for up to 600 people (and is filled more than you'd think), the climbing wall is another big plus, while the 25-metre pool (with an adjustable floor) is the bee's knees.

If it's rowing you're into, you'll have access to some of the best facilities, coaches and training partners. But just bring a rain jacket, the Corrib can be bleak enough around December.
University of Ulster Jordanstown
Up north to this real sports-mad gem situated just north of Belfast, County Antrim.
It's home to the Sports Institute of Northern Ireland (SINI) — a partnership between the University and Sport Northern Ireland — so most of Northern Ireland's leading sportsmen and sportswomen train at the campus.
What's cool?

An indoor 3G astroturf pitch, which is all the rage these days.

Two sports halls, a tidy enough gym it must be said, a climate-controlled training chamber, and a brand new Technogym Wellness Suite including what's known as a 'Kinesis Wall'. It's basically a four-station circuit which allows for a total body strength and cardio workout. Sorry if that sounded a tad underwhelming…
Univeristy College Dublin
For sheer scale, UCD is hard to beat. It's Ireland's largest university with more than 30,000 students and has recently opened a new student centre, which includes a 50m swimming pool, two gyms, extensive student facilities … including a 3D cinema. Vitally important that last one!
What's cool? There are more than 150 clubs and societies and you can do anything from trampoline to rifle to ninjutsu. The 10-lane Olympic-sized 50-metre pool is a serious spot to chill out after a hard day and the adjustable floor is just the coolest thing ever. There are 12 grass pitches, four squash courts, two large multi-purpose sports halls, six synthetic floodlit pitches, a sports injury clinic, a cafe, and even a barber to get the match haircut. Brilliant.