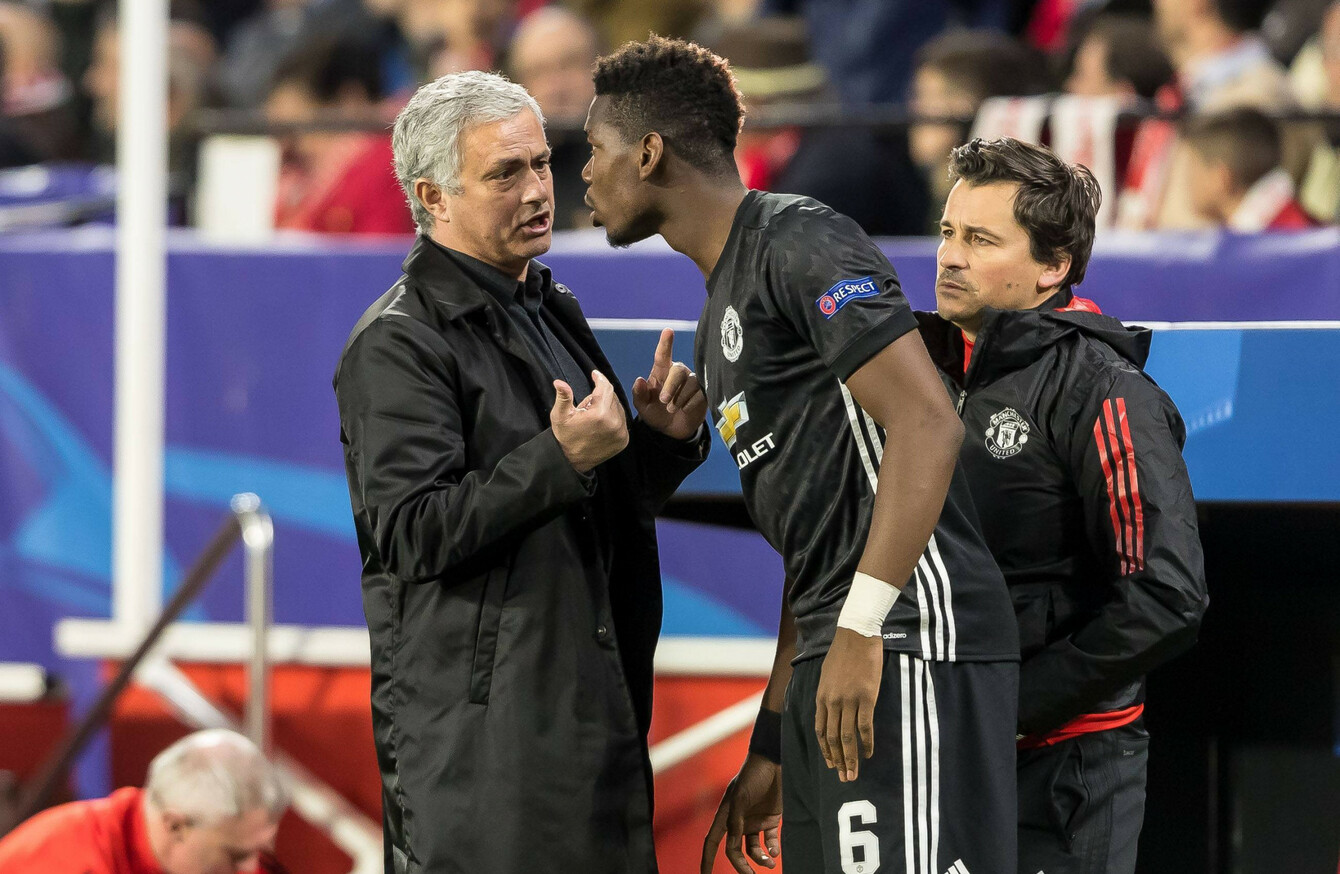 Mourinho and Paul Pogba have not always seen eye to eye during their time together at Man United.
Image: Imago/PA Images
Mourinho and Paul Pogba have not always seen eye to eye during their time together at Man United.
Image: Imago/PA Images
JOSE MOURINHO IS trying to put a brave public face on Man United's woes.
He seemingly backtracked on reported comments from last week in which he suggested it would require a "miracle" for the club to finish in one of the coveted top-four Premier League spots come the end of the season.
Yet everyone can see that not all is well at Old Trafford.
There have been occasions where the Red Devils have shown impressive resilience this season — the 2-1 defeat of Juventus in Turin springs to mind.
There have been other instances where United have produced decent displays in standalone games — the 2-2 draw at Chelsea and even the midweek clash with Arsenal contained some positives, notwithstanding the defensive mistakes evident in both matches. The 3-2 comeback win over Newcastle back in October was the type of thriller that crowds at Old Trafford have become unaccustomed to since Alex Ferguson's departure as manager in May 2013.
Yet too often, Man United have simply failed to the perform to the required standard for a club of such magnitude.
The Red Devils have played 15 Premier League fixtures this season and dropped points in nine of them.
Even lower-half teams, such as Southampton, Crystal Palace and Wolves, have denied Jose Mourinho's men a much-needed win.
Thus far, the embattled United manager has seemingly blamed everyone but himself. He has continually suggested the players are the problem.
After last week's Southampton setback, the manager's remarked "simplicity is genius," which appeared to be a dig at Paul Pogba, whose indulgent play in midfield contributed to a poor all-round team performance.
Subsequently, it emerged that Mourinho had branded Pogba a "virus" afterwards in front of the players in the dressing room and accused him of letting the club's fans down.
Unsurprisingly, the World Cup winner was consequently on the bench for the following midweek clash with Arsenal.
Though the French star came on as a substitute against the North London outfit, it seems hard to believe the pair's relationship is not irreparably damaged at this stage.
Meanwhile, the fact that Mourinho's comments were leaked to the media is a clear sign of the manager's lack of control over elements of the dressing room.
It seems highly likely now that at least one of Pogba or Mourinho will depart the club sooner rather than later.
Both individuals have performed ineptly at their respective tasks, so neither could really argue if they were shown the door.
While Pogba's poor attitude and underwhelming displays in recent times won't have won him many fans, the manager must certainly bear some responsibility for the difficult situation the club is in, regardless of his protestations about the players' inadequacies.
Even Mourinho's most ardent supporters will struggle to deny that his tactics have been less than successful.
The club have regularly been bottom of the sprint stats in the Premier League, whereas the likes of Liverpool, Arsenal and Chelsea usually appear near the top of the list. Whether United's players are ignoring demands to work hard or they are instructed to sprint infrequently, neither possibility reflects well on Mourinho.
Moreover, the number of changes that have been made reflects the disharmony and lack of consistency shown by the club — the 46 alterations to Mourinho's starting XI is more than any other Premier League side this season.
46 - Manchester United have made a total of 46 changes to their starting XI in the Premier League so far this season, including 7 changes tonight - more than any other team in the competition. Tinkering. pic.twitter.com/gn9TxHpVEB

— OptaJoe (@OptaJoe) December 5, 2018
In addition, the 55-year-old coach's tendency to berate players in the glare of the media spotlight, presumably to get more out of them ultimately, is a highly questionable approach.
The likes of Pogba, Luke Shaw, Scott McTominay, Marcus Rashford, Anthony Martial, Chris Smalling and Phil Jones have all been criticised publicly, and the evidence on the pitch would suggest the impact of these words has been negative.
This style may have worked for Brian Clough 40 years ago, when players had far less power than they do now. It likely even succeeded during the early days of Mourinho's time as manager, where he publicly derided Chelsea stars Joe Cole and Ricardo Carvalho among others, amid an era where footballers' old-school attitude meant they were arguably less inclined to take such chastisement to heart.
Yet the game has changed irrevocably in the intervening years since that golden era at Stamford Bridge.
Most worryingly of all is Man United's dire style of football. As Sky analyst Gary Neville has pointed out, they play in "moments" rather than demonstrating the fluency and technical ability invariably expected of Red Devils teams.
Of course, even Alex Ferguson was not immune from sticking Phil Jones in midfield and adopting an overtly cautious approach in big games, but even against struggling sides this season, the Old Trafford outfit have struggled to keep the ball and rarely attacked with great conviction.
Mourinho actually played good, attacking football at times during his Chelsea days, particularly when he had Damien Duff and Arjen Robben either side of Didier Drogba.
But the Portuguese manager is at heart a pragmatist, who by the latter half of his first Blues reign, was being accused of playing football infamously compared to "s**t on a stick" by ex-Real Madrid coach and World Cup winner Jorge Valdano .
While this philosophy has served Mourinho very well more often than not, in a Premier League in which goals are being scored with more frequency than ever, and the top teams, such as Man City, Liverpool and Tottenham are embracing exciting, fast-paced, attacking football, the Red Devils boss and his expensively assembled squad are looking increasingly outdated and out of their depth.
All Premier League matches kick off at 3pm unless stated otherwise:
Saturday:
Bournemouth v Liverpool (12.30)
Arsenal v Huddersfield
Burnley v Brighton
Cardiff v Southampton
Man United v Fulham
West Ham v Crystal Palace
Chelsea v Man City (17.30)
Leicester v Tottenham (19.45)
Sunday:
Newcastle v Wolves (16.00)
Monday:
Everton v Watford (20.00)
Murray Kinsella, Gavan Casey and Andy Dunne preview a big weekend of Heineken Cup action and dissect the week's main talking points.
Source: Heineken Rugby Weekly on The42/SoundCloud
Subscribe to our new podcast, Heineken Rugby Weekly on The42, here: