WHILE THOSE BEMOANING Italy's lack of progress in the Six Nations in recent years are perhaps justified in their arguments, it's worth looking to club sides Benetton and Zebre for the real signs of development in Italian rugby.
The positive steps being made by the Italian Guinness Pro14 teams have yet to have a game-changing effect on Conor O'Shea's national side, but those involved in Benetton and Zebre have little doubt that it will happen sooner rather than later.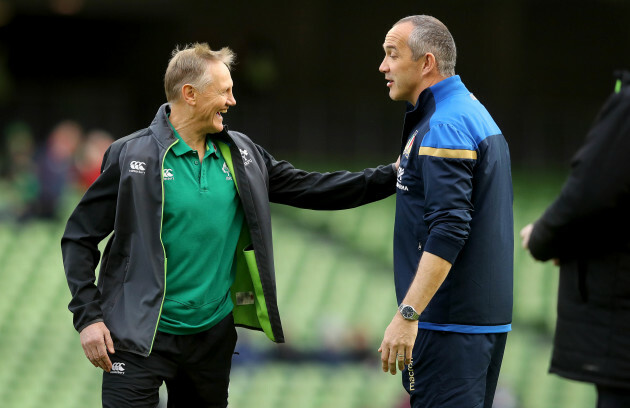 Ryan Byrne / INPHO Ireland boss Joe Schmidt with Conor O'Shea. Ryan Byrne / INPHO / INPHO
The weekend after Ireland ran eight tries past Italy in this year's Six Nations, Benetton and Zebre both won away from home in the Pro14 – a first away double for the Italian clubs.
Kieran Crowley's Benetton have won eight games in the championship this season – a marked improvement on five, three and three in their previous three campaigns – while last weekend's defeat to Connacht ended a five-game winning streak – a club record.
Michael Bradley's Zebre have won only four games, but they have been extremely close in a number of other fixtures and have beaten Connacht at home and away this season – their victory on the road in Galway an important mental milestone.
"It's been a funny old year because I could list four or five games where we could have, should have, had the win," says Zebre's English-Italian lock David Sisi, who previously played with Bath and London Irish. "The Cheetahs game at home stands out to me, where we lost by a point with the last kick of the game [24-23].
"In Edinburgh, we lost by a single point [16-15], so there have been lots of opportunities this year with the way that we're playing that we could have taken a few more scalps."
Zebre are not quite at Benetton's level yet in terms of wins but both Italian clubs have won new admirers this season with their increasingly attractive styles of attacking rugby, particularly Bradley's offload-heavy Zebre.
While Benetton are the more forward-dominated of the two clubs, their Italy international back row Robert Barbieri has enjoyed the increased freedom Crowley has given his players.
"They have to get out of that Italian mentality, right?" says Barbieri, a native of Canada whose father and grandparents emigrated from Calabria to Toronto as a 10-year-old. "It's not always going to be a strong set-piece battle.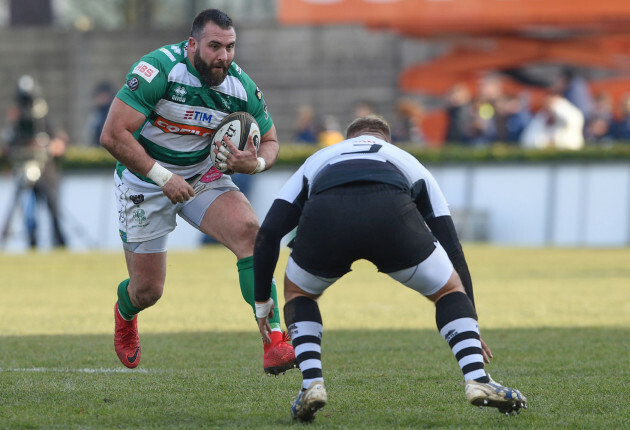 Elena Barbini / INPHO Barbieri makes a big carry for Benetton against Zebre. Elena Barbini / INPHO / INPHO
"We still do have a strong set-piece but the laws of the game have changed and the ball is out of the set-piece earlier, so Kieran has opened up our rugby style to use the whole field, different running lines, moving the ball wide."
Irishman Bradley has encouraged something even more expansive with Zebre. They are already just two tries off their total of 38 for the entirety of last season and have thrown more offloads [194] than any other team in the Pro14.
They are second in the linebreaks list with 158, while their 309 defenders beaten is also second best.
"My knowledge of Italian rugby would have probably gone with that stereotype that it's very set-piece driven," admits Sisi, "but being out here I have seen that we have got some ridiculous backs who love to offload and play that attacking game.
"Some of our back row boys this year have been absolutely class as well. My experience of arriving here is that this younger group are quite a fearless bunch.
"They love to offload and that was probably one of our work-ons at the start of the season: to slightly reign that in and improve our game management. But it's a mindset of ours to have these young guys playing attacking rugby."
With the likes of Zebre fullback Matteo Minozzi already making an impression at Test level, Sisi and Barbieri have both seen that the young players coming through in Italian rugby are increasingly built for this style of rugby.
The Italy U20s have improved hugely too, with Irishman Stephen Aboud doing fine work within the development pathways, and there are more talented players to come.
Barbieri, who moved to Italy after playing for Canada at an U19 World Cup, recalls his earliest years in Italian rugby from 2003 onwards and stresses that the young players nowadays have completely different opportunities and mindsets.
Giuseppe Fama / INPHO 21-year-old Matteo Minozzi has still only played 11 games for Zebre. Giuseppe Fama / INPHO / INPHO
"I was one of the young guys coming through when I first came over and we struggled a lot because we didn't have what these guys have now," says Barbieri. "I'm jealous of them because they have good programmes now.
"There's good quality coming up, so many kids with bright futures, and they all have good work habits now. They're more professional than I was back at their age and they've just go to stick with the programme. A few more years and Italy will be really competitive."
Bradley and Crowley are certainly pleased to see more playing quality coming into their squads, but the head coaches of Zebre and Benetton – for whom ex-Italy lock Antonio Pavenello is the sporting director – deserve a major share of the credit for bringing about improvements in their clubs.
Crowley, who formerly coached Taranaki, the New Zealand U19s and Canada, has been a particularly impressive addition to Italian rugby since 2016 and his players have steely belief in his ability to bring further successes.
"He's just really calm and easy to talk to," says 33-year-old Barbieri. "He also takes care of the older guys on the team. If he sees that there is tiredness there, he will get us to do our fitness session off-feet, so he looks after his players, he's smart.
"He preaches that whatever you decide in the game, do it at 100%. If you make a decision, go with it, don't doubt yourself. He's a Kiwi and they like to play what they see, so he pushes us to make the decision for ourselves."
Former Connacht boss Bradley, who led Ireland's summer tour to New Zealand and Australia in 2008 on an interim basis, was appointed by Zebre last summer on the recommendation of O'Shea.
The style of their rugby has won him many supporters and Sisi is among them.
"Mike is doing a great job, he's looked at the resources and the players Zebre have got and I think he's brought a good philosophy in," says Sisi, whose grandparents are from the north of Italy and moved to Britain as refugees during World War II.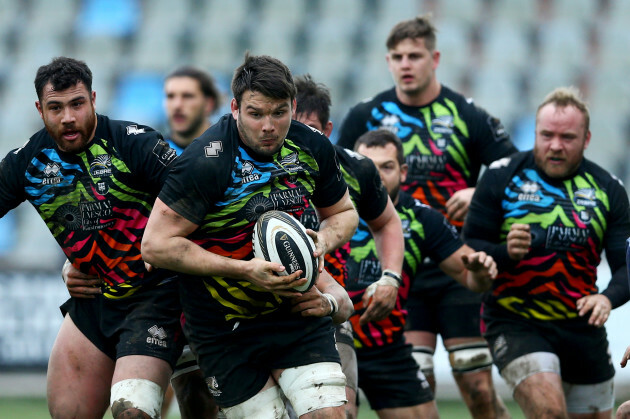 Matteo Ciambelli / INPHO Zebre lock David Sisi has been in outstanding form. Matteo Ciambelli / INPHO / INPHO
"We play some pretty good attacking rugby and that suits the players that we've got here and the way we want to play the game. Michael has embraced that and he's got the best out of Zebre at the moment. We just need the consistency now."
The fact that the Italian clubs have been playing a more ambitious style of rugby has been facilitated by the improvement of their fitness.
Pete Atkinson, who previously worked with Saracens and the English Institute of Sport, now oversees all of the strength and conditioning programmes for Zebre and Benetton, as well as the national team.
While each club has their own S&C staff, Barbieri says Atkinson is "here every second week seeing us, helping the guys out."
Sisi believes the increased focus in this area has helped Zebre to be more competitive for longer in games, and they have had strong finishes in the final 20 minutes of a number of games.
Treviso have benefitted from greatly improved training facilities, and Barbieri rates himself and his team-mates as "fitter, strong, and more confident," while pointing out that Crowley's approach to training is also making a difference.
"It's quick and sharp now. We go out and get our job done, guys are concentrating harder in shorter sessions. We also have a good leadership group, so if younger guys are screwing around, they will be told to pick it up."
With Atkinson leading the physical side of the show, O'Shea and his Italy assistant coaches are also regular presences in both clubs, pushing players to improve and simultaneously showing them that their efforts will not go unnoticed.
Matteo Ciambelli / INPHO Former Connacht head coach Michael Bradley is in charge at Zebre. Matteo Ciambelli / INPHO / INPHO
O'Shea may have had frustrating results with Italy so far in this Six Nations but he is the man at the top of this pyramid, bringing all of the strands in the two clubs, and beneath them, together.
Bradley, Aboud, Atkinson, Mike Catt, Brendan Venter, Wayne Smith – O'Shea has brought and will bring a great deal of brain power into Italian rugby.
"Conor spends his time between the two clubs," explains Sisi, who has been outstanding since joining Benetton last summer and moving from the back row into the second row.
"Benetton in Treviso and us in Parma, we're not far from each other. Conor bases himself in the middle and will come down to Treviso and down to Parma.
"We see him here quite a lot and he's certainly part of the set-up. He's got a very vested interest in how the club goes, so while Mike [Bradley] and the coaching staff here run everything, Conor has a close eye on it as well."
Barbieri spent a season with Leicester Tigers in 2014/15 and saw there how the RFU's coaches would visit clubs, but that wasn't always the case in his first spell with Benetton before the brief move to England.
O'Shea has changed that for good.
"Conor has been around more, showing his face, the guys know he's more involved," says Barbieri. "It's not like back in the day, it just wasn't like that.
"He talks with a lot of the guys, tells them what they need to work on, so young players are getting that. Conor tells those young guys what he wants to see and they can work hard on that."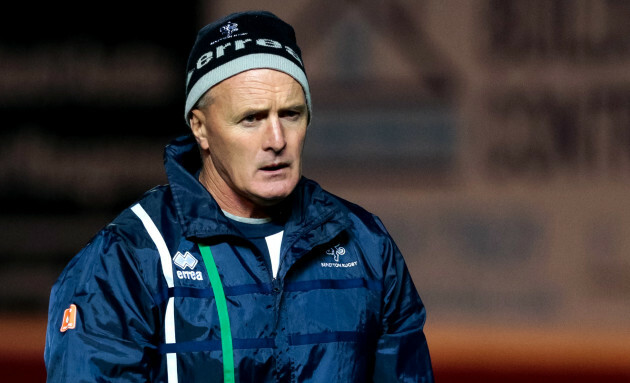 Simon King / INPHO Kieran Crowley has been an important addition to Italian rugby. Simon King / INPHO / INPHO
While the rivalry between Zebre and Benetton will remain fierce, as it should, Barbieri says there is a sense of "camaraderie" there too, as everyone works towards making Italy an effective force at Test level too.
The experienced flanker doesn't see that day as being too far off.
"It seems like some guys are still a bit timid when they play with the national team, but I think it's normal really.
"When I first started with Italy, you slightly hold back because you're on a big stage. Some of the guys need to get over that and the quality is there, they just need to back themselves a bit more."
The42 is on Instagram! Tap the button below on your phone to follow us!