THESE PAST FEW weeks haven't been the most enjoyable for Joey Carbery, which seems an odd thing to say after the 22-year-old added Champions Cup and Pro14 winner's medals to his list of honours in the month of May.
While the gifted playmaker has been helping Leinster to those successes, he has been faced with the most difficult decision of his young life – should I stay or should I go?
Billy Stickland / INPHO Carbery will join Munster ahead of next season. Billy Stickland / INPHO / INPHO
Carbery insists that the IRFU were not applying pressure on him to move to Munster – he says Joe Schmidt "wouldn't have told me what to do" – but even if that wasn't the case, recent weeks have involved many sleepless nights for the Athy man.
When he sat down with a group of rugby journalists after Ireland's training session in Carton House yesterday, Carbery was composed in explaining why he will join Munster this summer, but there were still hints of the stress this episode has involved.
It will take many Leinster and Munster fans some time to get used to the sight of the out-half playing in a red shirt, and Carbery – who says he only made his final decision on Wednesday – will face adaptation challenges of his own.
"It's been within my gut for the last few days but I wanted to be with my family when I made the decision and I wanted them to be the first ones to know, so I did that just before coming into camp," said Carbery.
"It's still pretty new to me, this whole thing has come up pretty quickly. I do feel comfortable that I've made this decision and I can get on with it now, and it will get easier with time.
"It's still quite raw at the moment but I'm happy that I made the right decision."
Putting it to bed this week made sense, following weeks of speculation and with Ireland flying to Australia today for their three-Test series against Michael Cheika's Wallabies.
"I wanted to get this decision made and out there before leaving, for my own mental state," said Carbery. "I can just get it out there and move on with things."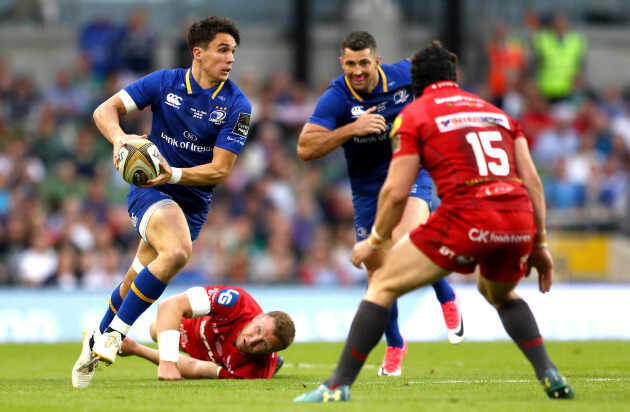 James Crombie / INPHO Carbery featured in Leinster's two trophy successes. James Crombie / INPHO / INPHO
Carbery also admitted that "my head's been a bit fried" over the course of the past number of weeks, although he underlined that he was feeling excitement to be joining Munster.
It's believed that Carbery will move to Limerick on a two-year contract but he said yesterday that the details of his deal still need to be finalised.
"That's being ironed out, all I've told them is my decision, that's what they're waiting for. It's all out of my hands. I just wanted to get my decision out before getting on the plane, so I could have a clearer head."
Carbery's agent, Ryan Constable of Esportif, will have surely negotiated a more lucrative contract than he has been on at Leinster, one of the bonuses of the move.
But for Carbery, the shift to Munster was purely decided on rugby terms.
"The game time, getting more of an influence at 10 maybe, that's the big one," said Carbery of the attraction of Munster.
"I know people down there too, they'll make things easier. Just getting to play more regularly is the main one. It's purely a rugby based decision, I'm excited about the opportunity.
"I know myself to develop, Leinster have got me to a stage now where I feel like I'm just about ready. Now I need to go out and develop even more now. I'll always have a huge part of Leinster in me for that.
"It's purely based on the opportunity of playing 10. That's what it came down to, and going out of my comfort zone I suppose is going to be pretty tricky.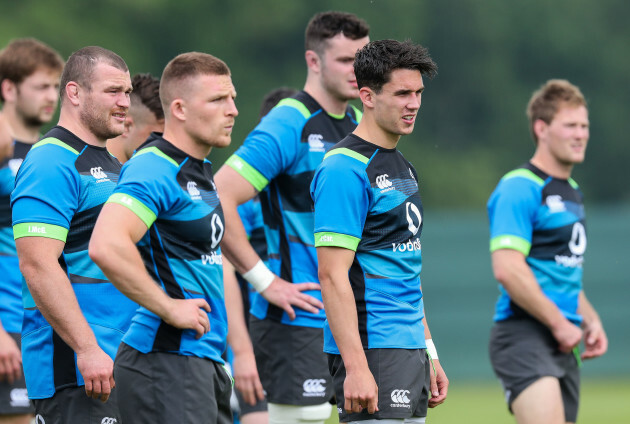 Billy Stickland / INPHO Carbery at Ireland training yesterday. Billy Stickland / INPHO / INPHO
"It's going to be tough but I'm a rugby player and I've got to concentrate on my rugby."
From Ireland's point of view, having their second-choice out-half in a far better position to regularly play in the 10 shirt at provincial level, as well as gaining experience of tactically leading a team, will be extremely beneficial.
The 2019 World Cup is now just 15 months away and its proximity was another part of Carbery's decision-making process.
"I suppose by the time the World Cup comes around I want to be at my peak," said Carbery.
"I know I'll get there with regular game time and get into the rhythm of playing 10, which I'm really excited for because I know with the right opportunities where I can get to."
Of course, Carbery was initially offered a chance to move north to Ulster next season, but his sense was that Munster would be the better fit if he was to leave Leinster.
"I suppose it was a personal decision," he said of turning down the Ulster option. "I thought the opportunity would be better in Munster. I was going off the cards I had in front of me, that was why I made the decision."
Whatever about his preference of possible destination, the thing that made all of this so hard for Carbery was leaving his home province.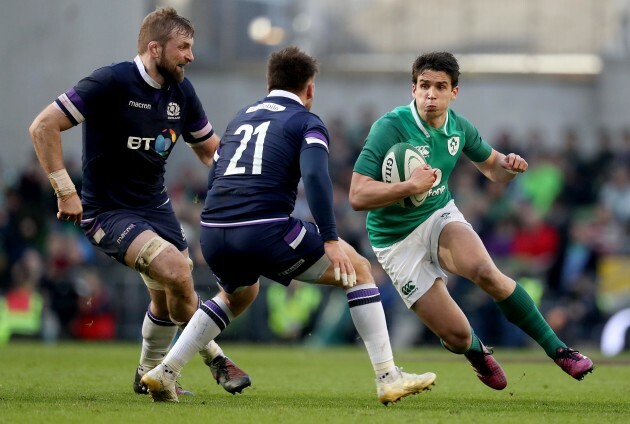 Tommy Dickson / INPHO Ireland should benefit from Carbery's move. Tommy Dickson / INPHO / INPHO
A product of Athy RFC, Carbery was involved in the 'North Midlands' regional set-up from U15s level upwards and first wore a Leinster jersey proper when selected for the Leinster U18 Clubs.
Having attended Árdscoil na Tríonóide, Carbery then did his Leaving Certificate year at Blackrock College in Dublin, helping them to the 2014 Leinster Schools Senior Cup.
The Leinster sub-academy and full academy followed as he starred for Clontarf in the AIL and Carbery has played for Leinster close to 40 times since his senior debut in 2016.
Leaving it all behind – on and off the pitch – will be difficult, but Carbery was keen to stress that Leinster bosses Leo Cullen and Stuart Lancaster have been supportive during his tough few weeks.
"My friends live in Leinster, all my friends and my girlfriend are all living in Leinster," said Carbery. "That's the tough part, but this decision was purely based on rugby.
"I have to say thanks to the Leinster fans for all their support over the last few years. I chatted to Leo and Stu, both were understanding that game time was very key and with the likes of Johnny [Sexton] there, it's tough to get a proper run at it in the big games with him there.
"I think that's just the game that I'm in – there's going to be people in front of you, there's going to be people behind you, so I just wanted to make this decision purely on me and they understood that.
"They were supportive about it and I was chatting to them a good bit over this whole time as well."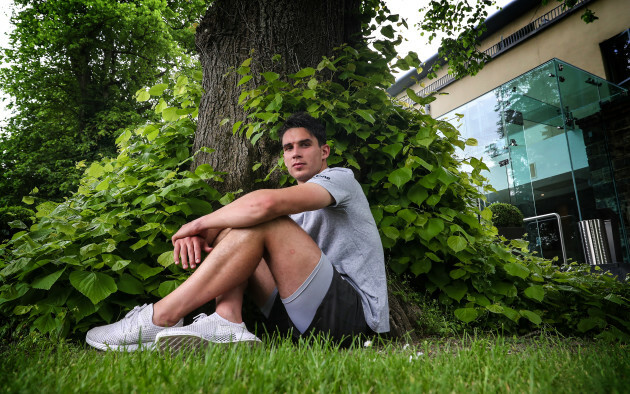 Billy Stickland / INPHO Carbery had many sleepless nights before his decision. Billy Stickland / INPHO / INPHO
Leinster may have been supportive of Carbery on an individual level but they are not happy about losing an important and promising young member of their squad to a provincial rival.
The widespread perception has been that Schmidt and IRFU performance director David Nucifora played central roles in this move happening, but the Ireland boss yesterday stated that he hadn't been involved beyond meeting Carbery once.
"He wouldn't have told me what to do," said Carbery of Schmidt's role. "He was more as an adviser. I contacted him as regards meeting up and I'm sure you guys saw that picture.
"So it was more to get his opinion because me and my dad had never gone through anything like this and Joe has been in the professional game for such a long enough time that he'd know. It was good to get his insight on it."
Carbery repeatedly underlined the importance of his father, Joey Snr, in how he managed the process and reached his decision.
Carbery's father coached him through the age grades in Athy and lived through many of these anxious recent moments with his son.
"It was all a self-based decision with my dad being my closest advisor," said Carbery. "I've been chatting to him a lot and he's had a few sleepless nights as well as I have."
While Carbery says he didn't need any persuasion from Munster boss Johann van Graan, he did warm to the South African when they met to discuss the possible move.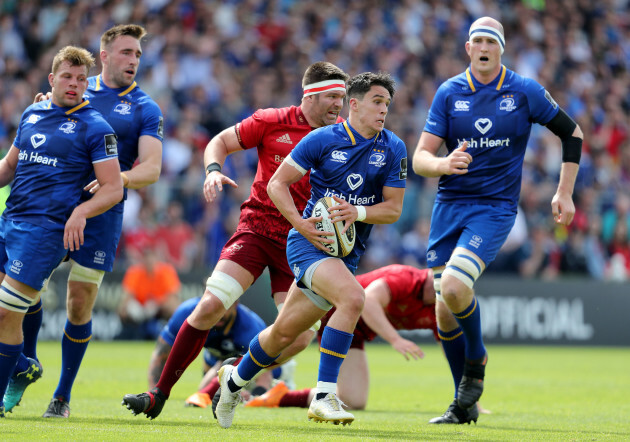 Dan Sheridan / INPHO Carbery will be in the red shirt next season. Dan Sheridan / INPHO / INPHO
"I met up with him and he's a really good guy," said Carbery. "I felt like I connected with him and he seemed like a really honest guy, which I like; someone I can go to, especially if I'm living away.
"I'm going to need someone who's a good advisor, who I can trust and just have chats to even not regarding rugby. I felt like he could definitely be that person I could talk to, so I really liked him."
In the end, Carbery kept on coming back to his central point – he sees Munster as a means to getting more games as an out-half.
He has already considered the inevitability of facing his home province next season and it would seem obvious that there always be a lure to return to Leinster.
"Who knows? Who knows down the line?" said Carbery when asked if he could see himself moving back to Leinster in the future.
"But at the moment I'm just concentrating on going to Munster and I'm going to take however long I'm down there as well as I can and get my opportunities, so I'm really excited for it.
"I'm looking forward to the opportunity and I feel that a really good thing could come from it."
The42 is on Instagram! Tap the button below on your phone to follow us!