JACK O'CONNELL PICKED a good time to visit his cousin Paul Kiernan and the Ireland U20s.
This day last week, the Bristol loosehead – who will be playing in the Premiership next season – travelled to Manchester to catch Ireland taking on New Zealand at the World Rugby U20 Championship and watched history being made.
Though his cousin Paul didn't get to play, instead captaining Ireland to their bonus-point win over Georgia on Wednesday, O'Connell appreciated the work rate, aggression and skill on display from Nigel Carolan's side.
O'Connell helped Bristol to promotion this season.
Ireland have risen as genuine contenders in Manchester ahead of Monday's semi-final against Argentina, and O'Connell himself knows all about such an upward curve.
The 26-year-old former Leinster and Ireland U20 prop has just come off the back of a Championship-winning season with Bristol to end the club's seven-year stint in the second tier.
He is in the midst of his holidays but already Andy Robinson's men are thinking about their return to the Premiership.
"They told us we're back on the 27th of this month and to be ready for the hardest pre-season of our lives," says O'Connell.
"I think that kind of scared some of the boys so there's a bit of fear out there at the moment! There's big expectations so we're going to have to match that."
Bristol is already a big club and is only going to grow more rapidly but their ambition had been knocked back by defeats in the Championship's cruel play-offs in both 2013/14 and 2014/15.
The Ashton Gate-based outfit had finished top of the regular season league in both those campaigns but that is rendered somewhat meaningless in the Championship. Even this season, when Bristol had finished 16 points clear at the summit, they had to go through a two-legged semi-final against Bedford and then a two-legged final against Doncaster.
"We strove more for consistency this year and tried to build on a week-on-week basis," says O'Connell, who was involved in last year's heartbreak.
"We didn't have the best start to the season, a bit of a hangover from the year before, but we learned when and where to play our rugby. We were smarter this year than we have been in other years."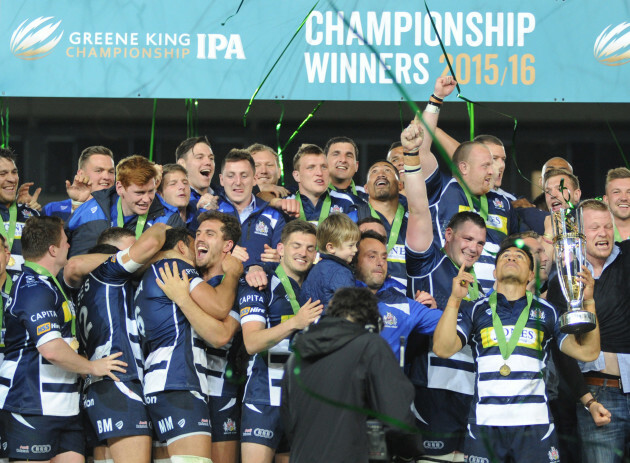 Simon Galloway O'Connell and Bristol celebrate promotion. Simon Galloway
The end result for Bristol is Premiership rugby and O'Connell will have his opportunity to shine in one of the strongest leagues in the world in 2016/17, two years after leaving Leinster.
O'Connell was born in Belgium, before spending much of his youth in Winchester in the south of England. His family then upped sticks to Louisiana in the US for two years, before he began boarding school in Clongowes Wood, swiftly standing out on the rugby pitch.
His mother is from Cork and her brother is Irish and Munster rugby legend Mick Kiernan [father of Paul], who kicked a famous drop goal to win the 1985 Triple Crown. The rugby genes are clearly strong.
O'Connell's father is a proud Kerryman and a big Munster fan too, with the loosehead prop joking that "when I played for Leinster my granny refused to wash my gear!"
His parents now live in Scotland, meaning that a visit home doesn't always involve a flight to Ireland but even during his upbringing abroad, O'Connell spent two or three months back in Kerry every summer.
"I wasn't allowed to turn English," has adds with another laugh.
O'Connell's reputation soared during his time with Clongowes, as he captained the school's Senior Cup team and earned Leinster underage representative honours.
Such was his ability that he spent two seasons with the Ireland U20s, helping them to the 2010 Six Nations title in a squad that also included the likes of Andrew Conway, Rhys Ruddock, James McKinney, Tiernan O'Halloran, Jordi Murphy and Simon Zebo.
The Leinster academy was the next progression and O'Connell went on to make a senior debut for the province against the Ospreys in September 2011.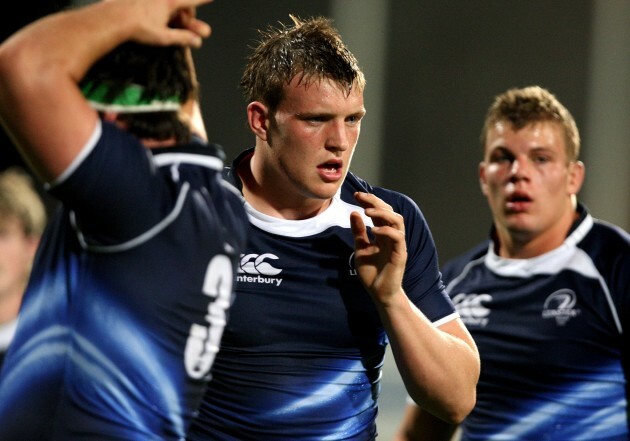 James Crombie / INPHO O'Connell in Leinster U20s action, with Jordi Murphy in the background. James Crombie / INPHO / INPHO
13 further appearances followed over the course of three seasons but O'Connell's path to further game time was blocked by Cian Healy and Jack McGrath. Eager to actually play rugby, O'Connell spoke to those closest to him and opted to head for England.
"Moving away from Leinster was tough," says O'Connell. "I was leaving my friends and my girlfriend Niamh – she has since moved over with me – so it was tough back then."
Having settled in swiftly, however, O'Connell has not looked back. He played 14 times in a first season that was hindered by injuries at certain points and this season saw him underline his importance to Bristol with 20 league starts.
He has kept experienced Scotland international Kyle Traynor out of the team and has been thriving on the back of extended exposure. O'Connell is now an important part of the Bristol machine.
"I think it's consistency more than anything and regular game time can be underrated," says O'Connell of how his game has improve. "I know some players can come back from injury and play superbly but it takes me a while to get into it.
"The Championship is probably not as highly regarded as it should be in Ireland but it's a tough league. It's very physical week in, week out. You're travelling a lot and you learn quite a lot on the road, picking up those tricks."
O'Connell has come across a number of familiar faces during the two seasons in England so far. Doncaster, who Bristol defeated in the play-off final, had his former Ireland U20 teammate Michael Heaney at scrum-half.
The clash with Bedford Blues in the semi-final, meanwhile, pitted O'Connell against his old Leinster housemate Mark Flanagan – who is also heading for the Premiership thanks to a move to Saracens.
O'Connell says the quality of coaching he is getting at Bristol has been important to his growth as a player. Former England coach Andy Robinson is director of rugby at Ashton Gate, with Sean Holley as head coach and the experienced Mark Bakewell now in charge of the forwards.
James Crombie Bryan Cagney, O'Connell, Ben Marshall and Paddy Butler celebrate their U20 Six Nations triumph in 2010. James Crombie
The Championship itself has been a school of hard knocks for loosehead O'Connell.
"Take someone like [35-year-old] Colin Quigley for Doncaster in the final; he has been around for years and he knows every trick in the book, so it was two tough games against him. You learn a lot from that."
Sealing promotion in the second leg against the Knights at Ashton Gate was a memorable moment for O'Connell and Bristol. The front row feels the occasion showed the sheer appetite for rugby in the city, which is the sixth largest in England.
"To have more than 16,000 people come was brilliant," says O'Connell. "People were calling looking for tickets all week but it was sold out. It shows that there is the market for it in Bristol.
"The stadium is going to be 26,000 [after this summer's redevelopment] and now we've got to win to keep them coming back.
"The west country is rugby country with the likes of Gloucester, Bath, Worcester, Exeter – some of those local derbies coming up are going to be brilliant."
Off the pitch, O'Connell is happy with life in Bristol too.
"I'm loving it. We have a tight group and it's a little bit different to the likes of Munster and Leinster where 90% of the players are from the hometown. There's people from all over here, so it brings you together. My girlfriend has moved over now and we're building a nice life here at the moment."
It's that community spirit that ensured O'Connell had little hesitation in signing a new two-year contract with Bristol back in February to tie his immediate future to a club that is very much on the rise.
He has no interest in hopping from club to club at this point of his career and finds himself entirely happy in a tight-knit unit at Bristol.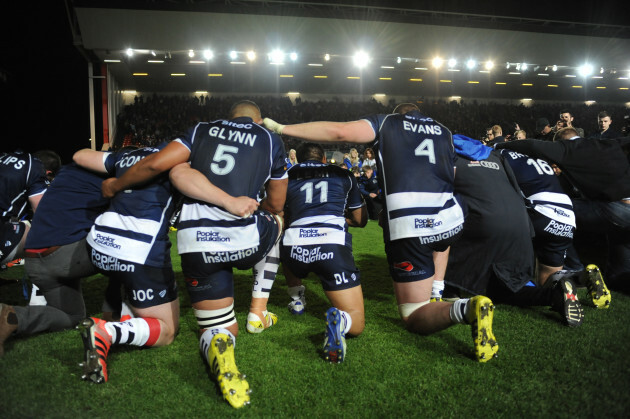 PA Wire / Press Association Images O'Connell feels at home in Bristol. PA Wire / Press Association Images / Press Association Images
"Look at some of the players who have been playing – Jack Tovey, Ben Glynn, Callum Sheedy, James Phillips, Joe Joyce. All these players who played in the final are academy boys who came all the way through and they've been here for the last five or six years.
"They've gone through losing finals and it's great for them to finally be in the Premiership. We have a good group, a lovely bunch."
Those who have come into the club with bigger reputations have knuckled down and become part of the collective. Former Wales international Gavin Henson arrived last season and was superb in the campaign just ended, though he missed the play-offs.
"Gav has been brilliant," says O'Connell. "You get a media perception of the guy and then you meet him – I don't think I've met a more professional player. The way he goes about his rugby business is incredible.
"He cooks his own food at home and brings it all in every day, things like that. He was great, unlucky with injury at the end of the season, but he was good to have around the squad and he's picked up a hell of a lot of rugby knowledge over the years. He was able to pass that on, which definitely helped a lot."
Fellow ex-Ireland U20 international Darren Hudson originally joined O'Connell in making the move to Bristol from Leinster back in 2014 but his stint with the club was ravaged by injury and he finished the season on loan to Kevin Maggs' Moseley.
Bristol's outside centre Jack Tovey has Irish roots, while second row Joe Joyce played for the Ireland U20s through the Exiles system.
"Joycey had a great season in being a model of consistency when he had game time," says O'Connell of the lock. "He was unlucky not to be picked for the final few games of the season but he's coming up against a British and Irish Lions [Ian Evans], it's always going to be tough.
"He played for Ireland U20s but he's as Bristolian as you can get, so I've never seen a happier man at the final whistle."
Most highly-rated of all is 20-year-old out-half Callum Sheedy, who burst into prominence in the play-off games, filling in for Henson and shining. He has played sevens for Ireland at U19 level but Wales and England are both attempting to ensure he commits to them.
Bristol Sport / YouTube
"I think he's got half of Wales texting him and the other half texting him are English, so the Irish really need to get onto him!" says O'Connell.
"The way he dealt with the pressure in the final four games is incredible. He was given his first start in the last game of the season so to play the four play-off games as he did, it was very impressive."
O'Connell himself says thoughts of possibly playing senior international rugby with Ireland have crossed his mind but stresses that he works best when he's focused on the task directly in front of him.
Right now, that's the Premiership.
"It does, but I set short-term goals at the start of pre-season and I'll then look at longer-term goals when I see how I'm getting on after a couple of games. I'm really interested to see if playing in the Premiership suits how I play."
The42 is on Snapchat! Tap the button below on your phone to add!