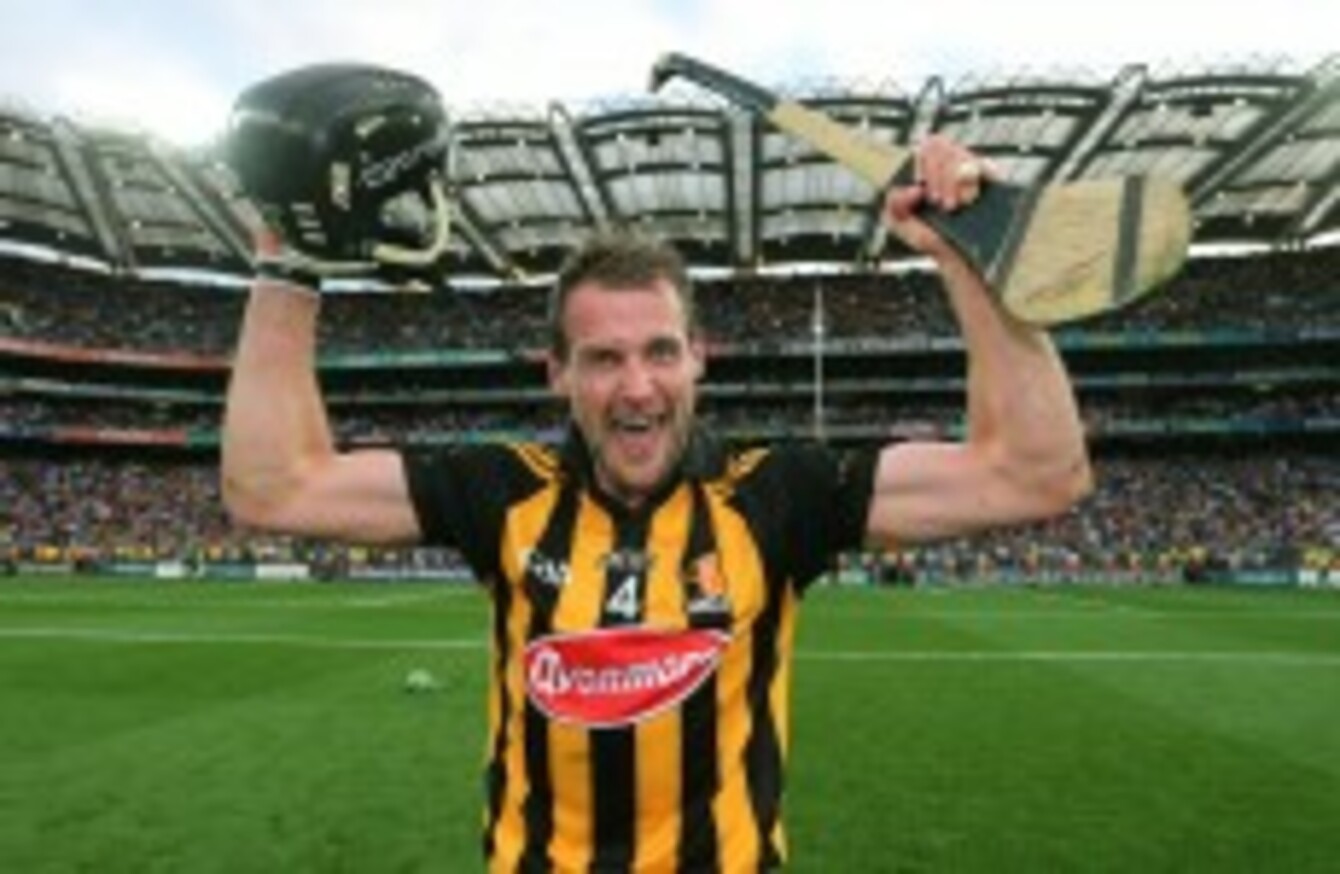 Jackie Tyrrell wants more of this before a trip to the Superbowl in 2016
Image: Lorraine O'Sullivan/INPHO
Jackie Tyrrell wants more of this before a trip to the Superbowl in 2016
Image: Lorraine O'Sullivan/INPHO
THERE WAS ONE story that caught the eye of Kilkenny hurler Jackie Tyrrell recently. He read with interest about the daredevil antics of the two Irish lads who snuck into the Superbowl and ended up sitting in $25,000 seats.

Tyrrell smiled: "Yeah, fair play to them! They did well to get in there because as you can imagine, there is plenty of security there. It's hard enough to get in on All-Ireland final day so I'd imagine getting into a Superbowl is twice as hard!"
Tyrrell and Kilkenny team-mates Eoin Murphy and Paul Murphy are keen American Football fans. And on his holidays to San Francisco recently, Tyrrell drew gasps from locals as he drove 45m frees over the bar at the new Levi Stadium, home of the 49ers.
Source: mrjackietee/Instagram
He laughed: "Ah a few contacts there! One of the Irish guys over there, his son was a security guard with the 49ers.
We rang and asked him to see if we could get down. He brought us in and said to bring a few hurls so we had a puckaround on the pitch. It was good fun!
Tyrrell then found himself fielding questions from interested onlookers, eager to find out exactly what he was doing. "It was 'what's this' and all that. I had to give them the usual speel. We told them to Youtube it so they're gone off to dig deeper into it.
"I offered one or two of them a go of the hurl but they weren't too interested. They were more looking at us pucking and more in awe of us than anything. They thought they'd hurt themselves I'd say!"
Tyrrell's fascination with the NFL dates back to his days living with former Cork star Kieran Murphy, when the pair hurled together with Limerick IT.
"I lived in college with Kieran Murphy from Cork and he used always go back early on a Sunday evening, five in the evening. I used not go back until Monday morning and I'd ask him 'why are you doing that?'
"He'd be back to watch the American Football. He used to go back on a Sunday night and I started watching it from there really. That was 2007 – I think we went on holidays with the Allstars that year and I kind of got into it over there. Since then it's taken off really."
It was a month to remember for Tyrrell on his travels in the US. While on the Kilkenny team holiday to Miami, he found himself playing headers in the pool and beach volleyball with former Holland and Manchester United goalkeeper Edwin Van der Sar, as you do!
Source: Talk Hurling/YouTube
Tyrrell added: "I wouldn't say knocking around (with him). I'd like to think I was but he was there and floating around the hotel. A fierce nice guy and some of the lads asked him for photos and he got in the pool and played a game of headers and volleys with us. A bit of craic. He was a fierce nice lad and asking a small bit about our sport and hurling and things like that. It was nice."
Seven-time All-Ireland SHC medallist Tyrrell's immediate goal is to collect more silverware with Kilkenny in the coming season. But he's also setting his sights on a return visit to the US for next year's Superbowl. He explained: "I didn't get to the Superbowl (this year). I was in San Francisco and obviously the Superbowl was in Arizona. I was trying to build up few contacts – the Superbowl is over there next year so maybe next year."
If he's looking for a way to get in, perhaps Jackie could contact Richard Whelan and Paul McEvoy for some advice!