THERE'S ONLY ONE hard currency in Kerry football and that's the amount of All-Ireland medals you can put on the table.
James O'Donoghue got a sharp reminder of that as the dust settled on last year's Championship. A few days earlier he had been up in Dublin, winking at the camera and collecting his first All-Star award in due recognition of a fine summer.
Now he was at a table quiz and the question was asked: name the two Kerry players who have won an All-Star but no All-Ireland?
You don't want to be the answer to that question, not where he's from.
After coming of age in 2013, O'Donoghue has shown this season that he is ready to step up and be Kerry's leading man.
The circumstances forced his hand a little, he admits. When a string of once-in-a-generation players hung up their boots, and then one of the game's greats Colm Cooper suffered a season-ending cruciate injury, a county practically in mourning looked to its rising stars for answers.
"I think mentally, with the lads retiring, maybe it was about time for us [to step up] because they had led that team for so long," O'Donoghue says.
"There were a lot of us younger fellas who had been in the panels but you hadn't quite pushed on because it was hard to get into the team, you know? They were some of the best ever. You're on the panel but you're not really sure where you are in terms of playing or whatever.
"We were forced into stepping it up and showing some sort of form."
Cathal Noonan / INPHO O'Donoghue scored 5-24 in a superb league campaign... Cathal Noonan / INPHO / INPHO
As a team their league performances were indifferent — three wins and four draws, culminating in that embarrassing 10-point defeat against Cork. Results like that gave rise to the biggest fears in a county that does not tolerate second-best.
But on a personal level O'Donoghue shone, stepping out of the Gooch's shadow to score 5-24.
A shoulder injury ruled him out of Kerry's Championship opener against Clare but when he returned to face Cork in the Munster final, he was in frightening form.
The stats from his Man of the Match performance tell you all you need to know: 10 points, eight from play, and a massive 25 touches, 20 of which came inside the Cork 45. Not only was he getting possession but he was getting it where he could do the most damage.
Kerry blew Cork away and won by double-scores, 0-24 to 0-12.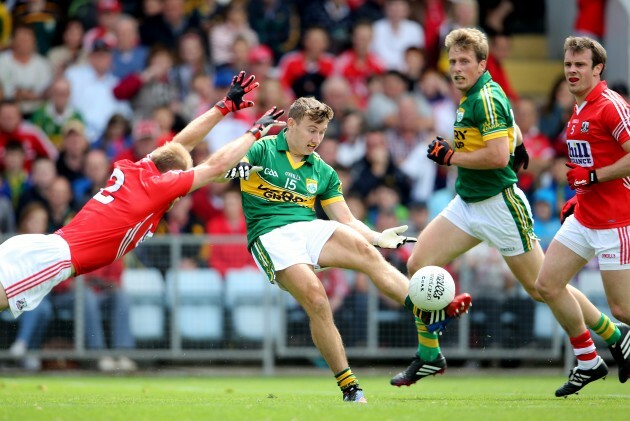 Cathal Noonan / INPHO ... and then turned the tables on Cork in the Munster final. Cathal Noonan / INPHO / INPHO
Suddenly the earlier league encounter between the sides, the prism through which Kerry were cast as Championship outsiders, didn't seem quite as relevant any more.
Bookies slashed their odds; pundits proclaimed them the real deal; Kerry were back.
O'Donoghue doesn't need GAA trivia at table quizzes to remind him what really matters in the Kingdom. It's a win on the third Sunday of September or it's nothing at all.
If that doesn't focus the mind ahead of their All-Ireland quarter-final on 3 August, nothing will.
"It's tough being down in Kerry sometimes with that sort of stuff because Kerry people are so forthcoming with their opinions.
"You ask if they're going to the game and they'll say, 'Nah sure why would I go down to see them get bate?'
"That does stir something inside you. It's rare that it happens in Kerry but when it does, of course you get that bit of a kick up the backside. You're kind of questioning are you a true Kerry player and do you deserve to be wearing that shirt?"
Kerry haven't won an All-Ireland since 2009, an almost unthinkable famine by their standards. After five years, are the fans getting a bit twitchy?
"A little bit," O'Donoghue laughs. "They know though, it's a rebuilding job as they call it.
"I think the big thing for us is that if there's anything, they will latch on to it. The whole county is kind of up again after the Cork win and everyone's really getting behind the team again which is really important, especially when the age profile is so low.
"Sometimes you just need that bit of momentum and bit of encouragement from around the place."