JAMES RYAN'S CARRIES tend to come in pretty horrible places.
And yet, despite invariably being tasked with surging into a mass of defensive bodies close into rucks, the 22-year-old makes positive contributions more often than not.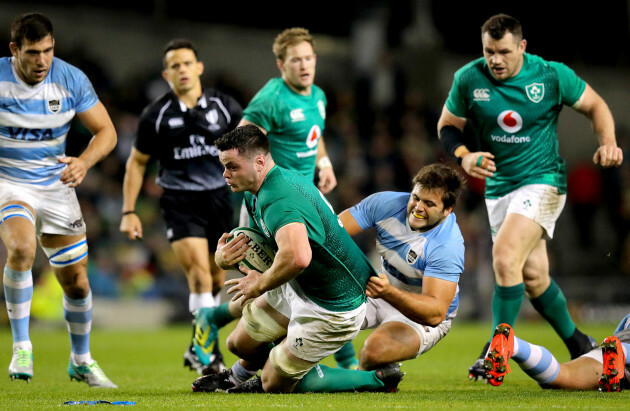 Ryan Byrne / INPHO Ryan fights for every inch on the pitch. Ryan Byrne / INPHO / INPHO
Ireland's win over Argentina yesterday proved to be a case in point, with Ryan once again showing that he is becoming one of the best ball-carriers off scrum-half in the game.
His work-rate for Ireland saw the second row carrying the ball 18 times for an average gain of 1.6 metres per carry.
That might not sound like much but it left him top of the charts among the Irish forwards, with only CJ Stander's 1.3 metres coming close. 
Ryan's ability to eke out centimetres and metres on the ball is one of the reasons the Leinster lock has swiftly become one of the first names onto Joe Schmidt's Ireland teamsheet.
The former St Michael's student's freakish physical power is a major component of his carrying ability but there is a real fight in his play too, an unwillingness to accept losing ground.
We see as much in Ryan's first carry of the evening against the Pumas below.
Click here if you cannot view the clip above
Carrying off the touchline is a nasty position to be in – the opposition being able to bring aggressive linespeed and very often hit in on the carrier with a double tackle.
In this instance, the initial tackle from Santiago Garcia Botta and Javier Ortega Desio brings Ryan to ground slightly behind the gainline. 
Rather than accept the loss of centimetres and potentially open himself up to being poached, Ryan works his 'bodyball,' adding in a roll on the ground, propelling himself upfield, then 'recoiling' his upper body to present the ball cleanly for scrum-half Kieran Marmion.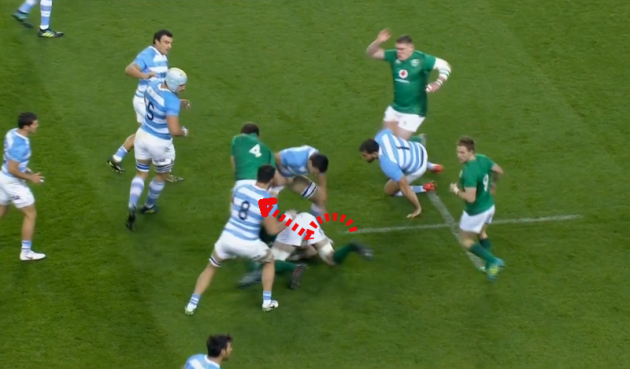 That fight on the ground is an important part of Ryan's carrying skillset but he also shows serious fight while he's still on his feet.
Ryan does not possess the kind of dazzling footwork that allows him to make massive sidesteps of defenders, but he does have good feet in congested areas, often preventing himself from being smashed behind the gainline.
By beating four defenders in Ireland's win over the Pumas, Ryan was second only to hot-stepping Jordan Larmour in that particular stats chart.
We get an example of Ryan's uncanny ability to eke out ground after the first contact in the clip below.
Click here if you cannot view the clip above
First, Ryan's subtle step back infield off his right foot helps him to avoid being hammered by the onrushing Pumas centre, Jeronimo de la Fuente. 
Ryan then braces his left shoulder into the tackle attempt of Desio and cleverly pirouettes to the number eight's right to surge into space.
Again, we see effort from Ryan on the ground to project himself a couple of more centimetres towards the tryline, also helping to ensure clean ball presentation.
Another impressive element of Ryan's carrying is his sheer stamina. 
The example below is the first of three carries in the space of 70 seconds in the second half.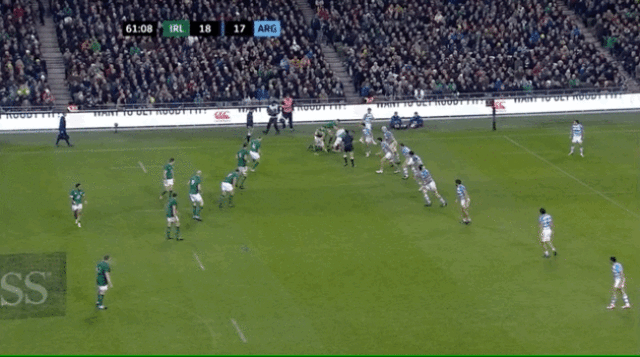 Click here if you cannot view the clip above
Ryan's ball-carrying traits are evident again as he dips his upper body low towards the ground – reducing the target for tackler Juan Pablo Zeiss – and braces his leading arm and shoulder into the tackle.
Zeiss bounces off and Ryan thrusts himself upfield, surging along the ground to give Ireland sudden attacking momentum, even though he's carrying off the touchline.
After Zeiss has tackled him low around the legs around 40 seconds later, Ryan is back on the ball soon after, beating the initial tackle.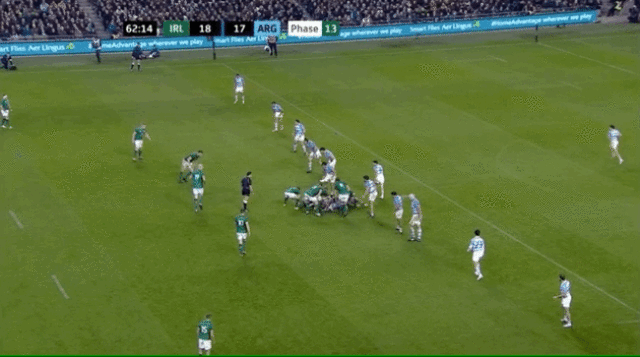 Click here if you cannot view the clip above
Again, there is a wall of bodies in front of Ryan but he finds a way.
Desio looks to chop in low and take out Ryan's legs but the Ireland lock somehow carries over the top of him, using his left arm to keep himself upright long enough to surge over the gainline and give Ireland more momentum.
This three-carry set from Ryan is impressive, but he managed to top it later in the game, delivering four carries in 66 seconds as Ireland hammered at the Argentinian defence in the final ten minutes of the game.
The Ireland second row, the grandson of a 1916 Easter Rising rebel, simply does not give up.
Every player would like to score tries and make glamourous carries in the wide channels but grafters like Ryan are essential to any team. His power and desire to win make him a crucial cog in Ireland's attack, laying the platform for others to look good.
There is so much more to Ryan's game than what he does on the ball, however, with his rucking always ferocious and hard-working.
He provides defensive impact too, as evidenced by a superb maul turnover against the Pumas in Dublin.
Ryan initially acts as a lifter on Peter O'Mahony's defensive jump against the Pumas throw.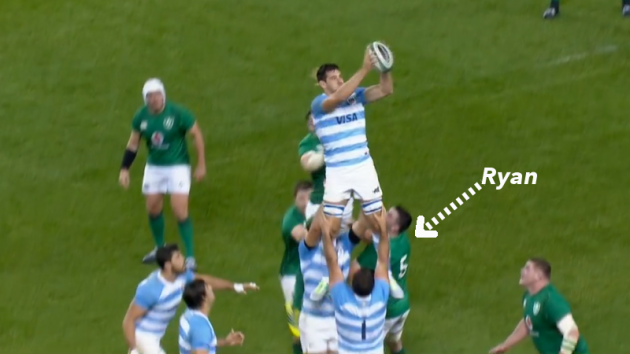 As soon as the Pumas come back to ground following Guido Petti's win in the air, Ryan engages in the counter-drive in the maul, as indicated in red below.
Ryan is looking to break the 'seam' between Petti and loosehead prop Botta, who has lifted Petti at the front and is now tasked with 'bracing' at the front of the Pumas maul, ensuring they have a solid, tight front to that maul.
Ryan is looking to splinter in between Petti and Botta, in the area we have highlighted in red below.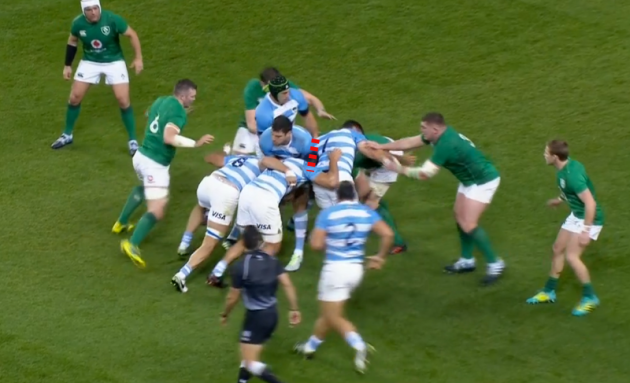 If Ryan can crack that seam, he gives himself a good chance of getting at the ball – therefore allowing him to turn over the Argentinian maul.
Again, Ryan's sheer dynamism and grit are key to him forcing his way through, although he is aided by Iain Henderson cleverly latching onto him and Tadhg Furlong driving into Botta from his right-hand side to further destabilise the Pumas prop.
The combined effort sees Ryan burst up through Botta's left arm, which had been bound around Petti. As highlighted below, Ryan's head emerges through the broken seam.
Just before Ryan breaks through, we can see that the Pumas have transferred the ball from Petti to their 'ripper,' Pablo Matera.
The ball is highlighted below.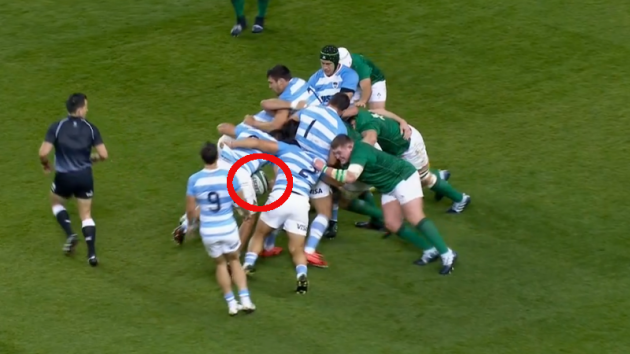 This transfer means that Ryan, having broken through Botta's left side, now has to continue to fight forward onto the ball if he is going to force the turnover.
We see the Ireland lock sweeping his right arm up and over the far side of Matera's body.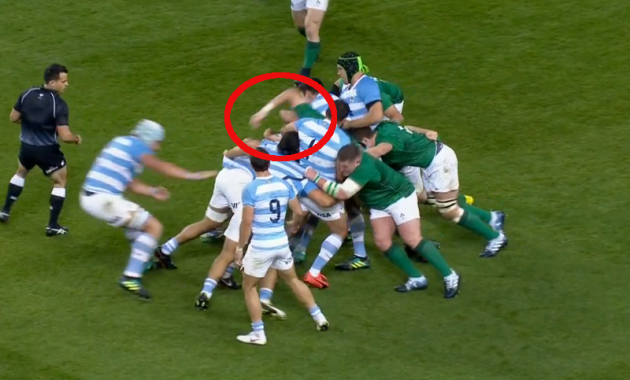 Ryan anchors his right arm around Matera and, over the course of the next two seconds, drags himself further beyond Botta and towards the ball, with referee Nic Berry shouting, "He's come through the middle, green is fine."
Ryan's next move is to fight hard to get his left arm beyond Botta, swinging it in underneath Matera and the ball, as highlighted below.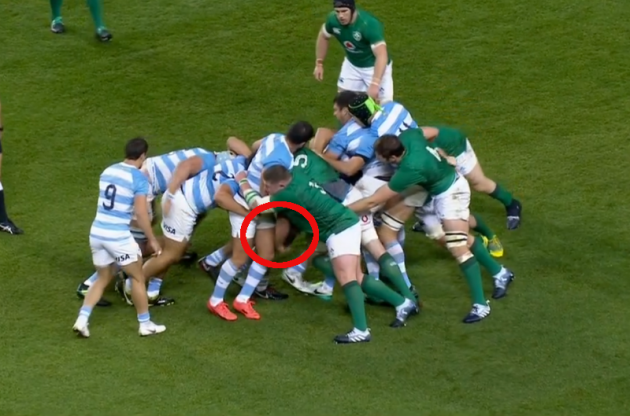 Ryan is now fully clamped in around Matera and the ball, wrapping it up tightly. He finds time, amidst the carnage, to glance up at Berry, who warns Argentina to "use it!"
But Ryan's fight through the middle of the maul and onto the ball means it's game over already. The contest goes to ground and Ryan's sublime work is rewarded with the turnover scrum.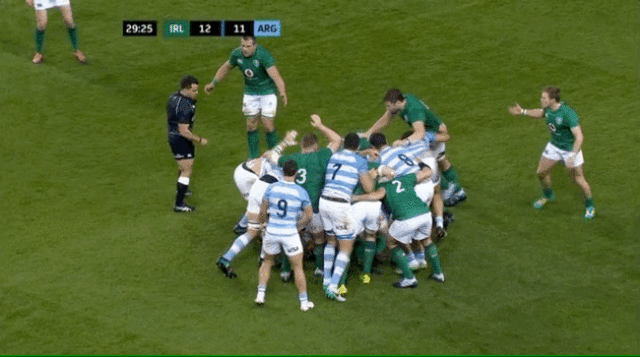 Click here if you cannot view the clip above
The images above don't go any way towards highlighting the sheer physical effort that is required to complete a maul turnover like this one.
Ryan completed all 13 of this tackles in the defensive line for Ireland in this game against the Pumas too, predominantly making his contributions close in around the rucks.
Again, this is often not the most glamorous role – and it hurts – but Ryan is always aggressive and hard-working.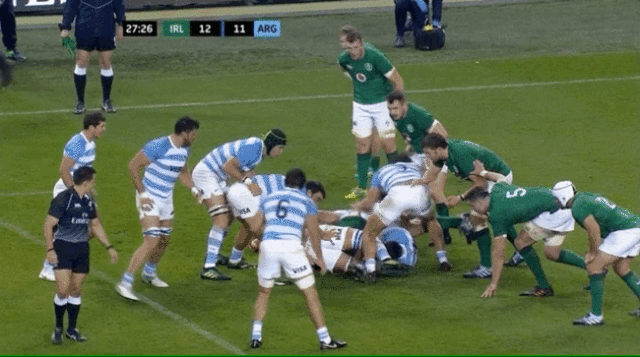 Click here if you cannot view the clip above
We see Ryan combining with locking partner Henderson for the close-in hit on Agustín Creevy above, denying Argentina front-foot possession and resulting in them kicking the ball a couple of phases later.
There were other big moments from Ryan defensively in this game, including a surging tackle on Petti in which he dragged the blindside upfield. Unfortunately for Ryan, an advantage was playing to Argentina and Berry came back for the previous penalty infringement.
Ireland's lineout was a concern ahead of the clash with the All Blacks next weekend and though Ryan is not the lineout caller, he will have been disappointed with the performance there.
The second row was pick-pocketed cleanly by Petti at the tail of one lineout, while his pressure in the air forced a knock-on from Ryan on another occasion. 
The Ireland lock did win two Ireland throws in the air at lineout time against the Pumas and his explosiveness makes him an excellent jumper, but Ryan and his team-mates have much work to do ahead of the All Blacks clash.
Ryan had the frustration of spilling the ball in a key area of the pitch against Argentina after Henderson transferred it to him in the air on a close-range Ireland lineout play.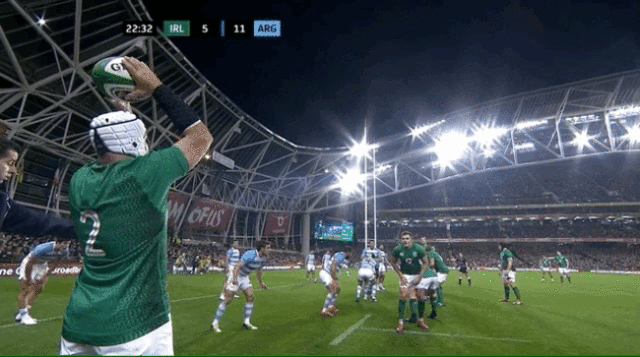 Click here if you cannot view the clip above
With left wing Jacob Stockdale coming from the front of the lineout here and Sean O'Brien ready to rip the ball from Ryan, it looks as if Ireland have a clever infield peel move planned from the lineout.
But Ryan spills the pop from Henderson and will have been disappointed with that error.
That said, Ireland's pack more than made up for their close-range miss less than a minute later when they drove Argentina off their own scrum feed for a turnover that led to Bundee Aki's try.
The scrum was sensational for Ireland throughout the 80 minutes against the Pumas and this was one of many memorable moments.
Click here if you cannot view the clip above
Clearly, the scrum dominance was largely down to Ireland's front row of Cian Healy, Rory Best and Furlong, but the rest of the pack is important in this set-piece too.
Ryan scrummages at tighthead lock for Ireland – behind Furlong – and his team-mates often stress the importance of his power in that area.
Scrummaging dynamism is important for loosehead locks too, but it's magnified in the tighthead lock position as so much of the pressure in the scrum comes through the tighthead prop.
Despite his youth, Ryan has stepped into this role at scrum time impressively. Devin Toner switched over to tighthead lock in the wake of Paul O'Connell's retirement, with O'Connell having been renowned as a ferocious and relentless scrummager.
But in Ryan, Ireland have very much found O'Connell's second row scrummaging successor.
Rather unsurprisingly, Ryan is back carrying the ball only three phases after the scrum turnover above, typically putting his hand up for more work and spinning out of Desio's tackle for vital metres in the build-up to Aki's score.
With Ryan showing his ball-handling skills for Leinster this season, offloading from strong carries off scrum-half and playing passes back inside before contact, it looks like he will develop into a truly complete second row for province and country.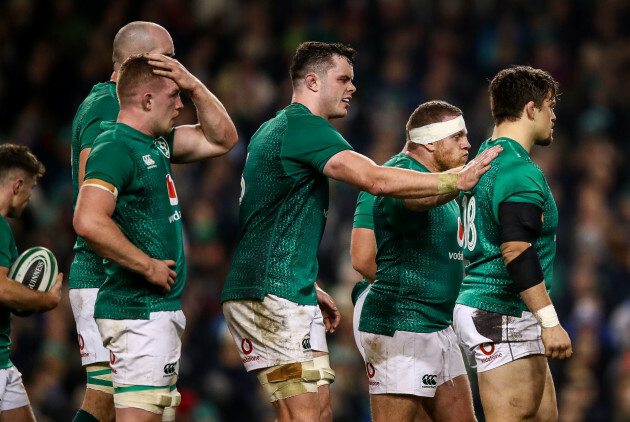 James Crombie / INPHO Ryan should emerge as a leader for Ireland in years to come. James Crombie / INPHO / INPHO
Ryan is not yet a regular lineout caller but it seems likely that he will take on that duty in the future too.
Having captained virtually every team he has played for on his pathway towards senior Leinster and Ireland honours, there is more to come from him in the leadership department in the future too.
Even without those things, Ryan is already one of the first names on Ireland's teamsheet.
Given that he is arguably already among the best second rows in rugby, it is frightening to think just how good Ryan can be if he continues to improve.
Subscribe to our new podcast, Heineken Rugby Weekly on The42, here: