Updated 10.25
1. Who was your GAA hero growing up?
Funny enough I lived in Galway until I was 10 and moved to Clare in 1982. Galway won the All-Ireland in 1980 so the Connolly brothers initially would have been heroes of ours. Clare had no great success in that period so I would have followed Galway and watched that Galway team in the mid 80s. Joe Cooney would have been a hero of mine, himself and Eanna Ryan would have been two guys that I was really excited by. They were a brilliant forward line with huge flair.
2. Can you remember the first inter-county game you went to?
I remember Munster Championship matches in 1983, 84, 85. I certainly remember the Munster final in 1986, going down to Killarney as a 13- or 14-year-old and Cork and Jimmy Barry breaking our hearts. That's probably the one that sticks out in the memory. I remember playing in a schools match that preceded the Clare-Tipp match in 1985. We were the first of a triple-header and we were sitting on the sideline actually on the pitch so the big guys wouldn't have been too far away from us.
3. Tell us about the first time you lined out for Clare?
In the league it was 1992 against Dublin in Tulla: Cusack Park was flooded, game switched, manky auld day. I just remember thinking that it was senior inter-county, you were going to get no time on the ball and then actually realising during the game that you have more time on the ball than you think. It was unfashionable surroundings but it started off with a win.
4. Who was the toughest opponent you faced?
Brian Whelehan and Kevin Martin from Offaly were two fantastic players, they were really great defenders, but Seán Óg [Ó hAilpín] I think was the guy I probably struggled most with. He was very athletic and very disciplined. Other players you might drift away from and lose and get scores but Seán Óg was always very disciplined. He was like an octopus at times, he'd get a leg in or an arm in.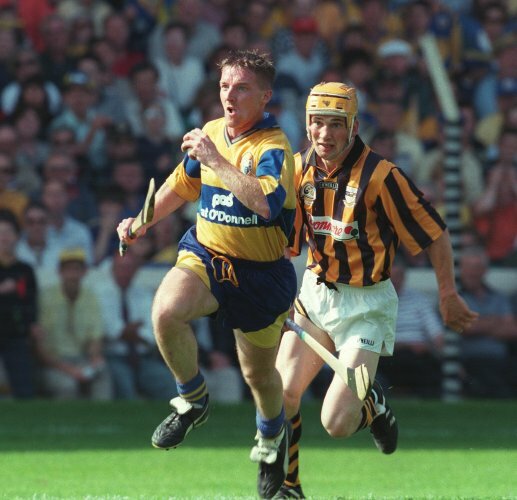 Jamesie breaks away from Liam Keoghan of Kilkenny (© INPHO / James Meehan)
5. Outside of Croke Park, what's your favourite GAA venue?
Páirc Uí Chaoimh. The Munster final in 1997 was my first Championship match in Páirc Uí Chaoimh and the atmosphere that day was possibly the greatest atmosphere I've ever played in. It was just electric and all the noise just stayed in the stadium. I loved Thurles as a player as well but during the summer time, there was a lovely spring off the surface in Páirc Uí Chaoimh.
6. What was the most memorable game you played for Clare?
I suppose if I look back on my career I probably had better games but in terms of significance, the All-Ireland final in 1997. We were bitterly disappointed to lose to Limerick in 1996. The goal was to win the All-Ireland and nothing less, we felt we had to do that to prove ourselves as a team. The satisfaction in the wake of achieving that was very, very special. I didn't hit a ball in the first half and I got a few scores in the second so I certainly had a lot better games for Clare, but in terms of what it meant for us as a group of players, that's the one that sticks out.
7. Which sports do you like to watch apart from GAA?
If there's a ball, I will watch it. I love golf, I watch American football right throughout the winter, I watch rugby, soccer, cricket. I'll watch anything.
8. And which sporting event in the world would you love to attend?
The last day of the Masters at Augusta. Or, alternatively, the Super Bowl in terms of what goes with it.
9. What current GAA star do you like watching play?
It's a hard one to answer. I've enjoyed watching Podge Collins this year. Even in the game against Cork when a lot of other players didn't perform, he was excellent that day and he was marking Shane O'Neill as well. The Waterford team over the last decade, there was never a dull moment with them and they had plenty of flair in the side.
10. And who's your favourite sports star outside of GAA?
Phil Mickelson. To shoot 66 on the last day of the British Open was phenomenal. You just don't know what he's going to do next. He's self-destructed at US Opens and Majors so many times but I think he's so consistent. I'd love to see him win the US Open and complete the Grand Slam.