MAYO'S JASON DOHERTY has expressed his relief that Stephen Rochford has decided to remain at the helm for a fourth season with the senior footballers.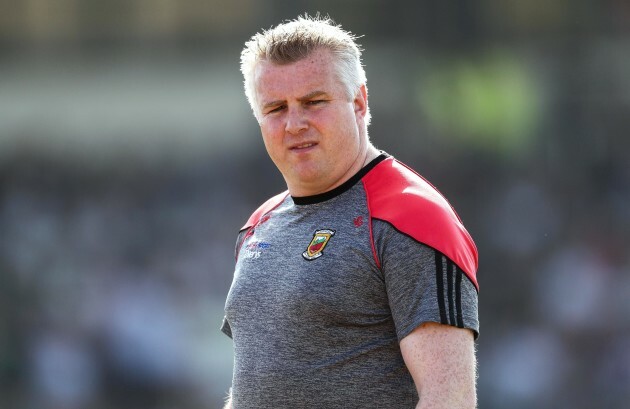 James Crombie / INPHO James Crombie / INPHO / INPHO
Rochford committed himself to the Mayo football team after meeting with both the Mayo GAA Board chairman Mike Connelly as well as members of the Mayo squad recently.
The news comes after coach/selector Donie Buckley and goalkeeping coach/selector Peter Burke both decided to step away from the squad, while it's also believed that selector Tony McEntee won't be making a return for the 2019 season.
Doherty, however, is pleased that the Crossmolina native is staying on.
"Stephen has done some great work with us over the last number of years," he said.
"We have definitely developed our game and new selectors coming on board will bring in new ideas and as a player you look forward to that, the anticipation of who will be in.
And as a player, it makes you look at yourself. One thing that Stephen has brought in is that nobody is safe whether you are there 15 years or six months.
"He constantly challenges you to question your own game," added Doherty, who says he laughed off reports that Jim McGuinness was a possible candidate for the position should Rochford step down.
"You can't rest on stuff you have done in the past. You have to be showing up on the Tuesday and the Friday before the game. He picks teams to meet the opposition as well."
Mayo suffered a shock exit from the All-Ireland championship this year following a defeat to Kildare in the qualifiers.
It's uncharted territory for this team but Doherty believes that the setback gives the players a chance to enjoy some quality time away from the game where they can explore other things.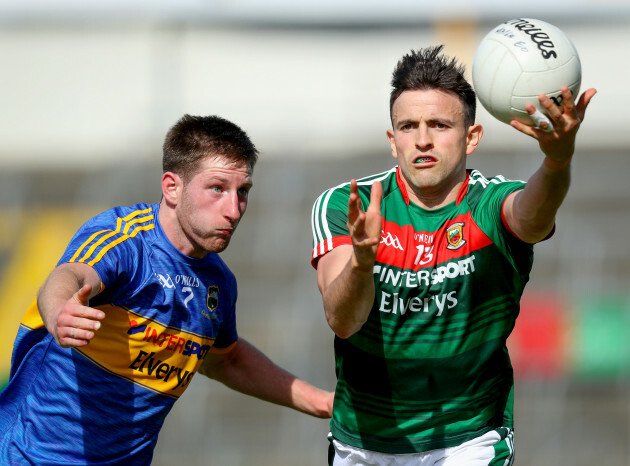 Oisin Keniry / INPHO Oisin Keniry / INPHO / INPHO
The dynamic forward has taken some time out from club duty with Burrishoole in order to refresh and recharge, while his Mayo teammates Diarmuid O'Connor and Conor Loftus have both moved to Chicago for the summer to play with the the McBrides club.
"I think it's a huge opportunity for lads to reassess, re-energise and even to take a break from it for a while and get back with the club," Doherty explains.
"We have been lucky to go on so late in the year that you are almost scrambling in the winter. By the time you play with your club, some players will go fairly far into the national competitions, that you are always scrambling for the holidays and time off in the winter.
One thing I have noticed is that you are saying yes to things in Whatsapp groups that you haven't said yes to in about eight or nine years, whether it is meeting up with friends or going to the hurling semi-final, catching up with friends from college, weddings and stuff like this.
"You're so used to saying you have training or a match. That's been enjoyable, getting back into those circles."
But there are some areas that Doherty feels the Mayo footballers must address when they reconvene for the 2019 season if they are to finally end their Sam Maguire famine.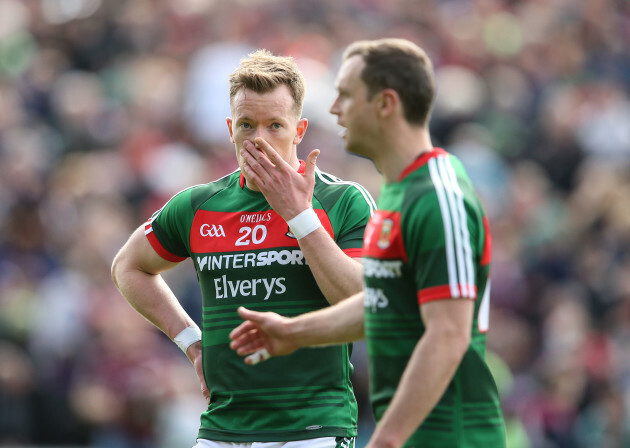 Cathal Noonan / INPHO Donal Vaughan after Mayo's loss to Galway. Cathal Noonan / INPHO / INPHO
Defeat to Galway in the Connacht SFC forced Mayo to take the qualifiers route once again this season where they breezed past Limerick and stuttered over Tipperary before that fateful meeting with Kildare in Newbridge.
Injuries to key players like Tom Parsons and Séamus O'Shea were naturally a factor in their unexpected departure, but in truth, their form was patchy once again. And this time, they were unable to work their way out of a crisis to get back to the business end of the season.
Mayo haven't contested the Connacht final since 2015 and Doherty insists that they must become more competitive at provincial level if they are to pick up some momentum that will sustain them throughout the rest of the championship.
"Kildare turned up in Newbridge obviously and they were phenomenal. It's not that we played tremendously poor either, we did a lot right but we made a lot of mistakes and they did enough to squeeze over the line and we ran a bit out of steam, which is slightly disappointing.
"But obviously we are well aware that there are areas that we do need to address to get further than that. First and foremost we need to perform in Connacht, which we haven't done for a few years.
That's more disappointing than anything. We need to get a bit of momentum there and not be relying on just expecting to land into the sun in the first weekend in August and then all of a sudden at Croke Park we'll take off. We need to address that."
Jason Doherty was speaking at the launch of the 2018 Croke Park Charity Challenge, organised by Alan Kerins in partnership with Self Help Africa.
The event will see people from the world of business, sport, media and entertainment partake in a charity sporting spectacle on the 23 October to raise funds for Self Help Africa. 
The42 is on Instagram! Tap the button below on your phone to follow us!