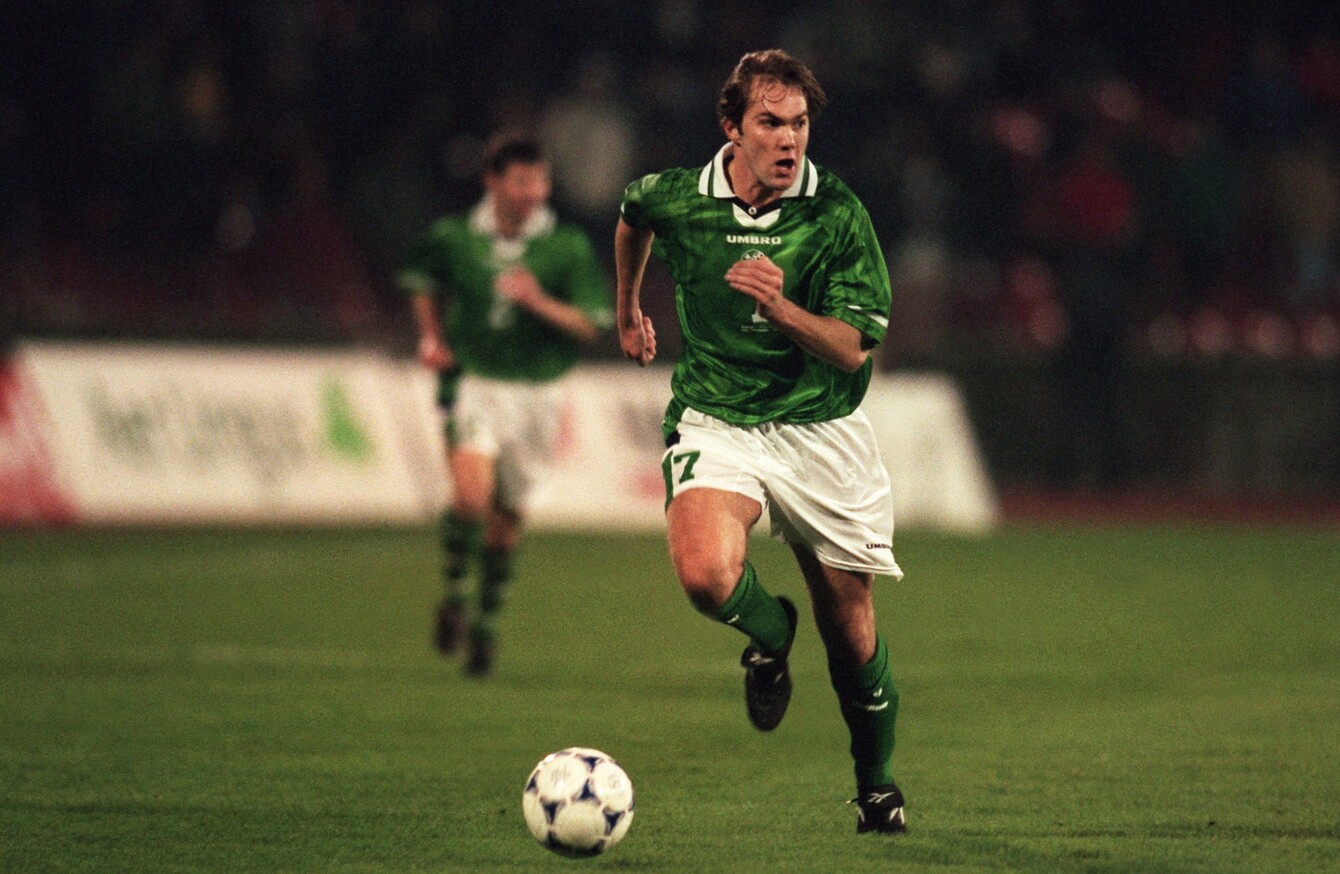 McAteer won 52 caps for Ireland.
Image: EMPICS Sport
McAteer won 52 caps for Ireland.
Image: EMPICS Sport
JASON MCATEER BELIEVES Irish players will constantly be playing with the Euros in the back of their minds in the coming months.
The ex-Liverpool player, who won 52 caps in a 10-year career with Ireland from 1994 to 2004, recalled his own experience in the lead up to the 2002 World Cup after Ireland beat Iran in a playoff to secure qualification.
"I remember going to Iran and qualifying there, and it was like the greatest moment. I can't tell you how overwhelming a feeling it was. There were tears and then the flight back and the next couple of days, all the hype and media coverage.
"Then I had to go back to Blackburn. You go back to domestic football and it's as if it never happened. Your concentration then goes on the next domestic game and gradually, that build-up of domestic football, whether it's getting into Europe, winning a title or fending off relegation — you can't really say you are focusing on the summer — you kind of forget about it."
One incident in particular had McAteer fearing for his Ireland place, as a bad challenge from then-Arsenal defender Ashley Cole left him in immense pain.
"I remember Ashley Cole going right over the top in 2002, just before the end of the season and proper smashed me. I remember thinking 'I'm out, that's done me for the summer.' I remember going mad at him, saying to him, 'You've done me for the summer'.
"As it gradually gets closer and you get into the May games, you are a little bit conscious of what's ahead. You don't want to get injured."
McAteer did eventually go to the 2002 World Cup, though as it turned out, his fitness quickly became an issue and he was restricted to just two appearances and less than 90 minutes of action over the course of the tournament, having picked up another injury during a warm-up game.
Former Republic of Ireland International Jason McAteer, current Republic of Ireland women's star Áine O'Gorman and SPAR National Sales Director, Colin Donnelly, were on hand to help launch the 2016 SPAR FAI Primary School 5s Programme. The fun five-a-side schools competition is open to boys and girls from 4th, 5th and 6th class. County blitzes will begin at the end of February and the winners will then progress to regional, provincial and the prestigious national finals which will be held in the Aviva Stadium on May 11th. For further information or to register your school please see www.spar.ie or www.faischools.ie.