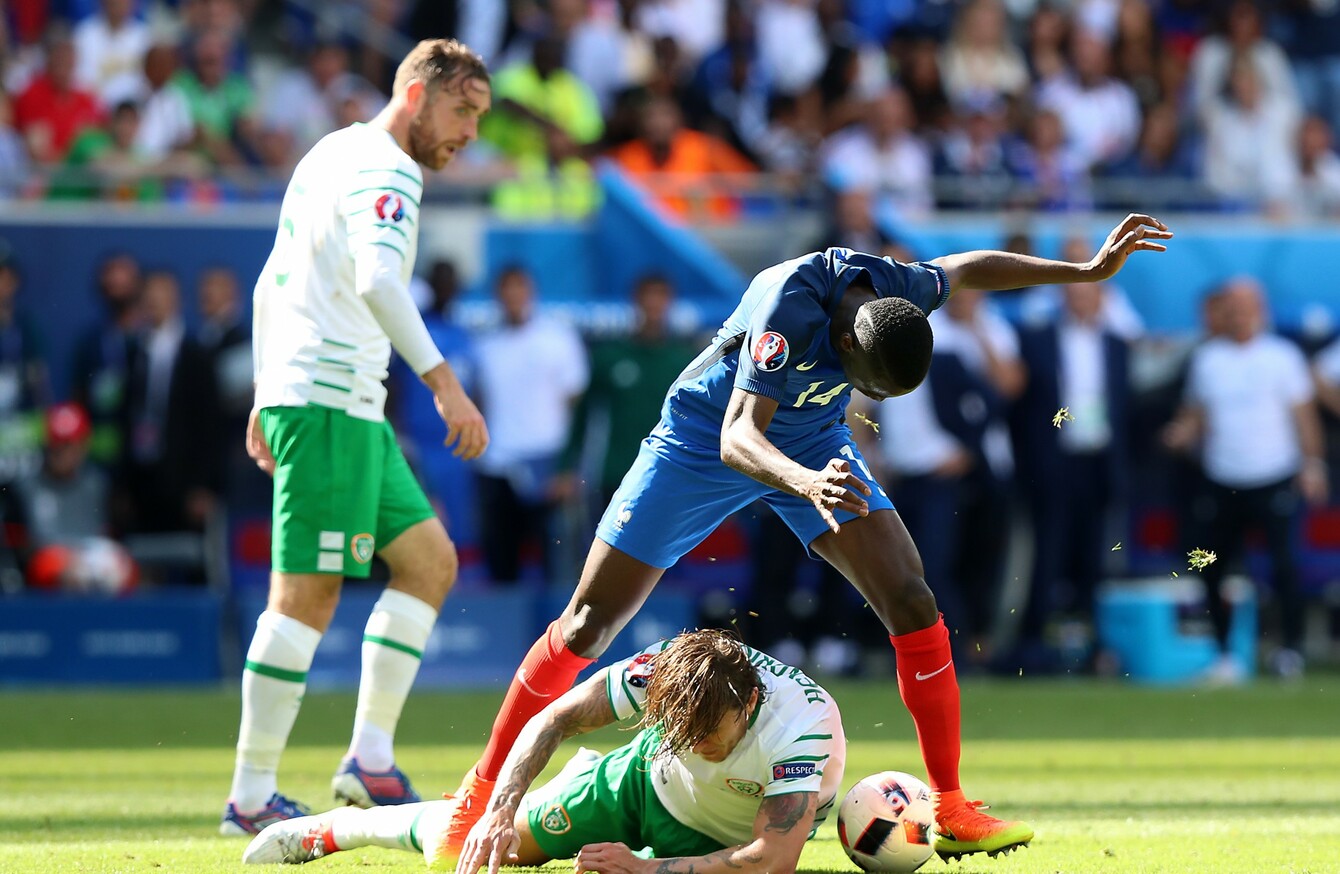 Image: Chris Radburn
Image: Chris Radburn
Paul Fennessy reports from Parc Olympique Lyonnais
DEFENDER STEPHEN WARD praised the courage of the Irish side after their 2-1 loss to France today.
After a Robbie Brady penalty gave Martin O'Neill's side the lead, an increasingly exhausted-looking Irish team toiled away diligently, but their efforts ultimately were not enough to hold a relentless France attack.
"We said that before and again at half-time. We left everything out there and probably come up a little short," Ward said.
We knew they would come out in the second half and put us under pressure. They had a couple of chances which, to be fair, the lad (Antoine Griezmann) has taken really well. He's a talent and has played in the Champions League final.
"It's unfortunate that we gave him them chances. I think we were right in the game until the sending off, but even after that with 10 men and at 2-1 we felt we had a chance of getting one goal back. We're gutted at the end but there's immense pride with how the lads have done."
A key moment in the game came when Shane Duffy was sent off for taking down Antoine Griezmann, and with Ireland already 2-1 down, they struggled to recover thereafter.
"I think it was difficult with 10 men. You have got to take chances and risks. A break of the ball and a deflection here and there just didn't go our way. The lads are absolutely devastated coming so close but it was some occasion and I think with the way we performed we can hold our heads up higher."
And as for his troublesome ankle injury that threatened to keep him out of today's game?
"My ankle was really big last couple of days. It's gone down a bit. It was tough but I really wanted to be out there and the physios and the staff have been great getting me right. There's a lot of sore bodies.
"I think Jeff (Hendrick) got a dead leg and continued on throughout the whole game and he was excellent again. The pride that the lads have to wear the jersey showed today and we gave it everything but we have just fallen a little bit short."
And how did playing France compare with similarly top sides such as Belgium and Italy?
You look at their squad and the players that aren't even playing. It's frightening really, but we knew it was going to be tough but we have been in situations when we played top teams before. We had four tough games here against teams with quality all over the pitch. We're disappointed to go out but looking back we've given it a good go."
A number of younger players have made an impact for Ireland at this tournament, while some of the older members of the squad are now expected to retire.
Ward admits it will be tough should some of his more experienced colleagues choose to leave.
It was emotional. Everyone was disappointed. If those lads do move on it's been an absolute privilege and an honour to play with them and share the field with them. They are Irish legends and they will be very difficult to replace.
"That decision is up to them we'll see what happens in the next couple of weeks. If that is the case, then I think everyone here will be really proud to have shared a pitch and green shirt with them."
The42 is on Snapchat! Tap the button below on your phone to add!