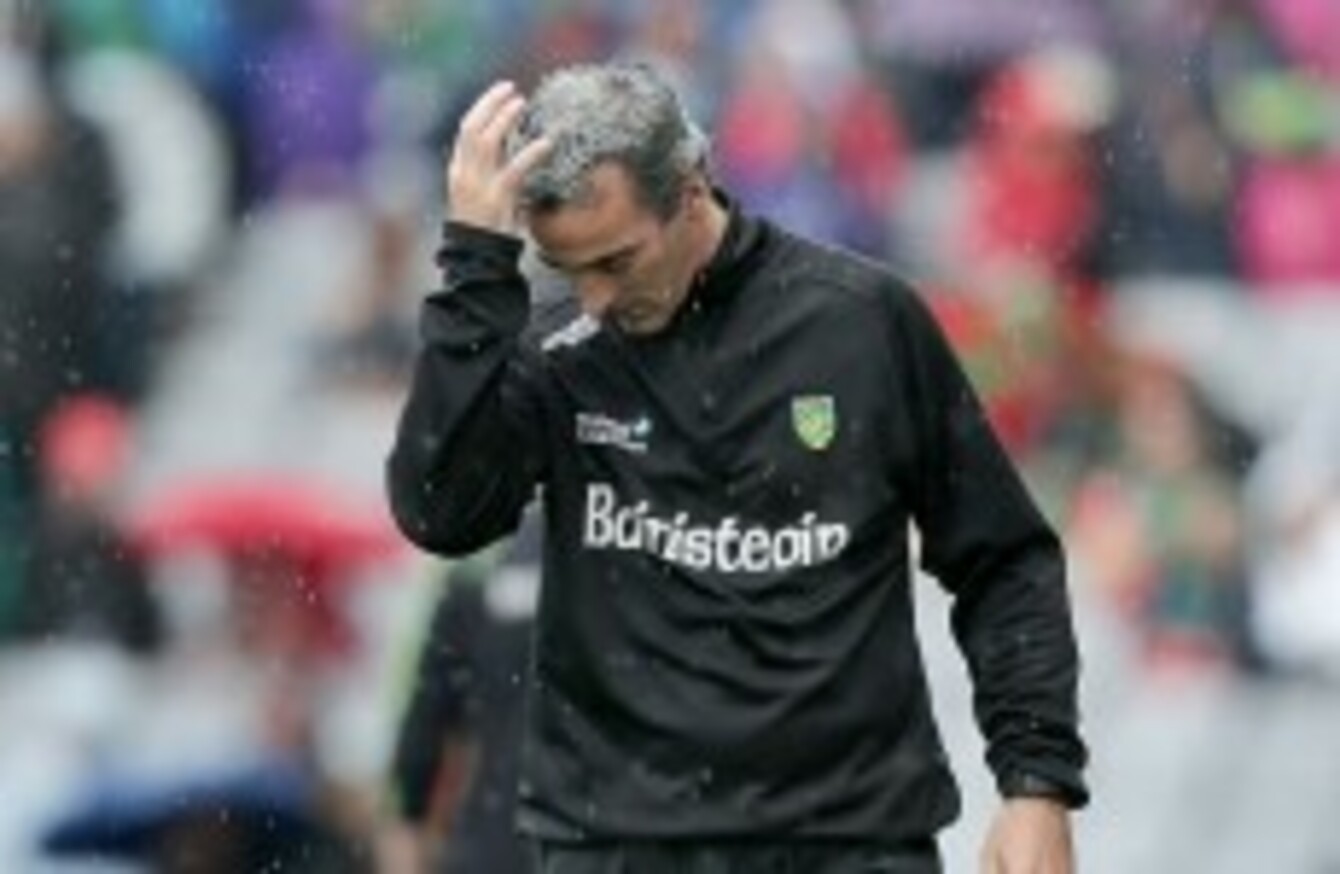 Donegal boss Jim McGuinness.
Image: INPHO/Morgan Treacy
Donegal boss Jim McGuinness.
Image: INPHO/Morgan Treacy
DONEGAL BOSS JIM McGuinness has rubbished suggestions that his comments last week about his players being targeted were hypocritical.
Last year's All-Ireland winning manager raised concerns after their qualifier win over Laois about the treatment his players were receiving.
Yet he is adamant that they have no problem with physicality in the game and it was tackles off the ball which he was attempting to highlight.
"We never, ever, once said we were afraid of physicality. What I raised was physicality that was going on off the ball when we were attacking.
"James Horan made comments about Donegal having brought physicality to a new level and I would agree with that on one level. If a game goes very physical out there, we can handle ourselves.
"All the journalists were saying 'pot, kettle, black' when it came to Donegal and physicality. You've got physicality on one side, and you've got players being taken out of it. One is manly. One is cowardly."
McGuinness disagreed with the 'war of words' description to the comments made by him and his counterpart James Horan last week and believed the issue was dealt with 'flippantly on The Sunday Game.
"Things like that go on all the time. The bottom line is my issue was raised out of concern for one of my players. I don't make any apology for that and I wouldn't change my stance on that. I
Be part
of the team
Access exclusive podcasts, interviews and analysis with a monthly or annual membership.
Become a Member
"I raised it in a serious manner and in a serious forum and being honest I thought it was dealt with a bit flippantly on the Sunday Game. My comments were made just after the Laois game out of concern for one my players before the draw was made, so it wasn't that we were trying to stoke a fire.
"In the Laois game we counted seven or eight times when we were attacking when players were taken out of it, 30-40 metres from where the ball was. That was the context."
Jim McGuinness at yesterday's post-match press conference.
Pic: TheScore.ie