Martin Byrne / Blackpool Library. Jim with Naoimh Reilly and cameraman Reggie McCrohan of UTV Ireland. Martin Byrne / Blackpool Library. / Blackpool Library.
LIFELONG SPORTS NUT Jim Ryan isn't exaggerating when he says he has seen it all. 
As well as travelling to approximately 128 away Ireland internationals, the former guard has attended three Olympic Games, countless All-Ireland finals, European finals and several World Cups in football, rugby and cricket. 
This weekend, Blackpool Library in Cork hosts an exhibition with the jerseys, scarves and other memorabilia he has collected on his travels over the years. 
We spoke to Jim, a brother of Cork ladies football manager Eamonn Ryan, about his passion. 
First of all, where can you trace your love of sport back to?
I was born into the GAA so that's what I am firstly. I grew up in Watergrasshill in Cork and GAA was my first love but I also had a passing interest in Cork Hibs and Cork Celtic and I would go to see them play.
In 1973, I went to Dublin for the international game between Shamrock Rovers XI and Brazil. It was my first international and it was a super match so I was hooked after that.
So I started going up to Dalymount and took in my first away match in London in 1976. That said, when you're living down in Cork every game is an away game. Dublin is three-and-a-half hours away and Moscow is only four!
From then on, I began following the team abroad. It wasn't just the senior sides as I've been to all age levels and attended the U20 World Cup in Nigeria in 1999. Myself and my friend were the only two Irish supporters who traveled to that one. I recall it being a bit dangerous but we had a great time there. We met up with a number of groups of priests and nuns.
What other sporting events have you attended over the years?
I've been the Cricket World Cup in Sri Lanka, the Rugby World Cup in Australia, the Melbourne Cup, three Olympic Games — in Sydney, Athens and London –Heineken Cup finals and the Hockey World Cup.
People say it's great but I don't take any notice of that. I just go.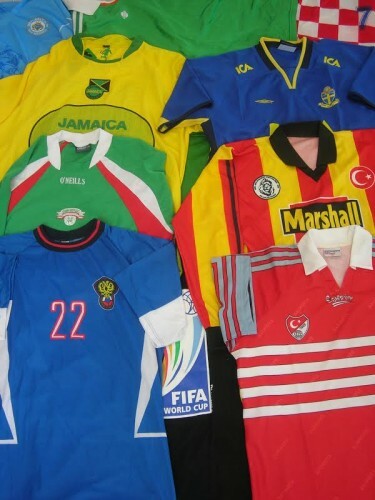 Martin Byrne / Blackpool Library. Jerseys in the exhibition. Martin Byrne / Blackpool Library. / Blackpool Library.
Is it not a huge commitment to undertake?
Sport is wonderful. A lot of fellas would spend the same amount of time in the pub! I gave up drinking and smoking and I do this.
But how do you fit it all in?
Well the soccer fits in nicely around the GAA season.
Okay, there might be the odd match that would clash like when Ireland play the weekend of the All-Ireland hurling final. I've flown back from the likes of Tbilisi, Russia and Kazakhstan and gone straight to Croke Park in the past.
Has it been difficult to balance work while you are jet-setting all over the world to follow Ireland?
I'm retired now but when I was a guard, I would have been on shift work so that gave me the opportunity to travel. I could be in Moscow on a Tuesday night and back in work on Friday.
Are your friends and family supportive or do they think you're a bit mad?
Well the people who travel with me are the same kind of lunatics that I am! We just love travelling. It is a cross between going to the sport and travelling the world. I've been in over 80 countries and very few people I know can say that.
There are only two countries I haven't been in Europe at this point.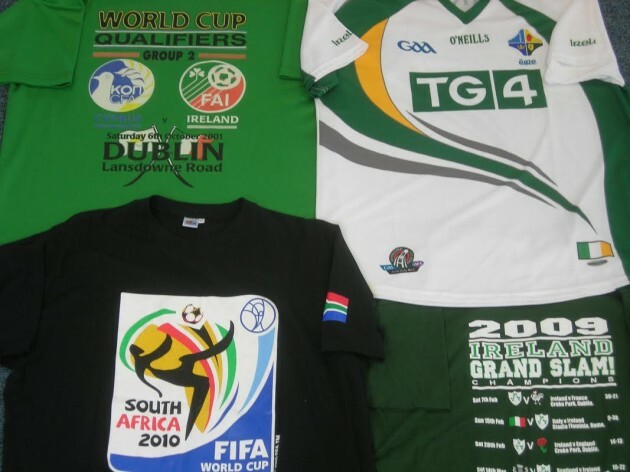 Martin Byrne / Blackpool Library. Martin Byrne / Blackpool Library. / Blackpool Library.
Is it that the sport gives you an excuse to see these places?
That's it but we are still big into the sport at the same time. It's the combination of the two I guess.
Have you any idea how much you have spent on watching sport over the years?
I would't have a clue. It could be any amount. Different people have estimated around €400,000, which would be a very conservative estimation in my opinion.
So are you praying Ireland qualify for Euro 2016 in France?
I am of course but I don't think they will. Everything is stacked against us at the moment. That is the beauty of my involvement in sport though. If one team fails, I have others.
Exclusive Six
Nations Analysis
Get Murray Kinsella's exclusive analysis of Ireland's Six Nations campaign this spring
Become a Member
I'm watching the cricket at the moment and hopefully they do well, but if they get beaten sure the hurling season is started. Then there's the rugby too.
Martin Byrne / Blackpool Library. Martin Byrne / Blackpool Library. / Blackpool Library.
Do you reckon you're Ireland's biggest sports fan? Have you met anyone who is as committed as yourself?
Oh I don't know. My variety of sports would probably be the difference. The guys who go to the soccer matches would be all soccer people, for example.
The one thing about this exhibition is that everything in it is stuff I got myself, as opposed to other people bringing it back for me.
The exhibition is on this weekend in Blackpool library. Tell me what people should expect…
That's where it is, Glen Rovers territory. You've heard of Christy Ring?
I took a well-known ladies footballer in for a sneak look the other day and she was enthralled so I think people will enjoy it.
Have you got a favourite piece of memorabilia?
I was on UTV news during the week and I showed them something I picked up in Tehran during the World Cup play-off game in 2001. It was the only banner that was there so I took it down, folded it and brought it home. It was a nice one to get.
And would you ever go down the Davy Keogh route and carry your own banner around to all the matches?
No, not at all. I've often said he hasn't been to half the matches we have been to! We recently started counting back at home many matches we've been to and I've been at 128 away internationals now and that's only in soccer.
It's a form of madness really but there is nothing better than standing in a stadium and hearing the national anthem played. It's a great feeling.
Visit Jim's exhibition at Blackpool Library between 10am and 5.30pm today