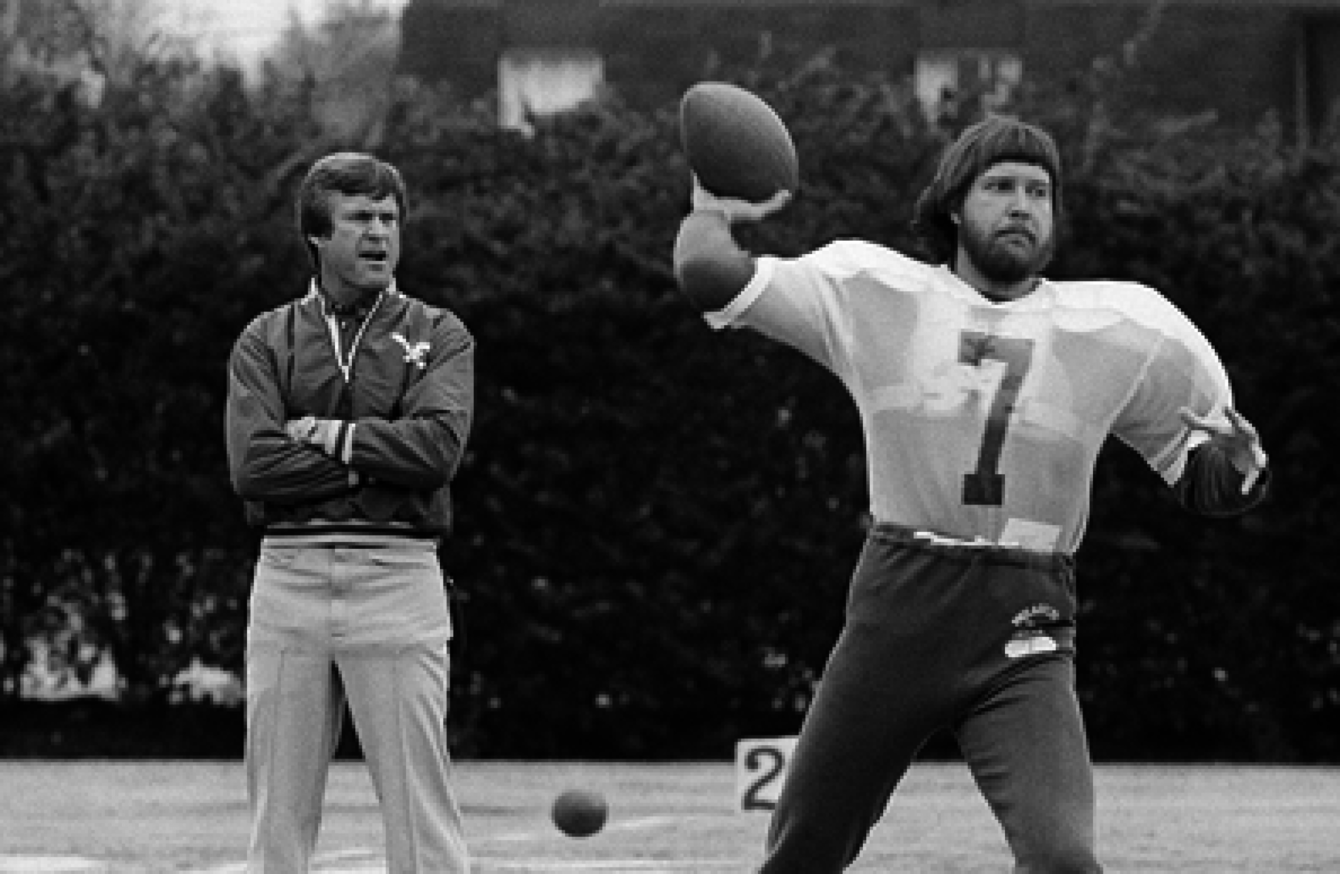 Jimmy Murray played a key role in convincing both Dick Vermeil (left) and Ron Jaworski to join the Eagles.
Jimmy Murray played a key role in convincing both Dick Vermeil (left) and Ron Jaworski to join the Eagles.
IN APRIL 1923, 74,200 people flooded through the turnstiles of the brand new Yankee Stadium in New York, with a further 25,000 turned away. To put those numbers in context, the previous single-game attendance record in baseball was 42,000 in Boston for a game during the 1916 World Series.
Fittingly, this opening game was played between the Yankees and the Red Sox and featured the debut of Babe Ruth for New York following his much publicised move from Boston.
Ruth hit the first home run in the new ball park – a three-run homer, giving the Yankees a 4-1 win — and prompting sportswriter Fred Lieb to refer to Yankee Stadium as 'The House That Ruth Built'.
A little over 50 years later, a run down seven-bedroom ex-fraternity house near the corner of 40th and Spruce Streets in Philadelphia would open its doors and become the 'The House That Babe Built'  — the world's first Ronald McDonald House providing accommodation for families whose children are seriously ill and hospitalised.
And it wouldn't have happened without the imagination and determination of Jimmy Murray, the then-general manager of the Philadelphia Eagles, and proud Irish-American.
Brooklyn Street
Murray was west Philadelphia born and raised, the son of James and Mary and sibling to Janie and Kay and Fran. Brooklyn Street was home to many Irish families and Murray's raring was typical of those who identified as Irish Catholic in that particular part of the City of Brotherly Love.
After attending West Catholic High School, Murray graduated Villanova University — then a destination for many Irish priests — in 1960.
He first dipped his toes in the world of sports through minor league baseball in 1960 with the Tidewater Tides of the South Atlantic League before serving with the US Marine Corps.
When his active duty finished, Murray returned to baseball as assistant general manager with the Atlanta Crackers, a triple-A affiliate of the Saint Louis Cardinals. After a brief stint in the restaurant trade, Murray returned to his alma mater where he forged a career in the sports information office.
In 1969, Murray took up a role as public relations assistant with the Philadelphia Eagles, an NFL franchise in existence since 1933 but with just four playoff appearances to their name by the time of Murray joined. His arrival coincided first with Leonard Tose buying the Eagles for $16 million — approximately $107m today — a then record for a US professional sports team.
A year later, the National Football League and American Football Leagues officially merged into one organisation — the NFL — with two conferences and the Eagles were placed in the NFC East alongside the Giants, Cowboys and Washington.
By 1971, despite having never played the sport of American football and admitting he would struggle to draw up a zone blitz, Murray was promoted to assistant general manager for Pete Retzlaff. However, when Retzlaff resigned at the end of a disappointing 1972 season, Murray took over most of his duties.
It wasn't until 1974, however that Murray would take over the general manager role full time a move that was widely mocked in NFL circles at the time.
Super Bowl XV
But what Murray lacked in qualifications, he made up for in actions.
In 1976 he convinced Dick Vermeil to leave a head coaching job with the University of California, Los Angeles where he'd just won the Rose Bowl and, in 1977 not only engineered an illegal trade for quarterback Ron Jaworski — both he and tight end Charlie Young, who was also part of the deal, were actually out of contract — but managed to convince the rest of the league not to veto it.
Between 1978 and 1981, the Eagles made the playoffs four years in succession, winning the NFC East for the first time in 1980. That season, they also reached their first Super Bowl, losing 27-10 to the Oakland Raiders despite going into the game as three-point favourites.
But as much as Murray contributed to Philadelphia's first trip to the Super Bowl  — and this Sunday they will play in America's biggest game for just the third time — his most significant contribution to the city came as a combination of fate, faith and football.
In 1969, Kim Hill, the five-year-old daughter of Eagles' tight end Fred, was diagnosed with acute lymphatic leukaemia. Told she had just six months to live, Fred and his wife Fran spent three years travelling back and forth from their house in South Jersey to St. Christopher's Hospital in Philadelphia.
To help the Hill family and others, the Eagles started a group called Eagles Fly for Leukaemia with the aim of raising funds for those who couldn't afford their children's healthcare costs. The fund, through black-tie dinners and other events, raised a great deal of money, but there was always something more to do.
The House That Babe Built
Then, in 1974, another Philadelphia child was diagnosed with leukaemia.
"I'm a home builder. My world is building new homes. But I'm also a father of seven children, so family is the most important thing for me," John Canuso of The Canuso Foundation told The42 this week.
"My child, Babe, who was nine years old at the time, was diagnosed with leukaemia. At that time, when parents of sick kids went to the hospital, they slept in cots in the hallways of the hospital. There was just no place for the parents to go.
"They bonded together in the hallways but it was far from ideal.
"I went home and prayed for my daughter because I'd never heard the word leukaemia before and I didn't know if she was going to die or if she was going to live. So I prayed that she was going to live and, if she did, I would dedicate my life to the Lord and whatever he put in front of me.
"I talked to the doctors in the hospital and told them I appreciated everything they were doing, and if there was anything they needed, I would be available to help them. One day, after my daughter came home and was somewhat cured, the doctors came to me and said they needed a house.
"I understood from sleeping in those hallways what that house could be worth for all those other parents. Having a house close to the hospital would allow parents not only to stay overnight and be close to their kids, but still bond with other parents who were going through the same thing, so that everyone could help everyone else through the crisis they were in."
It was then that Canuso met Murray, the man he credits with helping him find the "pot of gold" they needed to get the accommodation the hospital so badly needed.
"The next day, I met this lucky Irish leprechaun called Jimmy Murray. And he said: 'We're running a green milkshake promotion with McDonald's on St. Paddy's Day and we're going to see if we can raise enough money to buy an old fraternity house.'"
The Shamrock Shake
First unveiled by McDonald's in Chicago 1970, the Shamrock Shake was a lemon and lime flavoured monstrosity containing vanilla ice cream, lemon and lime sherbet as well as vanilla syrup.
By 1973, McDonald's had simplified the offering to a vanilla milkshake with green colouring and the following year Murray — in his role with the Eagles — asked the regional manager of the fast food chain, Ed Rensi, if they would donate 25c from every sale to their charity drive.
Sales went well and the Shamrock Shake drive raised $34,000.
"It was a successful programme, and they bought an old seven-bedroom house near 40th and Spruce Streets," says Canuso.
"After they bought [the property], they gave me the keys. It was pretty run-down at that stage, but they left me alone and I brought all my contractors in, the painters, the carpenters and all the rest, and we demolished the interior of that house.
"We knew we had to create a real home with pianos and a grandfather clock as well as bedrooms and a play area for the kids. We also had to build an apartment for the caretaker because there had to be someone there to look after the upkeep once it was built.
"It wasn't called the Ronald McDonald house at the time, we were just building a home. Then McDonald's came back and told us they felt the house would be perfect for their charitable endeavours and, about a week before we opened it up, it took the name Ronald McDonald House.
"I was very excited about it at the time and what they've done around the world since, there's probably no other company in the world could have had that global impact.
"But it started with Jimmy Murray, that green milkshake promotion and us opening that first house for those families."
Unfortunately, Babe died aged 40 from brain tumours linked to the radiation she was exposed to while receiving treatment for her childhood leukaemia. However, for her family — including her three children — her legacy lives on as there are now nearly 359 Ronald McDonald Houses in over 40 countries worldwide and the charity says families of sick children have saved an estimated $830m in out-of-pocket lodging and meal expenses in that time.
"I know there's no coincidences in life, just God working in mysterious ways," says Canuso.
"I happened to be there with Babe and I happened to be a home builder and know exactly what the need was and how to go about making it a home. And Jimmy just happened to be there with the green milkshake idea and his position with the Eagles to make it happen. That's not a coincidence.
"Jimmy would always say to me that the Ronald McDonald House was 'The House That Babe Built' and while the younger generation maybe don't know the name Jimmy Murray, the older generation knows how important he was for the city of Philadelphia."
The42 has just published its first book, Behind The Lines, a collection of some of the year's best sports stories. Pick up your copy in Eason's, or order it here today (€10):