Carlow 2-30
Offaly 1-32
(After extra-time)
Kevin Egan reports from Croke Park
OFFALY MAY HAVE bright prospects in the hurling world, but Carlow used their maturity, experience, physical strength and big game temperament to full effect this evening in Croke Park, as they held their nerve to edge out a resurgent Faithful County and snatch a memorable, remarkable win.
It was a game where Carlow dominated the first half, looked comfortable in the second, but then got reeled in as Offaly outscored them by 0-7 to 0-1 in the last ten minutes of normal time, to force an extra 20 minutes.
Having lost Dara Maher to a hotly-disputed red card late in the first half, a younger Faithful County side, now back up to 15, looked like the hotter prospects in extra time – but they continued to rack up the wides, adding six more to the 18 they registered in 70 minutes, while Carlow were clinical, efficient, and secured the win thanks to a stunning equaliser from Diarmuid Byrne and then a close-range winner from Chris Nolan.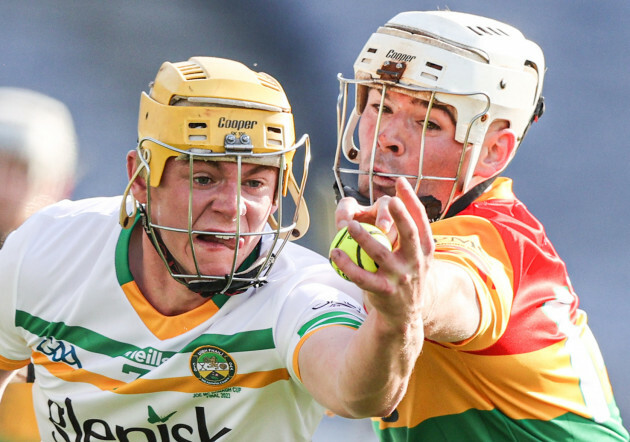 Tom Maher / INPHO Killian Sampson and Martin Kavanagh compete. Tom Maher / INPHO / INPHO
That dramatic finale looked miles away in the first half, when Tom Mullally's side were utterly dominant, and it was Offaly who were flattered at half-time to only trail by five points, 2-9 to 1-7.
The Faithful County, who came to Croke Park on the crest of a wave following their U20 side's heroics, got out to the perfect start when the U20 team captain Charlie Mitchell found the net in the opening minute, batting the ball past Brian Tracey after he held off a strong challenge to burst through on goal.
Yet from then on, Carlow were utterly dominant. The next six points were shared so the goal still separated the sides after 10 minutes, but the Offaly full back line were under immense pressure, with Ben Conneely making a couple of crucial interventions, while Stephen Corcoran made three big saves, including a fantastic low dive to deny Marty Kavanagh.
Carlow's play was direct, and devastatingly effective. Their forward line, led by Kavanagh, were brilliant at winning their own ball and converting their chances, and this was seen to full effect when Paddy Boland pulled a sliotar down from the clouds and slammed it to the net as the game approached the half-hour mark.
The mercurial St Mullin's man did it again just before half-time, and this time his faceguard was handled by Dara Maher as he tried to engineer the space for a shot, leading to a penalty – slammed home by Kavanagh – and a red card for the young Offaly corner-back.
Taking on water all over, it looked like there was no way back for Offaly, though points from Adrian Cleary and Eoghan Cahill gave a flicker of light, leaving just five points between the sides at half-time.  
Offaly continued that momentum after the break and a run of four points in a row brought them back to within two points at one stage, but they continued to be haunted by wides, and shots dropped short from long range, as their lack of penetration close to goal took a heavy toll.
Carlow, in contrast, were deadly efficient. Jon Nolan, Chris Nolan, Kavanagh and James Doyle all showed great ability to pick off points and keep Offaly at bay, and when Kavanagh pointed just on the hour mark to make it 2-21 to 1-18, no-one could have imagined that a depleted Offaly side, albeit one that was getting excellent contributions from Eimhin Kelly and Paddy Clancy off the bench, might reel them in.
Reel them in they did, with Eoghan Cahill sending the tie to extra time with the last puck. As the Offaly crowd roared their approval, knowing that they were about to be brought back up to 15 men for extra-time, this was the point where the Faithful County looked like the most likely winners by far, all the more when Cillian Kiely opened the scoring with the first attack of extra time.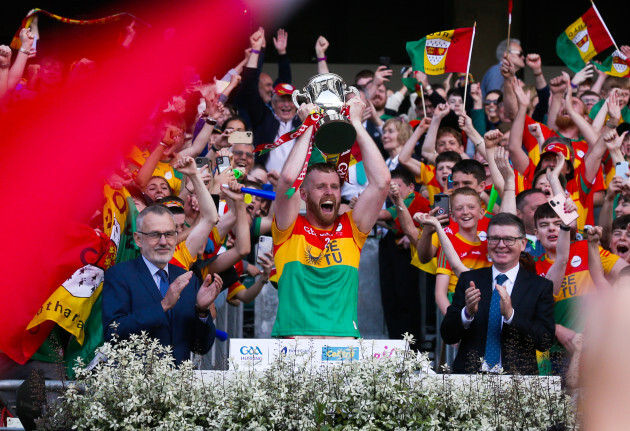 Tom Maher / INPHO Paul Doyle lifts the trophy. Tom Maher / INPHO / INPHO
Throughout the full 90 minutes however, the story of this game was Carlow's accuracy, and Offaly's desperate failing in this area. A total of 24 wides were racked up by the midlanders, six of them in extra time, and that allowed Carlow to inch back in front, inspired by two outstanding scores from Jon Nolan.
Carlow's failing, seen by the use of just two substitutes until the 85th minute, was lack of depth. Offaly's energy and pace came to the fore in the second half of stoppage time and a two-point deficit turned into a one point lead when the two Sampson brothers pointed in quick succession, but they just weren't able to finish it out.
Diarmuid Byrne levelled the game with a haymaker, seemingly setting up extra time. Paddy Clancy had a very tough shot to edge Offaly back in front but was hooked by Paul Doyle, and from the next attack, as he had done so many times, Chris Nolan was able to win the ball on the left wing, burst past the tackler to get space to shoot and split the uprights to give a sensational end to a sensational contest.  
Scorers for Carlow: M Kavanagh 1-8 (1-0 pen, 0-5f, 0-1 65), P Boland 1-4, C Nolan 0-4, J Nolan 0-3, J Doyle 0-3, JM Nolan 0-2, J Kavanagh 0-2, C Kehoe 0-2, K McDonald 0-1f, D Byrne 0-1.  
Scorers for Offaly: E Cahill 0-8 (0-3f), C Kiely 0-6 (0-2f), D Nally 0-5 (0-1 65, 0-1 sideline, 0-1f), C Mitchell 1-1, A Cleary 0-3, E Kelly 0-2, K Sampson 0-2, P Clancy 0-2, S Bourke 0-1, J Keenaghan 0-1, J Sampson 0-1.  
Carlow
1. Brian Tracey (Naomh Eoin)
2. Paul Doyle (Naomh Moling) 3. Conor Lawlor (Carlow Town) 7. Jack McCullagh (Bagenalstown Gaels)
6. Diarmuid Byrne (Mount Leinster Rangers) 9. Kevin McDonald (Mount Leinster Rangers) 22. Jack Kavanagh (Naomh Moling)
5. Fiachra Fitzpatrick (Mount Leinster Rangers) 12. James Doyle (Naomh Moling)
10. Jon Nolan (Mount Leinster Rangers) 14. Martin Kavanagh (Naomh Moling) 21. John Michael Nolan (Naomh Eoin)
8. Conor Kehoe (Naomh Moling) 11. Chris Nolan (Mount Leinster Rangers) 15. Paddy Boland (Naomh Moling)
Subs: 
Fiach O'Toole (Naomh Bríd) for JM Nolan (63),
Richard Coady (Mount Leinster Rangers) for Kavanagh (70+2),
Niall Bolger (Bagenalstown Gaels) for McDonald (85),
Jack Tracey (Ballinkillen) for J Nolan (88),
Ciaráin Kavanagh (Mount Leinster Rangers) for O'Toole (90)
Offaly 
1. Stephen Corcoran (Coolderry)
2. Dara Maher (Shinrone) 4. Ben Conneely (St Rynagh's) 3. Ciarán Burke (Durrow)
5. David King (Coolderry) 6. Jason Sampson  (Shinrone) 7. Killian Sampson (Shinrone)
8. Sam Bourke (Durrow) 11. Jack Clancy (Belmont)
14. Brian Duignan (Durrow) 10. Cillian Kiely (Kilcormac-Killoughey) 12. Adrian Cleary     (Shinrone)
9. David Nally (Belmont) 15. Eoghan Cahill (Birr) 13. Charlie Mitchell (Kilcormac-Killoughey).
Subs: 
Eimhin Kelly (Lusmagh) for Bourke (47),
Paddy Clancy (Belmont) for Duignan (50),
Shane Dooley (Tullamore) for Kiely (58),
Joey Keenaghan (Clodiagh Gaels) for Nally (67),
Paddy Delaney (Kinnitty) for Keenaghan (full-time),
Cillian Kiely (15th man for ET),
Keenaghan for Clancy (75),
John Murphy (Ballinamere) for Keenaghan (85)
Ref: T Walsh (Waterford).