THE ALL BLACKS have always been open about keeping tabs on Kiwi coaches based abroad and Joe Schmidt's achievements with Ireland have certainly not gone under the radar in New Zealand Rugby.
Now that he's a Grand Slam-winning coach, with three Six Nations titles in five years, it seems certain that the All Blacks will take an even greater interest in Schmidt, whose current IRFU contract is set to expire after the 2019 World Cup.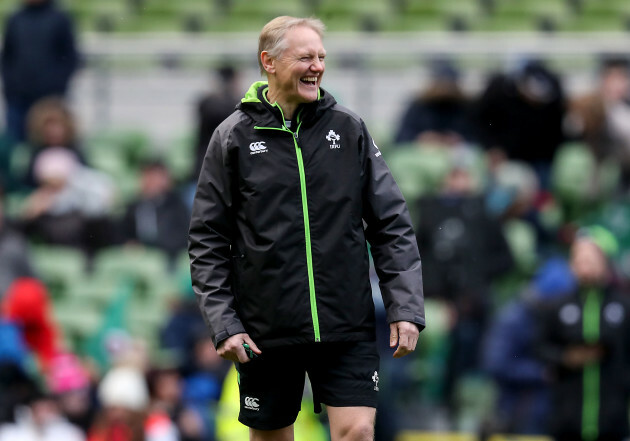 Billy Stickland / INPHO Schmidt is now a Grand Slam-winning coach. Billy Stickland / INPHO / INPHO
While there is no certainty around Schmidt's future, he has hinted that 2019 might be the ideal time to return home after well over a decade based in Europe.
Current All Blacks boss Steve Hansen's deal also expires in 2019 and it is expected that he will step away following the World Cup in Japan – when he could help the Kiwis to a third consecutive Webb Ellis Cup.
Assistant coach Ian Foster is among the favourites to succeed Hansen, but Schmidt's record of success with Ireland will make him a strong contender if he is interested in the job.
Schmidt's achievements are certainly earning him a strong reputation back at home in New Zealand.
"Very highly," says ex-All Blacks centre Conrad Smith when asked how Schmidt is rated. "I speak as someone within rugby and I think he is getting more widely known in the public, and rightly so for the results he's achieved.
"Within New Zealand rugby and with players he worked with before coming overseas, he was always highly regarded.
"That filters back from players he has coached up here. He's a very good operator, he has a very good reputation."
Smith, who was speaking as International Rugby Players announced their move to Dublin, has no doubt that Schmidt will be in the frame for the All Blacks job if and when it becomes available.
"Kiwis, we love to claim people from New Zealand, especially when they're successful, so we're well aware of him being a New Zealander, and it's helped by the fact our previous coaches have worked overseas – Graham Henry, Steve Hansen.
Dan Sheridan / INPHO International Rugby Players announced their move to Dublin yesterday. Dan Sheridan / INPHO / INPHO
"[Schmidt] is well within the talks. He's doing a great with Ireland, he's someone who could potentially come back and coach the All Blacks, there's a few around.
"It's not an outrageous thought and it's even before now, the last two or three years, he was already talked about as someone we'd love to have back."
New Zealand Rugby has previously intimated that the next All Blacks boss would come from within their own coaching structures on home soil, be it the national team set-up or Super Rugby.
But Smith doesn't see that as a major stumbling block for Schmidt.
"The fact that Steve and Graham did similar things, people realise it's a global game, it really helps if you've been over and experienced the way rugby is played and operates up here," said Smith.
"It can only help your CV and your intel about the game, so I don't think that'd be much of an issue."
The thought of life after Joe is a concerning one for Irish rugby, given how influential Schmidt is in all areas of the game here.
His decision for his career post-2019 will be respected, of course, but the IRFU would be losing one of the finest coaches in the world if he opts to head back to New Zealand.
With Andy Farrell and Stuart Lancaster sure to be among possible successors for Schmidt, there is further coaching talent already in the Irish system, but planning the next step will be key.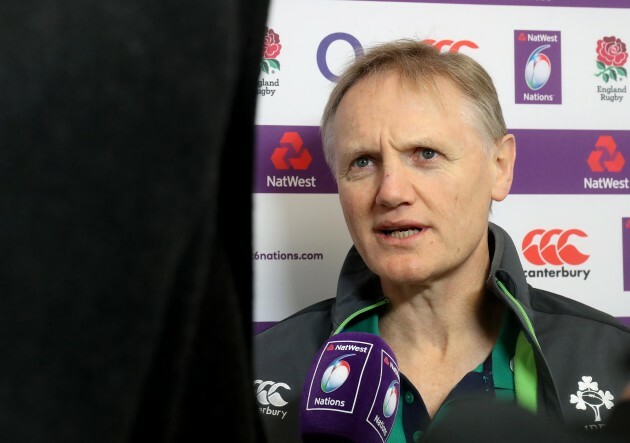 Dan Sheridan / INPHO Schmidt's coaching record is superb. Dan Sheridan / INPHO / INPHO
Former Ireland international Jamie Heaslip, who was also at the International Rugby Players announcement yesterday, believes the IRFU will be ready.
"I think in any business, succession planning is huge and sport is no different in terms of people being ready to step up, having people to manage it," said Heaslip.
"Maybe you split Joe's role or whatever, but planning for it is important. You can't live in a fairytale world and think that one person is going to stay in that position forever.
"A player can't imagine they'll be a player forever. I'm very much about being in the now and enjoying it, but every so often you've got to take stock and say 'What happens if…' and plan for it.
"Currently, Joe is signed up until 2019. You won't get any other answer from him in terms of where he's going or what he's doing. He'll be all about the World Cup – actually, all he'll say now is that he's all about the tour of Australia. You know what Joe's like.
"That's the way he's going to be, it's not on him in terms of his position – it's on the IRFU.
I'm sure they're fully aware of that.
"I'm not surprised there would be high demand for Joe; him and Stuart Lancaster are the best coaches I've ever worked with. Joe's played a massive role in my career, a lot of players' careers, and a massive role in shaping Irish rugby."
Well before any possible 2019 departure, Schmidt will be relishing the opportunity to go up against the All Blacks again this November, when Hansen's side come to Dublin.
The last time the Kiwis visited, in 2016, they emerged with victory after a ferocious and violent performance in response to their first-ever defeat to Ireland in Chicago a fortnight before.
Dan Sheridan / INPHO Heaslip knows just how good a coach Schmidt is. Dan Sheridan / INPHO / INPHO
Smith is anticipating another cracking contest between the two best teams in the world later this year.
"I think they are clearly the second-best side in the world and will challenge for that top spot," said the 36-year-old.
"I will say, history shows a lot can change in the months of rugby ahead. You talk about the November Test and then a World Cup will be totally different.
"As a player, I experienced that all the time: you'd be playing games and everyone would be telling you, 'There's going to be so much riding on this' and then you'd get to a World Cup and you're almost a different team.
"Personnel has changed, momentum's changed. A lot will change, but I think it will be a good game.
"The All Blacks have done it for a long period, and Ireland for three or four years now have been playing really good rugby, so it will be a good battle."
- Originally published at 06.00
The42 is on Instagram! Tap the button below on your phone to follow us!