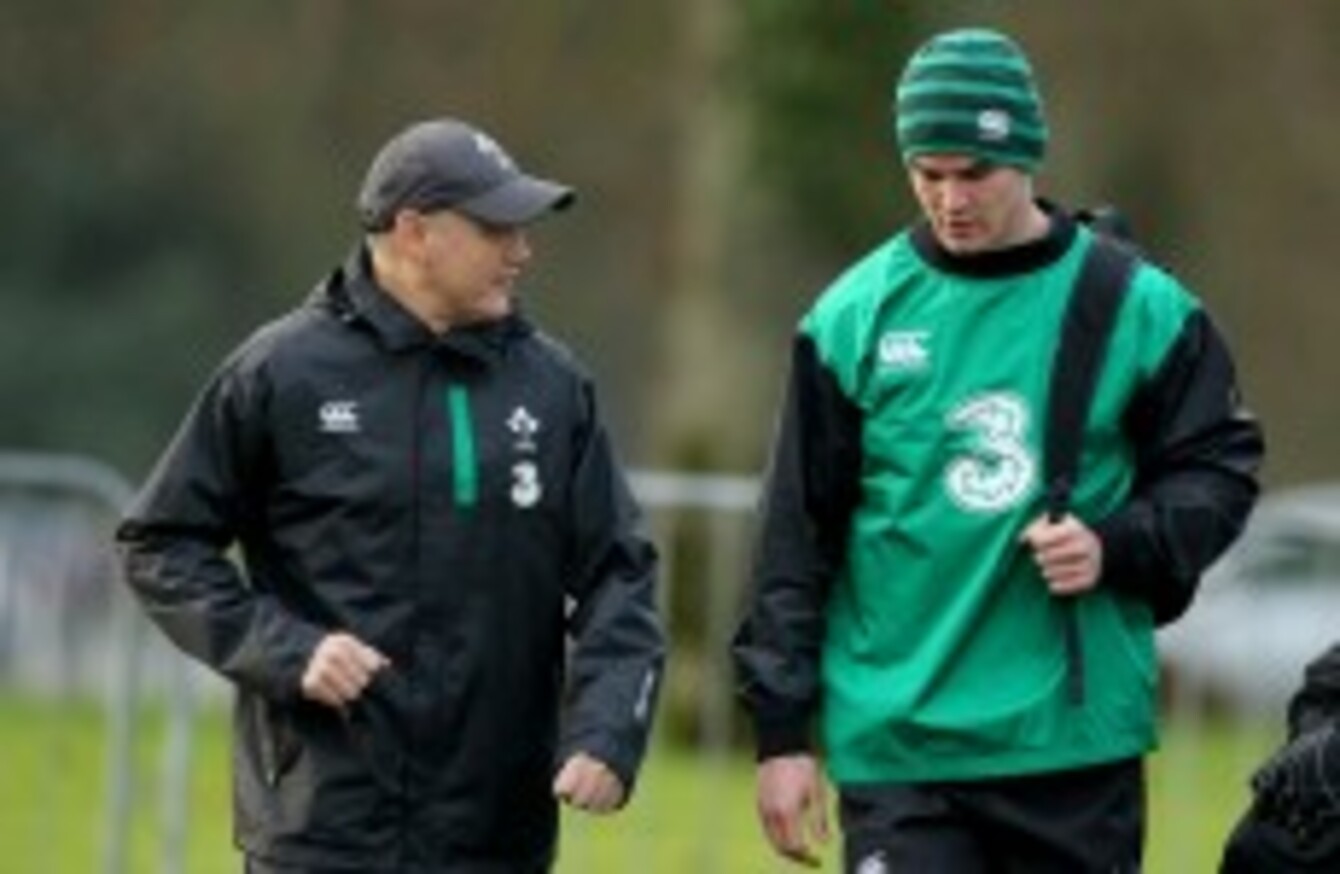 Schmidt talks Sexton through his masterplan for the 2015 Six Nations.
Image: Ryan Byrne/INPHO
Schmidt talks Sexton through his masterplan for the 2015 Six Nations.
Image: Ryan Byrne/INPHO
JOE SCHMIDT SAYS Ireland have to be cautious about Johnny Sexton's return to play after recent concussion issues, given the nature of the injury and the fact that 2015 is a Rugby World Cup year.
The Racing Métro out-half has not played since Ireland's meeting with Australia last November, when he clashed heads with teammate Rob Kearney late on in the game.
Sexton has been well taken care of by his French club since and, having been back in Ireland camp since Sunday evening, is continuing his recovery under the watchful eye of Schmidt and his medical team.
The current expectation is that Sexton will be fit to play Ireland's second Six Nations game, against France in Dublin on 14 February.
"Johnny is feeling great, trained [Monday] and was capable of training," said Schmidt at yesterday's Six Nations launch in London.
"He's been training with Racing Métro, doing everything but full contact. With that in mind, he should be back, but with it being a big year, with it being anything to do with concussion, we want to make sure that he is as well looked after as he can be.
"I think that the right sort of opinions have been sought and that he's been given a timeframe. By the end of that timeframe, he should be fit to play."
Schmidt admitted that Sexton is finding the lengthy spell out of the game difficult, given his unrelenting nature.
"I think there's always frustation with players," said Schmidt. "Johnny is a great competitor and he wants to be competitive as early as he can. But I think it's really important to be patient in this respect and to make sure that he's fully recovered and we adhere to that 12-week period.
At the end of that 12 weeks, with the way that he's feeling and having had no negative responses to training, then it looks great."
As for the issue of who will wear Ireland's 10 shirt against the Italians in nine days, the Kiwi head coach was giving nothing away. Ulster's Paddy Jackson missed out on the squad with an unfortunately-timed elbow injury, leaving the two Ians to battle it out for the out-half slot.
"Ian Madigan and Ian Keatley are the two guys that play at 10 with Johnny unavailable, which looks like it's going to be a concrete decision," said Schmidt.
"Johnny would potentially be available for France and definitely for England, but one of either Ian Keatley or Ian Madigan will start the Italy game as a result."
Meanwhile, Schmidt confirmed that he views Luke Fitzgerald as a strong option in Ireland's midfield.
The 27-year-old has enjoyed an injury-free run of form in the 13 shirt for Leinster recently, and could potentially make up a balanced centre pairing with Robbie Henshaw for the Italy clash.
"His last game for Ireland [against New Zealand in 2013] I was coaching, he came on at centre and played at centre, so I don't just view him as a winger," said Schmidt.
I think Luke is going really well and it's just a case for him of staying sound and continuing to work.
"I think it's a massive advantage with Luke having the flexibility. During the last World Cup, he was at Leinster and played in the midfield the whole time. It's not like I didn't know how Luke plays in the midfield.
"He's played a lot more on the wing in the last few years, but in the very recent games he's been at centre. It's great he's got that versatility to do both."