THE FINISH LINE is in sight. Joe Schmidt's winning run in the Six Nations will end at his third attempt, that much we know.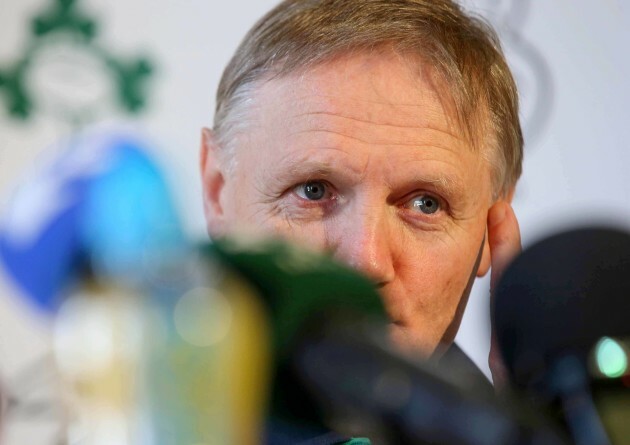 Billy Stickland / INPHO Billy Stickland / INPHO / INPHO
The full picture and final placings won't be known until after Saturday's home meeting with Scotland. But after four games, a Championship and wooden spoon decided, there's enough evidence to start the post-mortem. And the first cut Schmidt will be to dissect the performance in Paris.
"There's a real enthusiasm to finish well, especially after the disappointment of France," Schmidt said after naming his final team of the tournament at Carton House this afternoon.
"We really feel that was a game that got away from us. We're disappointed with a number of aspects that we couldn't control in that game and we're disappointed with some of the aspects that we should have controlled better and therefore control the end result."
The other defeat on the board was a wider gap on the scoreboard, but a better performance overall against England. But as the two results came back-to-back, they defined Ireland's unsuccessful tilt at a third straight title.
"The two tries they got, we're incredibly disappointed with our performance there. As much as we respect how good England were and how quick they can turn a game with the athletes they have, to have defended so well in the first-half then to concede two quick tries in the space of about seven or eight minutes was incredibly disappointing.
So we never felt like we were drowning but we were struggling to stay on the surface.
"Now that we've got our head above the surface we want to try to capitalise on that and produce something that we finish off this weekend to give us a positive outcome on the table, and also a positive platform to look ahead to."
A 'positive outcome on the table' would be a top half finish, but to make it to third place Ireland will need to beat Scotland and hope for an English Grand Slam. Neither is an altogether straightforward assignment, indeed the form of his old pal Vern Cotter's side makes this the toughest Celtic clash in years.
"If we can get the result and considering the numbers we've utilised as compared to the last two championships, if we can get that top-half finish I'd be very happy that we've worked our way through a pretty challenging time.
Morgan Treacy / INPHO Morgan Treacy / INPHO / INPHO
"And that that can hopefully give us a little bit of a platform to what is an incredibly tough second half of the year.
"We're going to play the top three teams in the world in six Test matches, three of those away in Africa where we've never, ever won a Test match before."
A daunting prospect, but a task that becomes just a bit more achievable looking with wins and a few decent tries under your belt.
"It was nice to get those confidence boosting scores last weekend. Because sometimes when you're creating a lot of play, you're creating chances but not quite finishing them, you get frustrated, you do lose just a little bit of confidence.
"Those two things are obviously not productive when you're trying to put your best foot forward."
The42 is on Snapchat! Tap the button below on your phone to add!