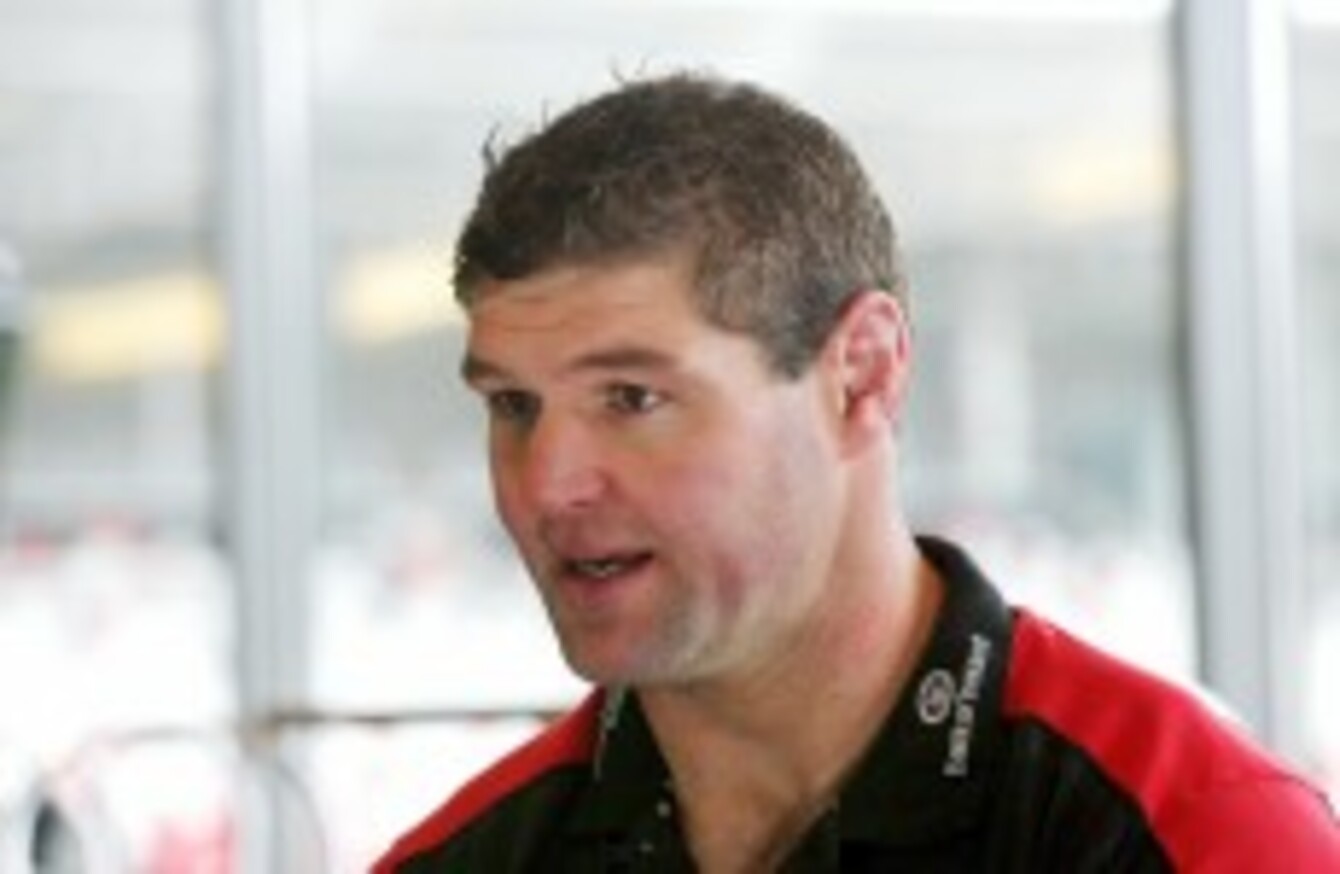 Muller is fit again after a recent calf injury.
Image: ©INPHO/Presseye/Matt Mackey
Muller is fit again after a recent calf injury.
Image: ©INPHO/Presseye/Matt Mackey
ULSTER CAPTAIN JOHANN Muller is back in action and ready for this month's Heineken Cup double-header against Treviso, starting at Ravenhill on Saturday.
His expected return to the starting side, having recovered fully from a recent calf injury, will mean the South African is pitched into one of the key battles of the Pool 5 encounter; the line-out.
Treviso's improvement over the last two seasons has been built on a strong set-piece. Their scrum is a strength, but Franco Smith's men notably excel out of touch. Muller will be calling the line-outs for Ulster if he is back in the team, and acknowledges the danger Treviso pose in this area.
The fact that Saturday's game is the first of the famous December back-to-back fixtures means both teams will have close up evidence of each other's line-out systems before the return leg in Italy. However, Muller explains that it's not a major issue and he certainly won't need to hold calls back.
You get a maximum of 15 line-outs in a game. With the line-out these days you've probably got about 60 options. So you don't use all your options and teams obviously contest a little differently to other teams, where they allow you to get ball, where they don't allow you to get ball.
"We've got a good line-out as well. I think Robbie Diack has been outstanding for us. He's been a revelation this year, not only at the line-out but in general play also. With Dan [Tuohy], myself and him in that line-out, we're pretty confident we'll be alright from that point of view."
The scrum is so often a major talking point of post-match analysis in rugby these days, but the equally important line-out is very often ignored. It is true that the scrum has more scope as a penalty-winning exercise, but first phase ball from touch is a vital attacking source for most teams.
Muller says his decisions on where to call the ball to on Ulster's throw depend on varying factors. He can throw into the 'free' space that the opposition have not marked, or he can back his own set-piece to beat them in the air, even if they are defending alongside Ulster's jumper.
"Sometimes you take a bit of a risk. It doesn't matter how they set up, sometimes you want to get a certain ball in a certain position. Sometimes it comes off and you're looking really good and sometimes you look like an idiot calling a ball there.
Muller claims line-out ball for Ulster. ©INPHO/Billy Stickland.
"Early in the game, we just want to get the ball and just want to play, but then when you've got something up your sleeve, that's when you take a bit of a risk and try and win ball, even if they are contesting."
Most opposition teams have a structured system for competing defensively in the air, and Muller has been doing his video analysis on Treviso in that area.
"They've got a certain way they've contested over the last five or six weeks and it'll be interesting to see if they'll stick with that or change it. If they're going to change it, it'll make it a little bit more interesting because it's something you can't prepare for.
SEE SPORT
DIFFERENTLY
Get closer to the stories that matter with exclusive analysis, insight and debate in The42 Membership.
Become a Member
"If they've shown you something over the last six weeks and they continue with that trend, it's a little bit easier to plan for. It's a little bit of a guessing game week-in week-out and you've got to read it on the pitch."
So how does Muller like to operate his own defensive line-out? Again, it's something that can change even within a single game.
You mark up on a guy, or you mark up on a space. So sometimes you want to prevent them from winning ball in certain areas of the line-out and you just look after space basically. Other times you have really dominant jumpers in the line-out and then you look after the individual instead of space. It changes week-in week-out, but it's a nice little guessing game again."
The line-out is not just about jumping. The hooker's throw must be perfect, the jumper needs to be intelligent with his movement and timing, and the lifters must also be accurate. Muller points out that there are many different aspects that need to work in combination for even a single successful line-out.
He feels that Ulster are lucky to have several high-class lifters in their ranks, particularly Tom Court.
"There are a huge amount of things that can go wrong and can go well. Every single guy's got a massive part to play in each and every single set piece. Tom, because he's tall, he can get you up really high. I think we've been really fortunate with the props that we do have; Tom, John Afoa, Declan Fitzpatrick, Callum Black has been outstanding."
The line-out can present wonderful attacking chances. ©INPHO/James Crombie.
Muller is passionate about the line-out and it's an area of the game that he feels he has improved in through the sheer number of hours he has dedicated to it. He admits that he didn't "understand" the line-out when he first started playing, but that he has picked up the "tricks and subtle things you need to do" with that volume of practice and study.
Victor Matfield is justifiably regarded as one of rugby history's supreme line-out operators and Muller agrees that he was lucky to have worked with such a specialist.
"He's had a massive influence on my career. When I started playing for the 'Boks in 2006, him and Bakkies [Botha] had been playing for three or four years together already. He's somebody that's obviously been outstanding at line-out time and to spend time with him over a two or three year period with the Springboks, and just watching him, taught me a huge amount about line-outs.
There's a reason why he's one of the best second rows that ever played the game. He had unbelievable skill to read line-outs and to prepare for line-outs and study line-outs. A lot of my stuff, I basically got from him."
While the tries, attacking line-breaks and big tackles will steal the limelight as ever on Saturday, keep a close eye on how the line-out unfolds. For Muller, it will always be one of the game's most gratifying aspects.
"It's something that I really do enjoy and it's a passionate thing for me and it involves a bit of pride. It's somewhere that you want to test yourself against the best in the business. If you get a 90% or 100% line-out on the weekend, that's a real satisfying feeling."
Like rugby? Follow TheScore.ie's dedicated Twitter account @rugby_ie >