THERE'S NO DOUBT John Bracewell would have preferred his initiation period as Ireland head coach to have been a bit smoother but the frustrations of the first few months have made him more determined to achieve what he set out to do.
Over the course of the summer, the realities of the job and the enduring obstacles facing Ireland have been laid bare as a substandard World Twenty20 Qualifying campaign served up a sobering dose of realism.
After sustained success under Phil Simmons, stumbling through a world event on home soil before eventually being dumped out at the semi-final stage certainly wasn't part of the plan.
If Bracewell wasn't fully aware of the size of the task that lies ahead, then the honeymoon phase will have highlighted the challenge he faces.
"It's been frustrating but there's not a lot I could have done differently," Bracewell tells The42. "But you've got to completely accept criticism. We went into that tournament as justified favourites and we didn't win it and therefore that's disappointing.
"It's easy to say the first job was to qualify but that was one job. The other job was to win the tournament and we didn't do that.
In the space of three short weeks, Ireland suffered five defeats to Associate opposition in a fashion which raised serious questions marks over the direction they are currently heading.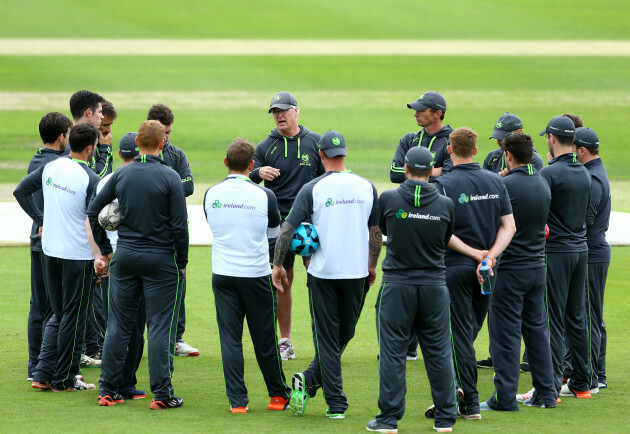 Presseye / William Cherry/INPHO Bracewell talks to his players during training in Stormont this afternoon. Presseye / William Cherry/INPHO / William Cherry/INPHO
Although the ultimate goal of qualification for India next year was achieved, the nature of the performances certainly provided substance for anyone who intended to aim fire – and there were plenty primed to voice their opinion.
It may seem harsh to level such criticism towards a side that have enjoyed unparalleled dominance of the Associate ranks but when you've tasted the expensive stuff, Prosecco just won't cut it any more.
But Bracewell has been around the game long enough to appreciate the value of learning curves and certainly the last few outings have proved to be a revealing exercise.
It's often said a defeat can be more instructive than a victory and perhaps a few home truths were needed.
"We found ourselves perhaps behind other sides in the way they prepared for the tournament and that was ultimately the difference," he continued.
"If you don't learn from losing then you're missing a valuable opportunity and there was a lot of learning to be done."
A three-game warm-up series against Scotland in Bready served as an indication as what was to come. With the core of the squad tied down by county commitments, those given the opportunity to stake their claim were unable to grasp it and it ultimately set the tone.
Defeats to Papua New Guinea and Hong Kong in the group stages didn't derail Ireland's qualification bid but a five-wicket defeat at the hands of Netherlands in-front of a large home crowd in Malahide was symptomatic of their underwhelming tournament.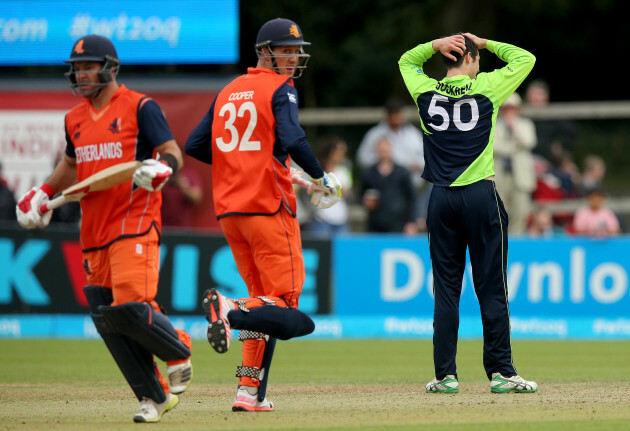 Ryan Byrne / INPHO Defeat to Netherlands last month was a wake-up call. Ryan Byrne / INPHO / INPHO
"We didn't prepare well enough," Bracewell says looking back. "Other sides came in knowing this was their made-or-break tournament for the next four years and they planned accordingly.
"We're not making excuses but joining up two days before the first game isn't good preparation and as a consequence we weren't as collective as a unit as we normally are or should be.
"To expect a team to come together in such a short space of time was always going to be difficult. We missed a trick on that."
Bracewell is keen to learn from the mistakes and move on, starting this week when his squad reconvene for Thursday's Hanley Energy One-Day International against Australia.
For all of Ireland's sustained success over the past decade, they have yet to beat a Test nation on home soil and given the paucity of fixtures, the opportunity to flex their muscles against the world champions doesn't come around too often.
"The marker we set for ourselves is winning," Bracewell continues. "We're trying to tip over top teams and we missed that opportunity against England but we have another chance to lay down that marker on front of our home crowd.
"That in itself is a challenge. Of course we want to win but I'll be looking for commitment, character, playing against the tide of a game, playing with the tide and those sort of characteristics coaches look out for in individuals.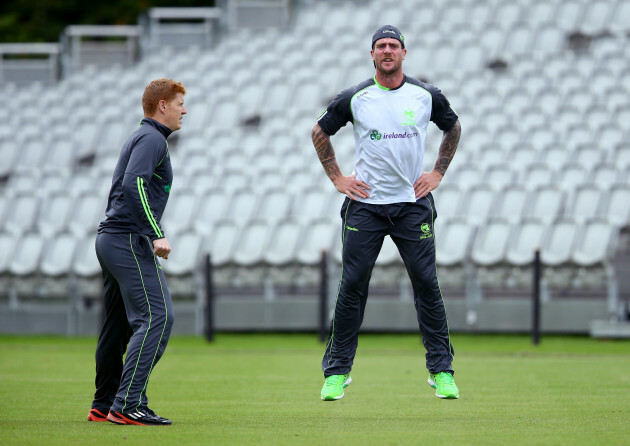 Presseye / William Cherry/INPHO Ireland are hoping to beat a Test nation on home soil for the first time this week. Presseye / William Cherry/INPHO / William Cherry/INPHO
"These big games go a long way to telling you about the character of each individual and whether they're the right players to take us to the point where we want to be."
In the week of his appointment back in May, Ireland's showcase fixture against England at a soldout Malahide was washed out after just 18 overs.
Bracewell couldn't have drawn too many conclusions from what he did see on that occasion but in the intervening period, he's been able to assess the resources at his disposal.
Judging by what he's seen, the 57-year-old insists Ireland are in a healthy position and the concerns surrounding the production line – or lack of talent coming off it – is unfounded.
"I think there is enough depth over here to keep topping up what we have," he asserts. "But long-term we need to double those numbers but you need 20 players to compete and sustain your position in the top ten in the world in all formats of the game.
"It's just competitive and you can't go into games or tournaments with players making up the numbers. In order to do that we certainly need more professional facilities and the Interpro series to go from strength to strength – which I think will happen."
Ireland's 14-man squad contains nine survivors from the team that played in their last game against Australia in 2012 but those on the periphery have failed to provide evidence to suggest they're ready to fill the gaps.
Donall Famer / INPHO Bracewell says he's learned a great deal from his first three months in the job. Donall Famer / INPHO / INPHO
Alex Cusack's recent retirement follows the decision of Ed Joyce and Tim Murtagh to call time on their Twenty20 careers and several of the 'golden generation' are approaching their early-to-mid thirties – they won't be around forever.
At this stage of Ireland's cricketing development, the need to breed a greater calibre of player on a consistent basis cannot be sealed. At the moment, the signs aren't particularly encouraging.
Yet Bracewell isn't exactly enamoured by the idea of looking beyond these shores for reinforcements.
"We need to go down the sustainable route," he continued. "If a player commits they need to commit long term because when you're in, you're in. Players can't use Ireland as a step to get somewhere else.
"You could learn from the Dutch. They were quite prepared to buy themselves a route to the tournament [World T20]. That's interesting but it's not the path we want to go down.
"We want to be a sustainable programme, not a one-off programme. That's important."
That said, one of Bracewell's first tasks as Ireland coach was to sit down with Boyd Rankin and discuss his international the future. The fast-bowler declared for England in 2012 but after making his Test debut in Sydney, he's been consigned to the international wilderness since.
It's no secret that Rankin still harbours hopes of renewing his England career but Bracewell has told him the door remains open for him to return to Ireland.
"I've had a discussion with Boyd and as I've said before, Boyd to a certain extent has unfinished business. No one wants to win just one Test cap, so let's see how those cards when they fall.
"He knows the door is open and he's very welcome back but he knows also when he makes the decision, it's his last decision. He either closes the door on England and re-opens the door on Ireland but he doesn't go back the other way.
"He's not going to make it from any pressure of me, it has to be his decision."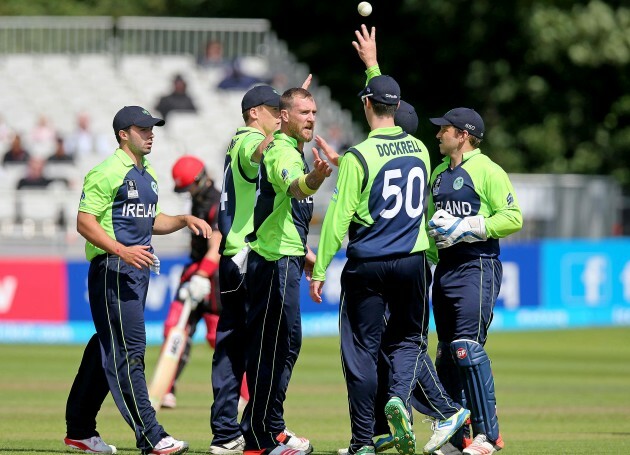 Donall Famer / INPHO What the hosts and their fans would give for a win on Thursday. Donall Famer / INPHO / INPHO
The players he does currently have at his disposal gathered in Belfast this afternoon as preparations started for the visit of the world champions.
The England washout aside, it will be Ireland's first ODI since their imposing performance at the World Cup where they narrowly missed out on a quarter-final berth on net run-rate.
Australia went onto win that tournament but a lot has changed for the visitors since then. Coming off the back of an Ashes defeat in England, this is something of a new beginning for Darren Lehmann's side following the retirement of Michael Clarke.
A capacity crowd is expected at Stormont on Thursday with Setanta Sports broadcasting the game around the world. It's another invaluable opportunity for Ireland to stick out their chest and reinforce their credentials as a nation with serious cricketing pedigree.
You can tell Bracewell and the players are still hurting from what happened last month but a first victory against a Test country on home soil this week would go along way to making up for it.