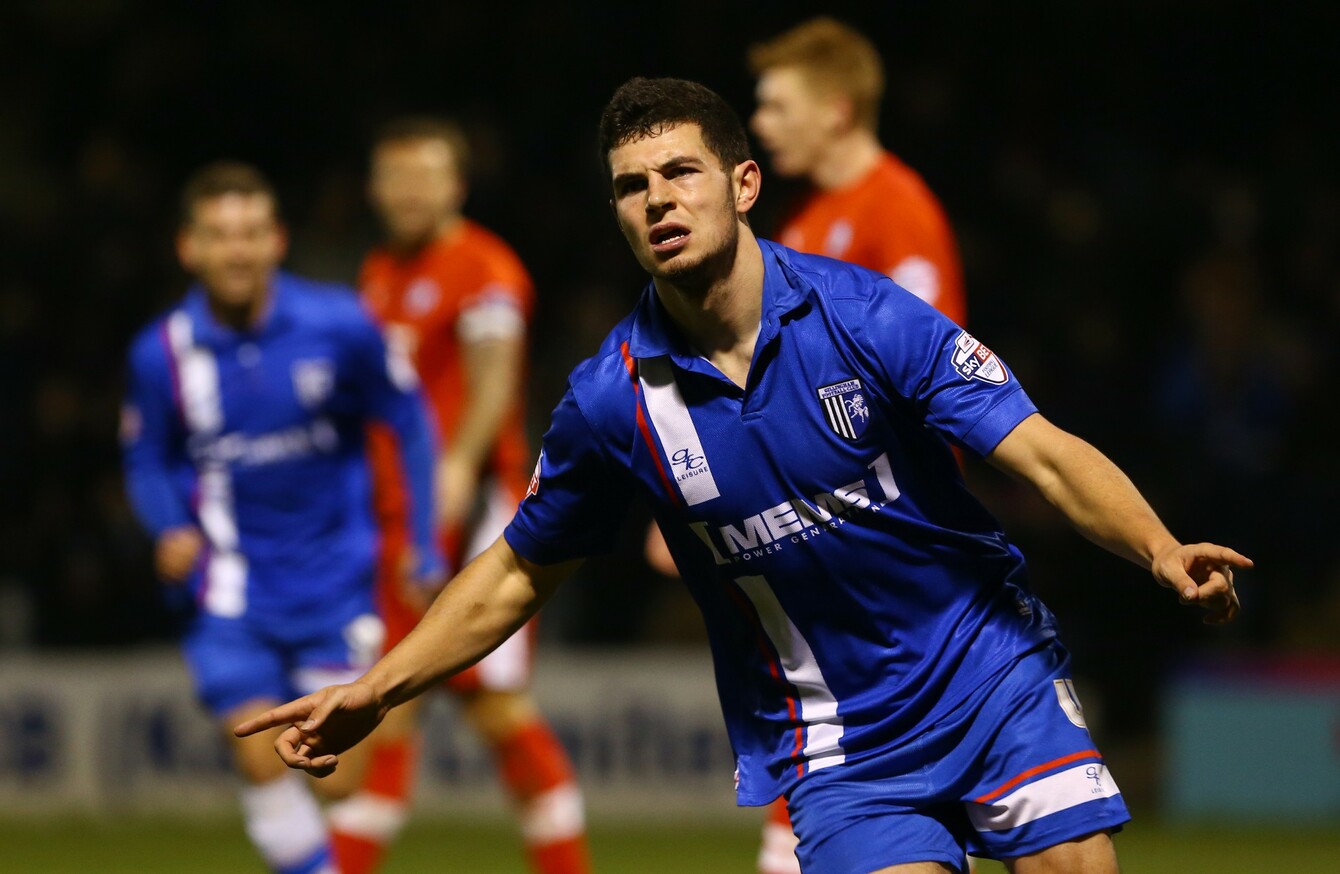 Egan has made almost 100 appearances for Gillingham since joining them in 2014.
Image: EMPICS Sport
Egan has made almost 100 appearances for Gillingham since joining them in 2014.
Image: EMPICS Sport
Editor's note: Since this article was published, Gillingham's promotion hopes have ended, as they were beaten 2-1 by Millwall today, despite Egan scoring his sixth goal of the season for his side.
JOHN EGAN IS no stranger to success.
The 23-year-old Gillingham defender is the son of the late John Egan Senior — a Kerry GAA legend who won six All-Ireland medals and nine Munster titles, while captaining the side that narrowly lost out to Offaly in the famous 1982 five-in-a-row final.
And while his own sporting career in soccer is still in its early stages, Egan Junior has already enjoyed some success too.
The Bishopstown native was part of the Ireland U19 side that reached the European Championships semi-final back in 2011, playing alongside some notable names, including future senior international Jeff Hendrick. They were eventually beaten by a Spanish outfit that included Everton's Gerard Deulofeu, Juventus' Alvaro Morata and Real Madrid's Dani Carvajal.
At club level, Egan has also had some memorable moments. Last season, he was named Gillingham's Player of the Season — an impressive feat for a then-22-year-old playing in his first season at the club and featuring in all but one of their games.
And this season, Egan has continued his fine form, with the defender captaining the side in regular skipper Doug Loft's absence, in addition to being named in the PFA League One team of the season.
It's been a fantastic season for me personally, and it's always nice to get noticed by your fellow professionals," he tells The42. "Getting into the team of the year was a really good bonus."
And while the Cork-born centre-back has been excellent throughout the campaign, the team overall have not been quite so consistent. Having looked in strong contention to earn an automatic promotion spot in the first half of the season, the Gills' League One form has trailed off to a degree since the turn of the year, and with one game remaining (they host Millwall at 12.30pm today), Gillingham are currently two points off the playoff places.
Consequently, not only do Egan and co need to beat Millwall to prevent their largely encouraging season from ending in anti-climactic fashion, they also must hope that both Scunthorpe and Barnsley — who are just ahead of them in the table — fail to earn three points this afternoon.
The youngster admits that the playoffs and the possibility of promotion to the Championship is now an "outside shot" and attributes his side's loss of form to "a couple of bad injuries" to key players which "killed" their momentum. Yet regardless, it's a big improvement for a side that could only finish 12th in 2014-15 campaign and looked set to be involved in a relegation battle at one point last season.
We need to hope other results (today) go our way, but stranger things have happened," Egan adds.
"At the start of the season, if you put us in this position, it would have been a decent enough position — down to the last day and if we win, we've a chance of getting into the playoffs, so we'll see what happens."
Source: Southend United Football Club/YouTube
(Egan scored a wonder goal while on loan at Southend in 2014)
Egan describes matches where the club have won and games where he's scored when his family have been over to watch as among his best footballing memories to date. And while there have been no shortage of moments to savour, Egan also has had dark days to deal with in football.
After starting off playing with Greenwood in Togher, Cork, Egan left his home in Bishopstown to join Sunderland in 2009, in the process turning down a number of other interested parties, including Arsenal, Blackburn and Leicester, after impressing on trial at the Stadium of Light.
A talented athlete, Egan also played basketball and GAA as a youngster, but his father ultimately persuaded him to choose soccer, having been hugely impressed with the facilities at Sunderland.
And the Irish defender made encouraging progress initially at the Black Cats. Having captained the youth team in their league-winning campaign, he made the first-team bench during both Steve Bruce and Martin O'Neill's time spent as manager there and trained regularly with the senior squad in the process.
The defender was even given a squad number by O'Neill at the start of the 2012-13 season and featured during the club's pre-season tour of South Korea.
Yet the youngster suffered his first considerable setback later that campaign during a loan spell at Bradford, breaking his leg in two places, which ruled him out of action for close to a year.
O'Neill still had faith that Egan would come good, however, and as one of his last acts before getting sacked by the club, the Derry native gave his fellow Irishman a contract extension.
If heart and desire are anything to go on, John will cakewalk his career," O'Neill said at the time. "I gave him a squad number in the first-team at the start of last season, almost as much for attitude as anything else. He's got a fantastic attitude to do really well."
Unsurprisingly, Egan is similarly fulsome in his praise of O'Neill.
"I did the full pre-season with Martin. I must have been about 19 at the time and he was really good. I really enjoyed it. He's a very good manager and a very good man. Hopefully, himself and Ireland do well at the Euros now — I'm looking forward to tuning in."
Source: GFCofficial/YouTube
Yet with O'Neill no longer at Sunderland, a 21-year-old Egan was released by then-manager Gus Poyet at the end of the 2013-14 campaign.
At the time, Egan sounded commendably philosophical and mature when reflecting on this setback.
"Very few youngsters go straight into the Premier League these days with the amount of money around and foreign recruits," he said.
It's a long road and I've had some bumps but a lot worse things can happen in life."
Remembering the disappointment now, Egan feels he was hard done by.
"When I came back from injury, I didn't get a chance at Sunderland to show them what I was about. Gus Poyet was in charge and I never really spoke to him or anything. I knew I had to go and play games, and that it wouldn't be long before other people started taking notice.
When you're let go by a club that you could have made an impact at, there's always the bit in you that wants to prove them wrong. I'm on my way to doing that now, I've got a good two years, turned a few heads and hopefully we can finish the job on Sunday again, get promoted and that will obviously be a great way to end the season."
By the time he left Sunderland, Egan had already spent time on loan at a number of clubs, so the sudden switch to the hectic schedule of 46 games a season in League One was not quite the shock to the system that it could have been.
Therefore, rather than feeling intimidated by this challenge, Egan embraced it, and consequently, he has adapted well to life at his new club.
"Academy football is good to a point, but at 19, you've got to be looking at yourself — you don't want to be playing academy football going into your 20s. You've got to go out and make a career for yourself in the game. I enjoyed academy football, but I enjoy playing for three points on a Saturday a whole lot more."
And speaking of youth football, Egan has made a number of appearances for Ireland at U17, U19 and U21 level.
While there has been much handwringing about the state of Irish underage football in recent years, with a perceived lack of players coming through, Egan reserves nothing but praise for the set-up.
We had a great group of lads and a great group of players. At U19s, we got to the European Championship semi-final — a lot of those players are still playing, be it Premier League, Championship, League One, League Two.
"At the end of the day, it comes down to the players. If they're willing to work hard, you'll produce players.
"When I played at Ireland underage, I used to love going away and meeting up with the lads, training and playing. I feel like it did a lot for my career."
The Gillingham star also plays down the notion that Ireland don't produce enough technical players.
It all depends on the player. I played in an Ireland team with some magnificent technical players. Robbie Brady is one of the best technical players you'll see — obviously, he's showing that now with Ireland. There are technical players in Ireland, it's just whether they can go on themselves and make an effort — then they'll get noticed."
And while Euro 2016 will almost certainly come too soon for Egan, the likes of John O'Shea aren't likely to be around at international level for much longer, and so there could be opportunities for younger players in the near future.
The odd League One player — Chris Forrester and David Forde are two examples — has been named in Ireland squads in recent times, though Egan acknowledges that he will likely have to be playing at a higher level to get a look-in.
To get in to the Ireland squad, you have to be playing Championship or Premier League it looks like. But I've had a good season — I'm happy with my form. I believe in my ability to go on and do it at a higher level and so hopefully, I can break into the Ireland team.
"But I need to get myself to that stage and that platform first, and if I'm producing the goods on the pitch, stuff like that will follow. So I'll have to keep my head down and keep doing well on the pitch."
And this transition might happen sooner rather than later. During the most recent transfer deadline day, Championship club Brentford made an offer for Egan, whose contract is set to run out this summer.
Gillingham rejected the bid, with manager Justin Edinburgh at the time saying: "The offer didn't meet the chairman's valuation, or mine. We spoke to John, made him aware of it and we didn't hear any more."
The Gills say they have offered Egan a new deal, but with the player free to leave for a nominal fee at the end of the season, he has so far held back on penning a contract extension.
When asked by The42 about his future, Egan's response is unsurprisingly non-committal.
Every footballer wants to play at the highest level, and it's no different for myself. Going forward in the summer, there's going to be a decision to be made.
"In January, there was a bit of interest and in the summer, hopefully there might be a bit of interest. Obviously, it's a decision that's going to have to be taken after the season's finished, so I can't really comment too much on it right now.
"I'm going to have to get my head right for (today's game). Hopefully, we'll get the win and then we'll see what happens."
Whatever happens though, it is clear Egan has built up an affinity with Gillingham during his time at the club since joining in 2014.
It's the best job in the world, coming in and playing football every day," he explains.
"What makes it better is when you're with a group of lads who all get on and share the same interests and have the same banter.
"For me personally, the last couple of years at Gillingham have been fantastic. I've made some brilliant friends that I'll have throughout my whole life. At the end of the day, it's a job and what a job to have. You go in and you train with your mates and you enjoy it. As I said, I love Gillingham, I love the lads, and it's been a great two years."
Keep an eye out for part 2 of our interview with John Egan, in which he discusses his GAA roots and leaving Ireland as a teenager. It will appear on the site at 9pm tonight.
The42 is on Snapchat! Tap the button below on your phone to add!