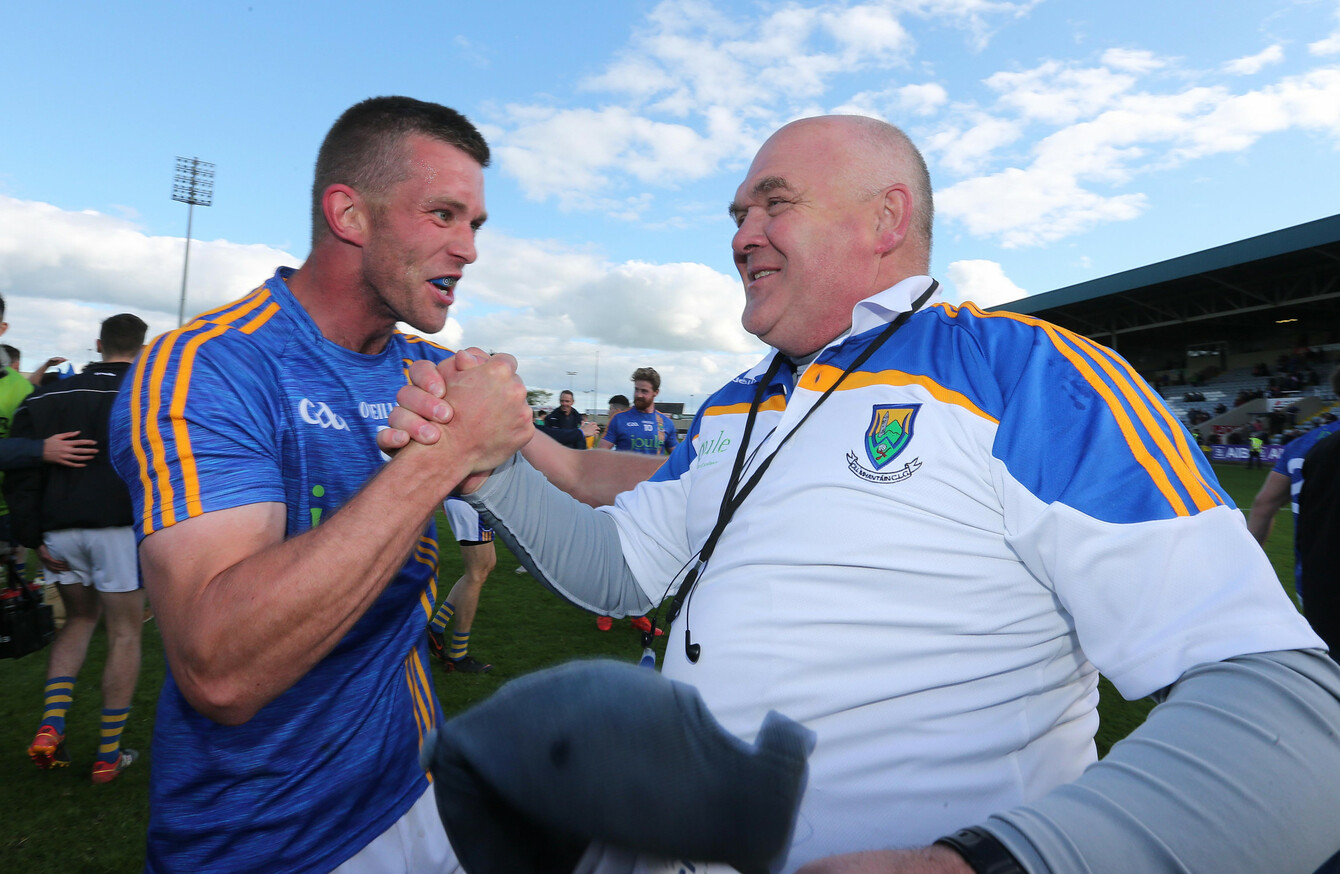 Wicklow's Rory Finn and John Evans celebrate at the final whistle of their Offaly game.
Image: Lorraine O'Sullivan/INPHO
Wicklow's Rory Finn and John Evans celebrate at the final whistle of their Offaly game.
Image: Lorraine O'Sullivan/INPHO
A BLAZE OF DEBATE may have been sparked by the destination Wicklow are heading to next Sunday afternoon but John Evans is not letting it engulf their camp.
It is for others to figure out whether Wicklow are the victims of an injustice over not being permitted to welcome Jim Gavin's all-conquering Dublin team to their home in Aughrim.
Evans reasons that a return to the location of their first Leinster championship win in five years, is a good thing for his team.
"The venue we have made very little of. We've left that to the administrators. When it didn't come up, it didn't come up. The difference in it is that the last time we were in Portlaoise, we'd a very good feel-good factor after it.
"It isn't that we're going into a den of iniquity, it isn't that we're going into some place we don't like. O'Moore Park is a fine field and look we're happy to play there.
"We purposely stayed away from it. While we'd have liked to have had Aughrim, we certainly stayed away from any discussion on it.
"It's nice to have a win under their belt. That feel-good factor, I don't know what it will be after Sunday but sure we'll see how it goes."
This is not a maiden voyage for Evans in managerial championship waters against Dublin.
The critical difference lies between the Dublin team he faced then in 2010 with Tipperary and the Dublin team he faces now in 2018 with Wicklow.
Eight years ago, Pat Gilroy was trying to coax a team back to life in a qualifier after they were battered by Meath's rush of goals in Leinster.
On Sunday, Jim Gavin will ride into Portlaoise at the helm of a county that have won 17 major Gaelic football trophies since the start of 2011.
Not that the Dublin dominance was a jolt of surprise to Evans. He was involved with the Tipperary minor side in 2011 and watched the Roscommon U21's closely in 2014 when he was the county senior boss. The talent Dublin were preparing to unleash was not hard to spot in underage games in those seasons.
"I was in the right place at the right time and I kept telling people that they were going to come through. I was seeing it first hand.
"When you know these guys inside out and do background checks on these guys and see how talented they are, it's no surprise at all that Dublin are where they are."
Wicklow occupy a different stratosphere. Evans entered the 2018 summer at the helm of a county that were rooted at the bottom of the fourth tier of the league in late March.
For a man who guided Kerry club Laune Rangers to an All-Ireland title and has had spells with Tipperary, Meath and Roscommon on his coaching CV, decamping to the east coast was a considerable challenge.
"People have often asked me that several times why did I take the Wicklow job? I came in with eyes wide open with Wicklow. The first thing we went after was restructuring the underage and getting the right people.
"Kevin O'Brien, getting him in with the U16 and U17 (teams) was a big coup. I'm involved with the U20 and senior (teams). All this is try and create a conveyor belt of talent coming through that is undoubtedly in Wicklow, it's just a matter of channelling it.
"While it's an enormous challenge, it's not insurmountable and given a bit of time, it will certainly come through."
Trying to leave an imprint on the team and summon some improvement was made all the more difficult by the blankets of snow that enveloped Wicklow in the spring.
"With the terrible weather, you just couldn't train, you couldn't play. The league wasn't a true assessment of us.
"We got hit three times with it. Most other counties only got it once and some didn't get it at all. We were practically out for three weeks. We were looking for indoor facilities here, there and everywhere trying to get little minor sessions in to keep us ticking over.
"It takes time for the team to bond, new tactics and a new style of play. Throw in the bad winter, it was just a cocktail that didn't work out.
"I remember with other teams, you'd certainly have a lot of time that you could spend on the field. Whereas in Wicklow, I wasn't able to spend that much time on the field."
He could detect signals of improvement as they approached the outing with Offaly before the players visibly grew in confidence in that game.
"We certainly believed it was in us. For the previous three to four weeks, we'd been steadily improving in our challenge games. We did believe going down we could win the game.
"What I was surprised with was that it took us so long to settle in the first half. We were within one score of Offaly at half-time and I think the penny really, really dropped to the players that they could kick on here and win it. The fact that it went to extra-time showed the fitness and determination and resolve that is in the lads."
Evans has had prior experiences of trying to topple provincial aristocrats. The draw paired Tipperary with Kerry three years on the bounce in Munster while Roscommon chased Mayo in Connacht before falling to defeat by a point in 2014.
But he appreciates the difference here and the chasm that exists between Sunday's opponents.
This is new territory the current Wicklow group are venturing into. It's 28 years since the counties crossed paths in the Leinster arena. In 30 league and championship meetings, Wicklow have drawn a blank in their search for a victory over Dublin.
Rather than being fixated on the kings of the game, the Wicklow boss is thinking of what he can do with this project that is just starting to roll along.
"It is of course a big occasion and the fact that they're next door neighbours is another thing you've to factor in as well.
"The only time the Wicklow players would have met or seen the Dublin players is on TV. They haven't come across them in the league or anywhere else for that matter.
"But again, not getting away from it, the championship win will do Wicklow a power of good. If you're to equate that with the collateral damage next Sunday may cause them, we're not going to be judged on one game.
"It's a journey we're on and trying to improve our game and how we carry that forward.
"We will have another game after the Dublin game and that is important to focus the mind on the future, rather than what's gone on in the past. We just hope we can do ourselves some justice on Sunday."
– Originally published 13.14, 23 May
The42 is on Instagram! Tap the button below on your phone to follow us!