JOHN FOGARTY IS bubbling over with energy.
The Leinster scrum coach is never anything short of affable, bright and engaging for these early week media commitments, but this is no ordinary week.
Fogarty claims it's partly down to the timing, and he has a point: Monday's Champions Cup launch meant Leinster conducted their Pro14 press on a Tuesday afternoon rather than Monday, so rather than Fogarty emerging from a coaches meeting, he sits down with gallons of exuberance still pumping after presiding over a training session.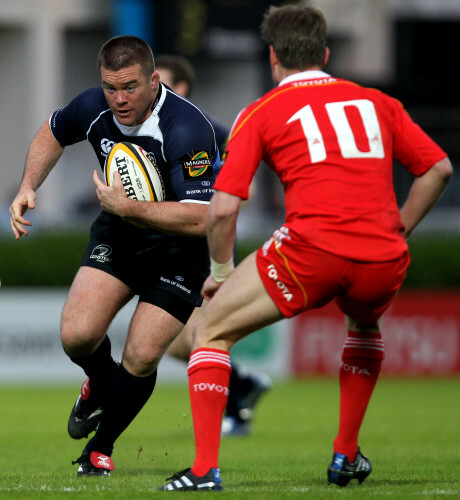 James Crombie James Crombie
Munster born and reared, Fogarty played the majority of his rugby outside of his native province and the passion for the rivalry is palpable in him ahead of Leinster's first inter-pro of the season (Saturday, kick-off, 14.00).  Never bloody mind that it represents a test run of sorts for European competition, for Fogarty this is the main event.
"It's part of preparing for Europe but I don't agree with that at all," says the scrum coach.
"There's so much to it, it's not just a fixture that sits in the middle of the season and prepares us to play in Europe. You want to beat your brothers more than you want to beat anyone else.
"It's really important for us and in our preparation for the week, we're touching on how important it that we understand our stuff, but that we're competitive in this game so that we're competing for everything.
"For our supporters, for ourselves as a group, for our families. It's so important.
This fixture still holds a special place in the hearts and minds of all of the players.
"They want to be picked to play in this game, they want to be in the Aviva and be part of it. It's a fucking very special day."
It does sit in front of Europe, but if the boys are thinking, 'I need to be fit for Europe so I get picked for Ireland,' your eye is off the ball and if your eye is off the ball in a Munster-Leinster game you're going to get your fucking hole handed to you."
If Fogarty is anything to go by, there is absolutely no danger of anyone in Leinster's squad falling fort of the intensity you expect of an inter-provincial clash. With 42,000 tickets already sold for the Aviva Stadium, the hosts are expecting a crowd to fit a match that means so much to the players. Fogarty's passion is focused too, everyone within the backroom team is well aware that Munster are more than capable of silencing the blue flag-waving fans.
Rassie Erasmus may be on the way out of Ireland, but he is also a year into his tenure in charge and he has been working to make sure that the province's gameplan has not stood still even if their medium term plan had to be redrawn. Fogarty singles out a tweak in how the Reds attack: on top of their muscular, direct approach, they are primed to spring out of tight areas and put width on the ball.
"The DNA of Munster is still there from last season to this season I think, when they put you inside your own half and they're pressuring you through their scrum, through their maul – and we had those last year – they get into their pick-and-go game where they tighten you up.
"When they tighten you up, what I think they're doing better is, they sweep," Fogarty explains, with that enthusiasm bringing his hands into play to illustrate cuts down the blind or wide open side of where the bodies pile up.
'Handful'
"They tied them up and (go wide) really crisp passing, quite smart in how they held their midfield and then they could get around them quite easily. They scored some really easy tries on the outside."
"They're really good in their collisions. They'll double the weight in contact and they'll smash through –it's been quite impressive in how they've executed outside of the typical areas in how they exposed you on the outside. That's a fuckin' handful – excuse my language – to deal with. Because you're focused so much on dealing with the energy that they have (in the) tight, because if you're not fully there they can win a foot, next one they win a metre, now it's two metres, now we're retreating, then we tighten up and," Fogarty makes a "whish" noise gives motions to signal the ball being smoothly sent wide.
"So your defensive system is tested, but also your willingness to compete with the person in front of you and the energy, the fight you have in contact. In these games, you'll hit and every little tiny part is important."
Unfortunately for both sets of coaches, players and their supporters, many of the tiny parts that make a difference in these matches need time to properly click together. Last Friday night, Leinster welcomed their Lions back to the fold, yet there was a distinct absence of spark even though all the parts were in place. Ring-rust is to be expected and the knock-on effects on the South African tour must have some bearing too, but Leinster's coaches have been working this week to ensure the machinery can go through the gears more smoothly than they managed against Edinburgh.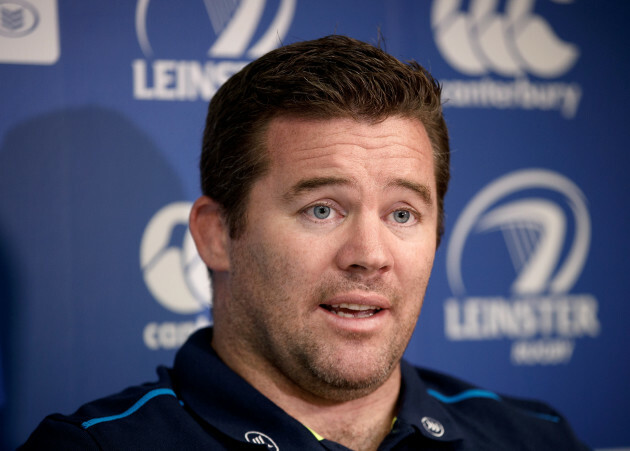 Bryan Keane / INPHO Bryan Keane / INPHO / INPHO
"You'd love more time for us in the saddle so we can feel that we're humming, but you simply don't and it adds tow the mix a little bit. So there's extra pressure on us for what we do during the week, mentally first of all, to make sure we can get over this. There can't be an acceptance of, say you look at the line-out in the Edinburgh game – you can't accept: 'that happened because it's our first hit out' or 'we need more time'. I don't accept that at all and the players shouldn't accept that those outcomes were good enough. They weren't!
"It didn't happen because we weren't sharp enough during the week. You can get combinations up quickly enough. You don't want to use that as an excuse in our heads –  – we're going to work now to make sure we're up to speed."
(To improve the line-out) you think about movement, lift, accuracy at the top of the jump, our ability to not compromise any tightness in our jump when we come back down so that we're not getting smashed in a maul. All the little tiny things that make it all tighten up and pull together.
"Those have to be worked on and they have to be clear in their heads that this is the solution as opposed to, 'you know, Edinburgh did a great job,' which they did, they hit us and upset us, but we lacked a bit of detail and didn't do the small things right to make the whole thing work quite well.
"We're focused on those things now and we need to do that. There's intensity in the lads now, there's focus in their eyes and we're making sure they understand: 'this was poor' and 'this was shit' against Edinburgh. Tighten up all the bits and then we can bring the knowledge at the end of the week."
By then Fogarty just might be ready to burst.