Lionel Hahn / AbacaPress.com Lionel Hahn / AbacaPress.com / AbacaPress.com
I THINK I'LL always struggle not to laugh and wonder if it actually happened whenever I reflect on Conor's boxing bout against Floyd Mayweather.
To be at the centre of what was perhaps the biggest combat sports event in history was surreal in its own right, but from the build-up to fight night itself, there was just so much new stuff going on that we hadn't experienced before.
Even moments before the fight began, simple things like the ringing of the bell — which we don't have in mixed martial arts — and the pageantry of Jimmy Lennon Jr's introductions were all new to us.
Another thing you can add to that list is the manner in which boxers tend to pace themselves. If you're two or three rounds down on the scorecards in an MMA fight, it's a disaster. In boxing, you've still got nine or ten to tip the balance back in your favour. It's no big deal.
Whether or not it's something we'll experience again — that's all still to be decided — it was a major lesson we took away from the fight. Floyd certainly used his experience to ensure that his gas tank was never significantly depleted. As Conor has already pointed out, he did that a lot better than us.
Boxing is almost like a play. The first third of the fight is Act 1, the middle four rounds is Act 2 etc. We took Act 1, the second one was close, but Floyd was then in a better position to close things out in the conclusion.
I was really pleased with how Conor fought on the outside, in terms of the boxing at range. I'd say I was even somewhat pleasantly surprised by how much success he had in that regard. That surprised a lot of other people too. We were looking to box on the outside instead of trying to make it messy. People were probably expecting Conor to try and clinch with Floyd and then rough him up from there.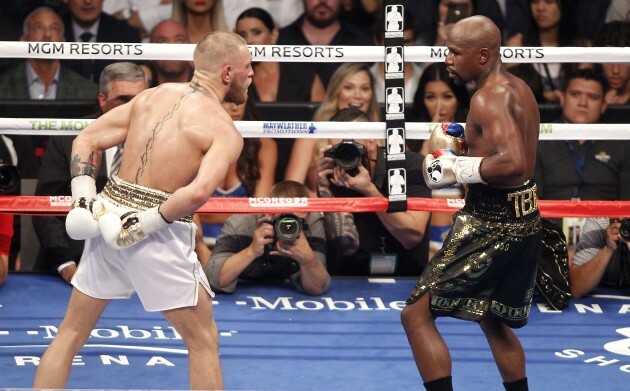 Derek Hogan / INPHO Derek Hogan / INPHO / INPHO
If you watch the first four rounds, when it was a boxing match on the outside we had a lot more success than anybody gave us any hope of having. Conor deserves enormous credit for being able to do that against somebody who is a supreme specialist in that particular range.
There was a curiosity on my behalf about how his slip-counters would work against a guy like Floyd. It was a technique Conor probably became most famous for when he knocked out Ivan Buchinger in his final Cage Warriors fight before being signed by the UFC.
As it transpired, Conor was actually able to do that effectively against one of the best strikers on the outside of all time. Floyd's back (right) hand is extremely fast but Conor still managed to get the measure of him in those first few rounds, which was a major positive for us.
After the first two rounds, I started to think that this could be a relatively straightforward contest if we can maintain this. Floyd then began to go to the ropes a little more, which wasn't a shock. It was something we anticipated and drilled for. Even when he was there, almost shelling up, I felt Conor was successful in those sequences.
But I think it was in the fourth or fifth round when Floyd switched styles and he almost took the Nate Diaz approach of just walking forward and covering up. Conor called him "a Mexican", which was a reference to the style of boxing. It's even more effective in boxing than it is in MMA because you can catch more of your opponent's shots on the bigger gloves.
That he decided to go down that route genuinely surprised me. It's an approach I've seen him use extremely rarely. I guess it was a display of both experience and technical nous — he was able to switch between styles until he found the one that worked best for him.
We had also been inefficient with our energy by throwing a lot of shots in the first minute of each round, most of which Floyd caught on his gloves and forearms. When we faced that style last year against Nate — walking down, hands high — we had more success because the smaller gloves in MMA can fit through the gaps. We had also practiced a lot of hand-fighting and rotating elbows over the guard for that fight, as well as the low-kick. Obviously those techniques aren't options in boxing.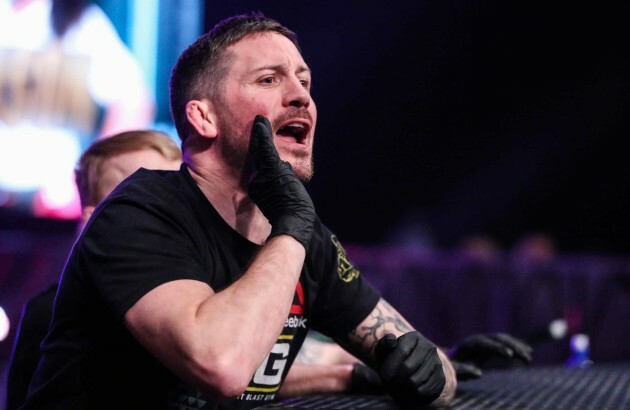 Matt Mackey / Presseye Matt Mackey / Presseye / Presseye
But that's eventually what wore Conor down. He sort of punched himself out a little bit and got caught with some shots towards the end. The referees are a little quicker to stop fights in boxing too, as opposed to what we're used to in MMA. Having agreed to fight under boxing rules, we have no argument with that.
In summary, the whole thing was a great experience. From the training to seeing how a boxing event is run on the night, I enjoyed it all. I look forward to telling my grandchildren about it when I'm an old man. Having said that, we didn't go there just to participate, we went there to win, so in that sense it was hugely disappointing.
It would be remiss of me not to mention the Irish fans who travelled to Las Vegas. The support we got over there was absolutely crazy, even though so many of them were priced out of tickets to actually attend the fight. We really wanted to give them the victory but their backing was massively appreciated, as it always is.
As for what's next, we're currently taking a bit of down time after a fairly exhausting few months. Conor is in Ibiza for a friend's wedding, I'm in Florida with my fiancée Orlagh and we haven't looked too far beyond that.
I've said for a long time that the Nate Diaz trilogy fight at lightweight is what I'd personally like to see next. That still needs to be put to bed.
Even though Conor is the champion, I know there's an interim lightweight title fight coming up between Tony Ferguson and Kevin Lee. To be completely honest, I didn't actually know who Kevin was until very recently.
Tony is a solid fighter but he doesn't have the kind of appeal that would get your blood racing, particularly in the context of coming from the excitement of the Nate Diaz rematch, the historical significance of beating Eddie Alvarez at Madison Square Garden, and the novelty of facing the greatest boxer of his generation.
Derek Hogan / INPHO Derek Hogan / INPHO / INPHO
This is all accompanied by the caveat that it's merely the opinion of John Kavanagh, but I'm sure people will be able to relate to my perspective on the situation. In the meantime, we're just going to switch off, let our minds settle and we'll make a decision on the next step when the time is right.
It's probably a little late in the day to realistically expect another fight before the end of the year, because even after this hiatus is over, a lot goes into the planning and execution of a training camp at our level. I find it hard to envisage another fight in 2017.
Then again, knowing Conor, I could get a text message tonight telling me otherwise. He's difficult to predict, which is one of the many reasons why he's so fascinating.