A LITTLE BACKGROUND is required.
Rewind eight weeks.
As John Mooney boarded a flight to meet up with the Afghanistan national cricket team in Sharjah, there could be no disguising the enormity of the opportunity which awaited him.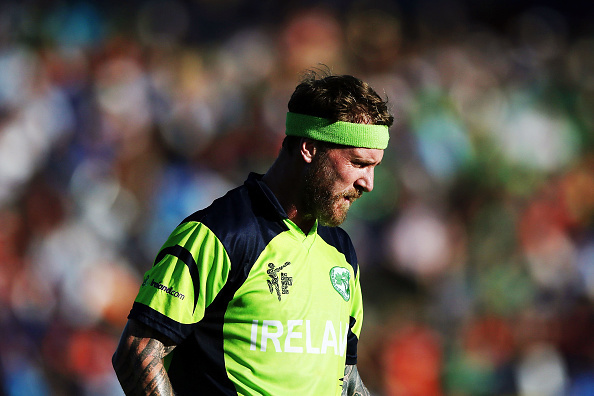 Anthony Au-Yeung-IDI Mooney represented Ireland at three World Cups. Anthony Au-Yeung-IDI
A first major step on the international coaching ladder was itself a significant career move, not to mention the added weight attached to his role as fielding coach during such an epoch-making period.
Tasked with tightening and adding discipline to the Afghanistan fielding unit for the two-week World Cup qualifying tournament, Mooney was recruited by Phil Simmons –  the former Ireland head coach, who took over the reins of the Asian outfit back in December — because of his notable pedigree in that area of the game.
Simmons knew Mooney would add a huge amount to the dressing room; one of the finest out-fielders during his playing career, an undiluted passion for the game, an unwavering quest for betterment and, after 182 caps for Ireland spanning over 14 years, a been there, done that, know-how.
The brief for Mooney, and the objective for the team, was clear; ensure Afghanistan were one of the two nations to secure a place at next summer's reduced 10-team World Cup in England.
"I'll hopefully be back home on the 26 March, the day after the final between Ireland and Afghanistan. Dream scenario," he said.
Mooney made no secret of his hopes for the tournament. A final between Ireland and Afghanistan would have guaranteed both a passage through to the 2019 edition of what remains the pinnacle of the sport at the expense of the eight other World Cup hopefuls, including West Indies, Zimbabwe and Scotland.
It would have been the ideal outcome, a hypothetical end result which, in theory, would have perfectly satisfied both Mooney's personal and professional interests. But sport rarely follows a script. Not cricket anyway, and not in such a cut-throat, high-stakes tournament purporting to give lower ranked nations an equal opportunity of qualifying for a more commercially-orientated World Cup than ever before.
If an Ireland-Afghanistan final, as optimistic as it was, represented Mooney's dream scenario, it quickly became apparent that events would not unfold as hoped, and instead he was presented with what was undoubtedly the worst case scenario.
"You could say that," Mooney laughs, speaking to The42 upon his return to Dublin.
Long story short.
After two weeks and 32 thrilling, and quite often compelling, games of cricket, the hopes and dreams of both Ireland and Afghanistan came down — almost inevitably — to their Super Six fixture in Harare.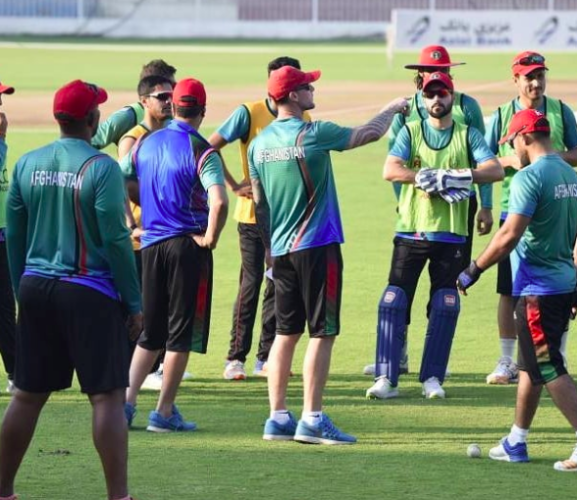 John Mooney / Instagram Mooney was brought in as Afghanistan fielding coach for the World Cup qualifiers. John Mooney / Instagram / Instagram
Both nations were granted Test status last June, and have often worked in tandem in pushing the established order, but have been Associate adversaries for the last decade, sharing success across the Intercontinental Cup competition and various bilateral series.
So this was a seismic renewal of their rivalry, the latest — but most important — instalment between two teams who know each other inside out. A winner-takes-all game for a place at the 2019 World Cup.
And it put Mooney in a difficult and uncomfortable situation.
A warrior in green for so long, a passionate and proud Irishman who wore his heart on his sleeve, both on and off the field, now tasked with guiding one of their rivals to the World Cup at Ireland's unquantifiable expense.
"It was tough," he begins.
That Afghanistan, and to a certain extent Ireland, even found themselves in that position, with their fate back in their own hands, was extraordinary. The fluctuating nature of the tournament meant a series of improbable results, starting with Nepal's win over Hong Kong and then UAE's defeat of hosts Zimbabwe, granted Afghanistan — who had lost their opening two games — a lifeline.
Ireland had spurned opportunities of their own against West Indies and then Zimbabwe but their campaign was spectacularly revived when UAE pulled off that stunning upset in the penultimate game of the Super Sixes.
And so it all came down to 100 overs.
"I knew we had to beat Ireland either way in the tournament, which in my head I was thinking unless Ireland win all their games, it's going to come down to that game," Mooney continues.
"I firmly believed Ireland were going to beat Zimbabwe but that didn't happen. When it did come to Ireland-Afghanistan, I was fully convinced in my head that it was just a job and it would be okay. Maybe that was naive."
But try as he might, Mooney struggled to convince himself that it was just another game. How could he?
As recently as last summer he declared himself available for selection again, and it wasn't so long ago that he shared a dressing room with the Ireland players, many of whom he played with from a young age. He enjoyed those indelible days and nights in Jamaica, Bangalore and Nelson not as part of the team, but as the heartbeat of it.
Think Irish cricket. Think John Mooney. He was the star in 2007, 2011 and 2015. He knows more than most how important playing on the world stage is for the profile of the sport back home. He saw first-hand what it did for cricket on this island, and understood how valuable a win would be last Friday, but equally how damaging defeat could be.
Ireland lost by five wickets.
"I wanted it to be Afghanistan and Ireland to go through but from a really selfish point of view I needed Afghanistan to win that game," he says.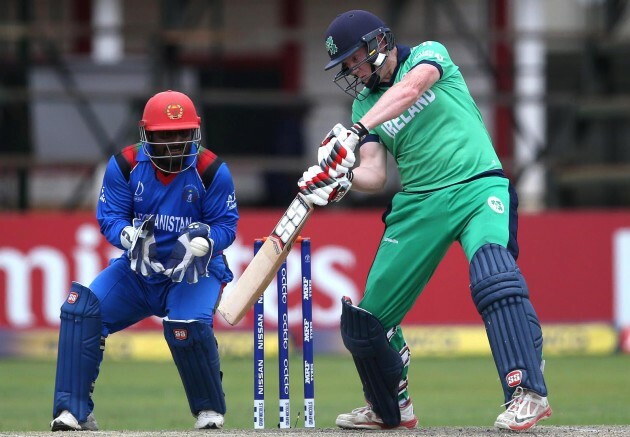 ICC / INPHO Afghanistan beat Ireland to clinch the final place at next summer's World Cup. ICC / INPHO / INPHO
"That's all I could think about. When you're in that position, ideally I wanted both of us to go through to the final and the World Cup, but it wasn't to be, it was to come down to that match. I could only think about Afghanistan winning that match and that's just the way I had to think and believe. I thought it was going to be easy but it wasn't easy at all.
"It was difficult. Simmo has such a strong connection with Irish cricket as well and was very professional about it. He had the same dreams as I had, an Afghanistan-Ireland final with both teams qualifying but you can't predict these tournaments."
Afghanistan fielded superbly, clear evidence of Mooney's work with the team in the preceding two months. He instilled a hunger and willingness in them to work for each other in the field and save runs; distinct hallmarks of the Irish teams he had been central to.
While watching all of this unfold and the possibility of Afghanistan knocking Ireland out of the World Cup become an unfortunate reality, Mooney and Simmons were all too aware of the consequences. It was a bittersweet experience for both men who had played such a central role in Irish cricket's development.
"We spoke about it as you've plenty of time when you're sitting there [during the match]," the former all-rounder explains.
"It's a big thing for Irish cricket because in Afghanistan there's such numbers playing and supporting and they all love the game. Afghanistan cricket will go on but it will be difficult for Irish cricket now. The next chance we have is for the 2023 World Cup, which is a long time away.
"There has been a great increase in interest and playing numbers but that was on the back of kids seeing the sport for the first time when Ireland were playing at World Cups in 2007 and then again in 2011 and then again in 2015. Those three generations all came from those tournaments.
"But now there's not going to be that coming up for the next generation of young kids in Ireland. I did think about it, it's bad. It is a bad one. I couldn't worry about it too much but as an Irish cricket fan and ex-player it's very disappointing. It's gutting."
Having held supremacy over Afghanistan for several years, particularly under Simmons when Ireland won 11 Associate titles, the balance of power has shifted quite dramatically in recent times, with Ireland's form going rapidly downhill in the three years since Simmons' departure after the 2015 World Cup, where Mooney and his team-mates were desperately unlucky to miss out on a quarter-final place.
Such heights seem a long way off now. John Bracewell's two-year tenure quickly became an unmitigated disaster and while there had been signs of improvement under Graham Ford since his arrival at the turn of the year, the same problems continued to afflict Ireland. More on those later.
John Mooney / Instagram Mooney and Phil Simmons with the World Cup qualifier trophy. John Mooney / Instagram / Instagram
For Mooney, already emotional, the hardest part was the end-of-match handshake.
What would he say? What could he say?
It didn't feel like a win, or an endorsement of the work Simmons, Mooney and the rest of the Afghan coaching team had done in the previous weeks. It was a huge moment for his career, but it didn't feel like that. A win which felt like a loss in so many ways.
"That result had hit the lads hard," the 36-year-old says. "We were so disappointed for them, I couldn't celebrate. Simmo was in front of me [in the line], I think, and he met them first. We were gutted for the lads. Genuinely gutted and you could feel that from them, and they got it back from us as well. The result was tinged with a lot of sadness as well.
"It was very tough. There was always going to be a winner and loser and that's just the way it was. It was unfortunate. For myself and Simmo, it was the way it had to be for us to qualify and that's what we had to think about.
Exclusive Six
Nations Analysis
Get Murray Kinsella's exclusive analysis of Ireland's Six Nations campaign this spring
Become a Member
"I saw the guys in the hotel and stuff afterwards. There wasn't a lot said, there wasn't much spoken about. They were happy for me. That was it. Just mixed emotions."
Afghanistan, the emerging force in world cricket, had completed an arithmetically improbable comeback, going on to beat West Indies in the qualifying tournament final to further validate their credentials.
In contrast, Ireland's hopes were in tatters and Ford's side now face into the painful reality that they will not be at an ICC tournament for the first time in 11 years, but perhaps more worryingly is the knock-on effects that will have. Mooney doesn't want to think about it.
Granted William Porterfield's side would have qualified by dint of their Full Member status under previous tournament structures, but that cannot be used as an excuse to gloss over the decline of this Irish team and the shortcomings which have caused such frustration in recent years. To do so would be completely misguided and stubbornly insular.
The batting lacks positivity, power and a real attacking edge, while the bowling — as improved as it has been in recent months — is steady more than anything else. One last hurrah from a golden generation was probably too much to ask for.
Mooney agrees: "The big difference now is that the bowling is just nice, there's nothing frightening about it. Boyd [Rankin] is a challenge but when I look at it, there's nothing really frightening there at the moment.
"Just good, steady bowling, whereas Afghanistan have a bowling attack you might not sleep thinking about the night before a game. From a batting point of view, the lack of boundaries, the lack of power hitters, guys who can clear the ropes is something Ireland really need to look at.
"Five years ago, teams were fearful. What has happened is that all the other teams have got a lot better and a lot better very fast, now teams aren't afraid of Ireland. They're looking forward to playing Ireland, they know they can beat them. They have their plans and if things go right, they can beat them. That's the difference.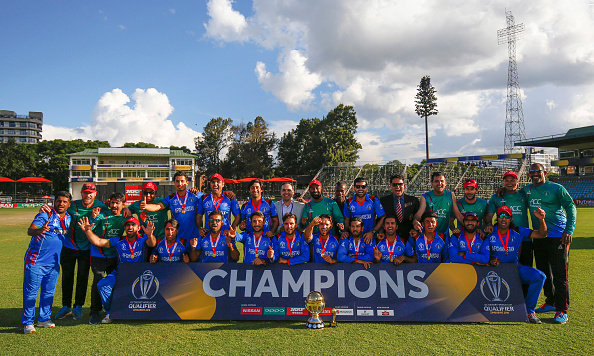 Julian Herbert-IDI Mooney (second from left) with the Afghanistan squad after their victory at the World Cup qualifiers. Julian Herbert-IDI
"Back in 2011, teams didn't believe they could beat us. And now the top teams aren't really worried about them. Everyone still respects that Ireland team but they believe they can go out and beat them, and we've seen that in the last two years."
How they could do with someone like Mooney in the team environment, driving standards and reinstilling some of the fundamental traits – assertive individual performances, passion, fight and spirit — which were the cornerstone of bygone successes.
Not that Mooney needs to worry about any of that now. He made the decision to broaden his horizons when Cricket Ireland were unable to offer him anything more than a 30-day contract, and it appears to have paid off handsomely.
"There were bits and pieces of work, but that doesn't really give you too much to work off. You have to look elsewhere."
Ireland's loss, is Afghanistan's gain. Bigger and better opportunities now lie ahead.
Even in the infancy of his coaching career, Mooney proved his worth in the Afghanistan dressing room, not just as a fielding consultant but a mentor, and he has earned another contract for the next few months, which includes a series against Bangladesh and then their first Test against India in Bangalore, of all places.
At the same time, Ireland will make their own historic first step into the five-day arena against Pakistan, but Mooney — an invaluable asset, a prized commodity — will be of use elsewhere. That in itself is a great shame.
"My relationship with Cricket Ireland is I'm there for them if they need me," he states, matter-of-factly.
"I'm still gaining experience and learning the ropes. It takes a while to get out of that player-coach mentality and that will take time but I'm in no rush. Just keep going the way it is and one day I'd like to be a head coach of a team.
"But that's for further down the line, whatever happens happens you know? For now I'll be back on the building site doing a bit of electrical work while I'm home to keep things ticking over."
There may come a day when Mooney is back in green and his head and heart will realign again, but for now it's unfortunate that his expertise is being utilised to the full further afield, because he may just be the spark Ireland so desperately need.
The42 is on Instagram! Tap the button below on your phone to follow us!