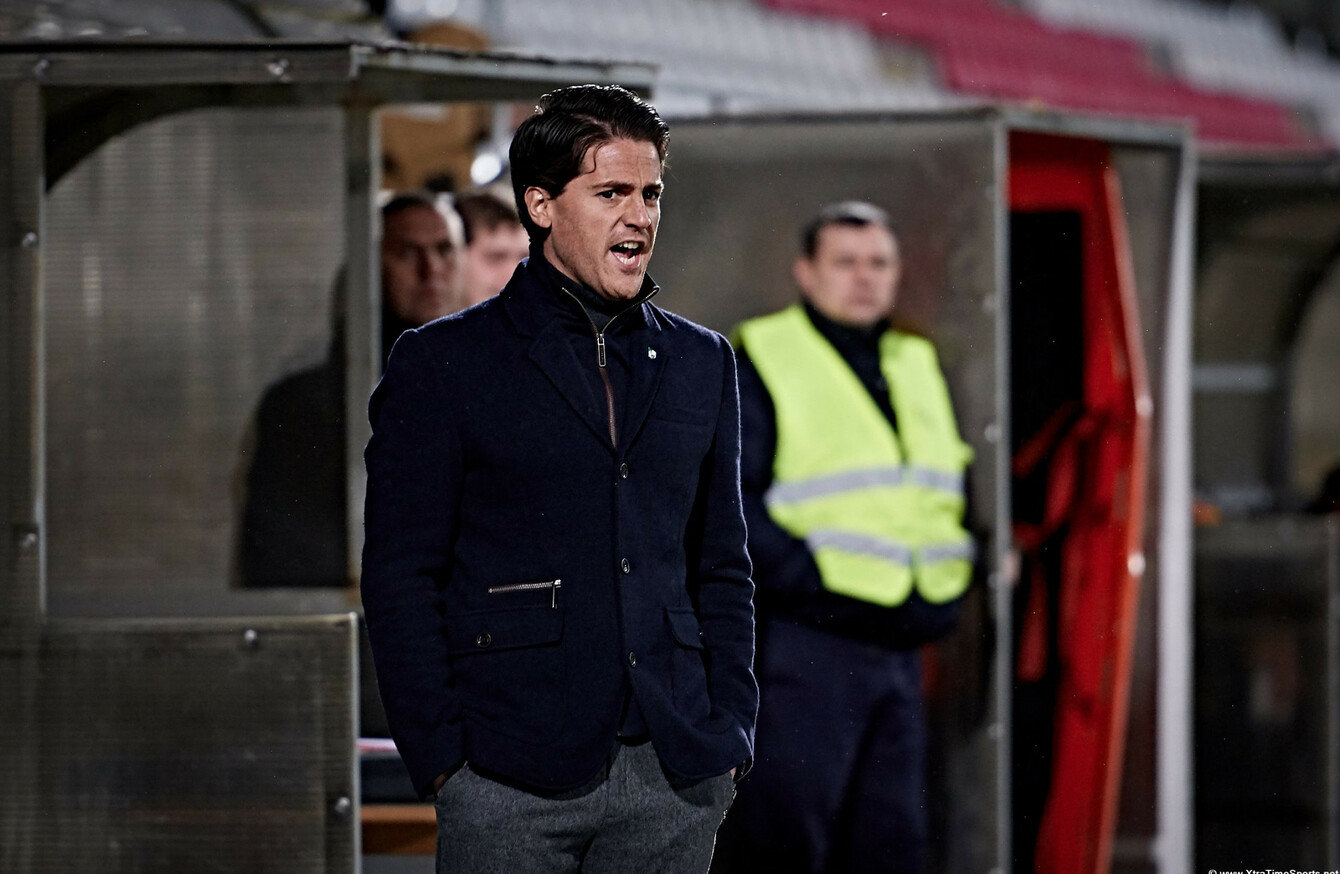 Image: DARREN MCKINSTRY
Image: DARREN MCKINSTRY
IT WAS TWO-and-a-half years ago when I last spoke to Johnny McKinstry.
At 29, the Lisburn native had just been appointed as manager of the Rwanda national team, his eye-catching stint in charge of Sierra Leone putting him in the shop window.
He was enthused by his early experiences and looked to the future with optimism.
"I'm driven by challenges," he told me.
"I'm driven by those odds being stacked against you a little bit."
The words proved pretty prescient.
McKinstry lasted 15 months – quite the accomplishment given the ruthlessness and uniqueness of the African football landscape – and delivered in some crucial areas.
He brought the side to a rare appearance in a championship final (the regional Cecafa tournament) but they suffered defeat to Uganda. Then it was onto the African Nations Championship, held in the Rwandan capital of Kigali, where McKinstry guided his young, raw side to the last-eight. There were excellent wins over Ivory Coast and Gabon before the team succumbed to a bitter extra-time defeat to eventual champions DR Congo.
"To win your group, to be so close in the quarter-finals, that was the best they'd ever done in their history," McKinstry tells The42.
Ahead of the Congo game, we were invited to the State House to meet President Kagame. Managers don't usually get mementoes – it's usually the players. But one thing I have kept with me is a copy of his memoirs and he wrote an inscription on the front page saying, 'Thank you for a job well done, Coach – Paul Kagame'. So that's my reference for the Rwanda job: the president of the country saying thanks for doing such a good job."
Because of the upturn in fortunes, expectations were quickly raised. There was a sense of anticipation. But when Rwanda failed to make it to the 2017 Africa Cup of Nations, it was seen as a failure. Context – only one team from a group of four qualifies and traditional powerhouses Ghana finished unbeaten and seven points clear – was widely ignored.
In August 2016, just a few short months after signing a new contract, McKinstry was sacked.
"People were suddenly asking if we could get into the latter stages of World Cup qualification," he says.
"But in my view the team wasn't ready for that. We had risen them up and got them competitive. So then it's a case of stabilising. If you look at any successful organisation – in sports or business – they'll go through rises and plateaus. In between, you have to stabilise for a little while. And that was the period we were in. I signed a new two-year contract and three months later we're not going to the African Cup of Nations, which wasn't overly unexpected. But the powers that be decided they wanted to go a different route. And that was very frustrating. I felt we were most definitely moving in the right direction and it just required a bit of patience and we could've continued building the team. But that's the way football goes. You just have to pick yourself up and go again."
McKinstry never really got a satisfactory explanation for his dismissal. According to statements from the country's ministry of sport and culture – which oversees the national team – Rwanda had 'not played well' during important fixtures.
"When you're a light middleweight – as I would class Rwanda – and you're taking on heavyweights of Africa like Ghana and the Ivory Coast, you can't necessarily go out and play that perceived 'good football'," McKinstry says.
Sometimes you've got to play the numbers and try and get a result. If it goes your way – for example, when we got a great victory over Ivory Coast – everyone's pleased. But when it doesn't – like when we lost 1-0 to Ghana in the 89th-minute – people can be critical afterwards. 'You didn't play enough football in that game'. And you try and counter that with, 'If we went out and were more open, they could've put up four or five because their team is worth £200m and ours is worth £2m'.
"Everyone wants to play 'good football' – that's where all coaches want to take their team. But you've got to get results. It doesn't matter if you're playing great football. If you've lost six games in a row, your situation isn't going to continue much longer."
When he was sacked as Sierra Leone boss, McKinstry had spent all day at meetings with his superiors, immersed in planning for an upcoming qualifier against Cameroon. Driving home later that evening, he got an email from one of the people he'd been with just hours before. It was his termination notice.
His departure from Rwanda was treated in a similarly bizarre fashion.
"The important thing is to conduct yourself in the best possible way. If other people don't…well you just have to accept it," he sighs.
"They (the Rwandan sports ministry) gave an interview to the press in the morning – to the local media – announcing their decision and prior to informing me. I was still in the office and working away. The formal communication of it – through my advisors – didn't come to me until later that afternoon. So there was a period of about five or six hours where the information was out there but they didn't deal with me until later that day. So, the cart before the horse a little bit. You think, 'If you're going to do that, would you not call the person in and tell them directly instead of them finding out on the grapevine?' But I'm not naive to think it won't happen again in a similar fashion so you just get on with it.
It's the way football is. It's not just an African thing. I know a Premier League manager who was sacked via text message in the dressing room after his final game of the season. The game had finished 15 minutes earlier and he got a text to say his contract was terminated, not to return to the club's training ground, not to mention anything to the players and that his effects would be sent to him. So if that can happen in the Premier League, it can happen anywhere. It can be a brutal game sometimes."
"Things end the way they end. We had a number of successes. Looking at how the team are doing since we parted ways, I think you can say that we had a reasonable amount of success there."
McKinstry's background is remarkable. Starting out as an underage coach with Distillery as a 16-year-old, he later picked up a degree in Sports Science at the University of Northumbria. While there, he continued to rack up countless hours of coaching, including a stint as Under-16 boss with a local club. There was a working relationship with Newcastle United too and he took the reins of the college team during his final year. In 2007, he went to the United States and was hired by Major League Soccer side New York Red Bulls as a youth coach before moving to Sierra Leone in January 2010 and running the football academy founded by Craig Bellamy.
Three years later, at the age of 27, he was managing the country's senior team.
So, he's used to playing the role of outsider and having to repeatedly prove himself in a new place. Though his new job is different again.
This time, for the first time, he's a club manager. And in keeping with McKinstry's nomadic ways, it's with a team called Kauno Zalgiris. In Lithuania.
"It was a contact I knew from Africa who knew the club and the ownership group," McKinstry explains.
"He knew them for years and suggested it would be worth talking to them and that it might be a good fit for both parties. So, the first thing was someone having first-hand experience with these guys and who had put some of the jigsaw together in their heads already. It wasn't like an agent looking for their five or ten percent. And then it was about meeting everyone and finding out if what they were saying aligned with my approach.
"My primary role is head coach/manager of the first team and trying to get success there but equally it's about building a football club. It's only a number of years old so they want to accelerate the academy here too. So this opportunity is pretty old-school, really. You have an influence over grassroots. I may not be on the training pitch with the Under-14 team but I am helping develop the philosophy and training methodology and how we recruit players to the academy. And that was the really interesting thing about coming here: helping to shape a club."
Zalgiris is a sports club and has only had a football team since 2015, having taken over and rebranded Spyris Kaunas, a small, lower-level side. The main sport in town is basketball and Zalgiris is a key part of the European club scene, along with the likes of Barcelona, Real Madrid and Panathinaikos. They were crowned champions in 1999 and play in a 16,000-capacity arena.
And those heavyweights provide some inspiration for the Zalgiris ownership. They want both their basketball and football teams consistently competing on Europe's biggest stage.
"Zalgiris compete in the basketball version of the Champions League and they're competing at the same level as the likes of Barcelona, CSKA Moscow, Panathinaikos," McKinstry says.
"I was at a game earlier this season when they beat Real Madrid. In Europe, these big institutions tend to be 'sports clubs' and not just football clubs. And it's the same here. We're the football arm. The basketball team are so successful and the owners want to take the football team, in a progressive fashion, to a similar level so that both sides are represented on the biggest possible stage. The ambition is to get the team in European competition. Over the next two, three, four years, can we put a strategy together than can lead to Europa League qualification?
"Recent history tells us that Lithuanian teams getting to that stage are doing reasonably well. Trakai knocked out St. Johnstone of the Scottish Premiership and Suduva got through to the Europa League play-off round but were narrowly beaten by Ludogorets. So, Lithuanian sides now seem to be going through three or four rounds in Europe. It's not that they're playing for a week or two and getting knocked out. The level of our league is such that it's realistic to think a Lithuanian team can reach the group stages of the Europa League in the coming years and we'll do all we can to make sure we're in the mix for that."
McKinstry was appointed in July, when the team was already more than halfway through the season and struggling. He only oversaw a dozen games and picked up just six points as the team suffered relegation.
But, this time, expectations are more realistic. The club is still in its infancy and McKinstry has been afforded plenty of responsibility to ensure Zalgiris settle into a rhythm and build momentum.
He's been here before and knows the way out. That's why he's been hired.
But is it not daunting? Another new football culture to get used to?
"That's a bit of a myth, really," he says.
"When Marco Silva got the Hull City job, there was almost mass outrage within the football media. 'This guy has only managed abroad – he doesn't know England. He's going to be a failure'. Ultimately, he was so close to getting Hull out of that hole. But he did such a great job that Watford came in for him. And, by all accounts, he was offered a king's ransom by Everton to get him out of his contract. So he had the potential to land his third Premier League job inside a year. Knowledge of a culture and playing style has an advantage. But football is football.
What's more important – when you go into a new job, whether it's at home or abroad, are analytical skills. Can you stand back and look at how things operate and assess it on its merits without too much bias? Can you be someone who can go in and say, 'This is good, let's keep it' or 'This isn't working, let's change it'. A great example is Claudio Ranieri. It's very easy to go into a new situation and immediately start playing with things and saying, 'Right, let's change this and that because it needs to be in my image'. But when he went into Leicester he stood back and assessed it and said, '80% of this works – I need to tweak 20%'. And by not changing too much, he attained historical success. Good analytical skills and people skills are the most important things and then you can imprint a style of football on top of that."
The pace is dramatically different, with McKinstry having to offload more to his staff. Games come thick and fast and the remit is now so vast. There are the basics – training sessions, recovery sessions, video analysis, scouting assessments – but something as commonplace as player recruitment is pretty new to McKinstry, with his last two jobs being with national teams.
The week before we talk he was in Nigeria on a scouting mission and utilising his African contacts to bring in new players. The squad is in need of an overhaul and he feels he'll need ten fresh faces for next season.
It's unrelenting but, immersed in designing training plans when we chat, McKinstry is completely consumed by the role.
"It's so important to delegate well to your staff," he says.
Because you don't have the time to prepare as you did at international level. You may have had three or four weeks to focus on the next team and can tear them apart regarding your analysis. In club management, sometimes you're working two games ahead. You're getting some of the base analysis and prep out of the way early so that when we play Saturday and the next game is on the Tuesday we're not doing all the work for that Tuesday game in the space of 36 hours before we've got to deliver it. The preparation side of it is so much tighter.
"All players want their five minutes with the manager or coaching staff. And it's important all players get what they need in a situation. They need to feel they're getting what they need to be successful. It's impossible for just one person to do that at international level. It's even more impossible at club level. But when you're able to delegate, you're able to step back and look over the whole landscape of it and identify the areas you need to get involved with. 'I'm going to talk to that player'. 'I'm going to deliver that talk'. You have a wide range of characters and cultures in the dressing room so it's important to understand that."
Kaunas is the second-largest Lithuanian city after the capital Vilnius. And although McKinstry – an obsessive – agrees that he really needs just a laptop, a strong internet connection and a bed to sleep in, he enjoys the mixture of Americanised stores, cute restaurants and cafes and the more classical old-school architecture and big, open squares.
"When I left Sierra Leone, I spoke with a team in the Lithuanian top-flight. But it didn't progress beyond initial talks. Still, I had done some research at that stage. But when I went to speak to Zalgiris initially, I was surprised and hugely impressed by how developed and advanced the country was. People back at home probably think of rural farming communities when they envisage eastern Europe. But I used to live in north Jersey – in Hoboken, just beside New York City. And Kaunas and Vilnius remind me a lot of living in north Jersey."
At 32, McKinstry is managing his third senior team in five years. It's an astonishing story for many reasons. In the beginning, there was a sort-of novelty to it all. An Irish kid coaching the Sierra Leone national side. But McKinstry is long past that. He's earned respect wherever he's been and improved every group of players he's worked with. After being so unceremoniously dumped twice, he's dusted himself down, moved on and avoided the temptation to point fingers.
And, as he's keen to point out, he's only just starting.
"You can have soft long-term goals," he says.
"You appreciate the meandering nature of a football career but you're still focused on getting to where you want to go. When I was managing the academy in Sierra Leone, I used to take some classes in goal-setting with a group of 15-year-olds – the less academic stuff. And I wrote my goals on the board. 'Academy coach in Sierra Leone'. Then I drew a line. 'After this, I'm going to be Sierra Leone coach'. Next line. 'Then I'll be a club coach in Europe, maybe in a Tier 2 or 3 league'. Next line. 'A club job in a more established European league, maybe not in the top division – England League 1, Bundesliga 2′. I just put that up to give the class an example. And that was six years ago. But we've been on the money so far. Hopefully we get the success we want in Lithuania. Maybe we'll end up staying for 10 years. But if not, the next move will hopefully keep in line with me ultimately reaching the upper echelons of the game."
The42 has just published its first book, Behind The Lines, a collection of some of the year's best sports stories. Pick up your copy in Eason's, or order it here today (€10):