AS HE WALKED out of the tunnel in the Aviva Stadium today ahead of Ireland's captain's run, there was a nice sight waiting for Johnny Sexton.
His wife, Laura, and children, Luca, Amy and Sophie, were up above him in the stand.
Sexton's kids reached down to salute their Dad, who will play his last Six Nations game tomorrow at the age of 37. This is not the end of the journey for the Ireland out-half, he was keen to stress this week, but his championship finale is worth acknowledging.
If he scores any points against England, Sexton will be the standalone all-time record scorer in the Six Nations. Right now, he's level with Ronan O'Gara on 557 but will surely nudge ahead tomorrow.
With a Grand Slam on the line, the Ireland captain swatted away most questions about himself when he spoke to the media on Wednesday, but others have been happy to sing his praises.
"Where do you start? How long have we got?" said Ireland attack coach Mike Catt today when asked to sum up Sexton's impact.
"His presence and the way he teaches people and people get to understand why he's as good as he is through his excellence and his drive to become excellent and be bloody-minded and hard-headed in terms of playing to his potential, chasing his potential every single session.
"Players have really thrived on the back of that and learned a lot from Johnny on the back of that. What it means for him to play for his country is huge, he epitomises the whole thing.
"So he's a great leader, he's got an amazing knowledge of the game. Working with Johnny, you can let him go and he can run the show. It's just making sure he puts the best performance in tomorrow because that's what it's all about. It's not about Johnny and his last game or last captain's run. It's about the performance of the team which is crucial for us tomorrow."
Catt was an intelligent, Grand Slam and World Cup-winning midfielder back in his own playing days, so he can really appreciate the qualities Sexton brings to the party.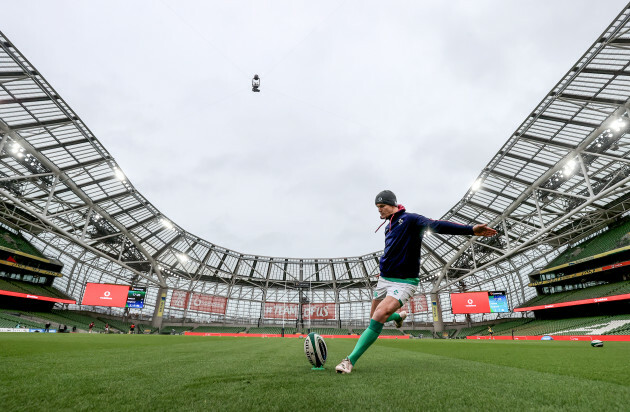 Dan Sheridan / INPHO Sexton place-kicking at the Aviva today. Dan Sheridan / INPHO / INPHO
For the Ireland assistant, it's Sexton's reading of the game that stands out most.
"The thing with Johnny is he is one step ahead of a game and his thought process is exceptionally quick in terms of where the next play is going," explained Catt.
"He has a real knack of understanding how we want to play the game obviously but then him being able to see it and the authority he drives around the team, you can't but listen to him which is huge.
"One of the biggest things is he is one step ahead of the game which makes it so much easier for him and players around him to get on top of things."
When he was in an England shirt, Catt played alongside another of the game's great out-halves, Jonny Wilkinson.
He sees major similarities between Sexton and the man with whom he won the 2003 World Cup.
"They're both obsessive," said Catt. "They're just completely different mental animals. They're so in the moment, they're so in the game. Everything means a hell of a lot.
"They're deep thinkers of the game and it's bringing that freedom out of them so they can go and perform, that's the crucial thing. But how they make people feel around them is what they're very, very good at as well.
"When you stand next to a Jonny Wilkinson or a Johnny Sexton, inside or outside of him, you feel pretty special and it makes people around him feel good too.
"There are a lot of comparisons in there but ultimately you've got to deliver on the hype on the big stage and both Johnnys did that.
"Let's see what Johnny can do tomorrow."