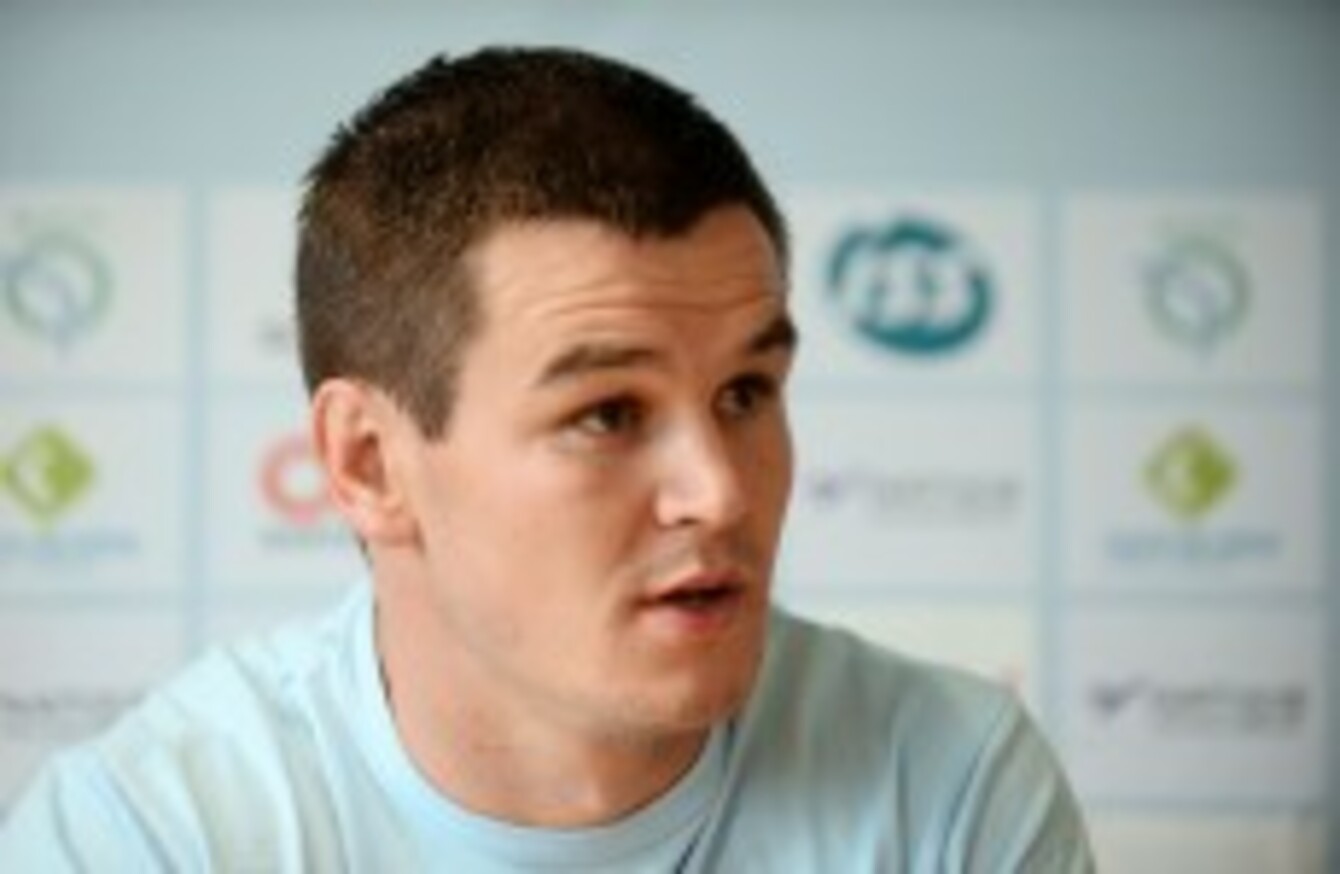 Sexton says there are lots of similarities between French and Irish rugby.
Image: INPHO/Presse Sports
Sexton says there are lots of similarities between French and Irish rugby.
Image: INPHO/Presse Sports
SIX GAMES INTO his Racing Metro adventure and with clear signs of progress, Jonny Sexton is starting to look more like his usual self on the pitch.
The trademark crankiness has already started and the Ireland outhalf says he is adapting to the demands off the pitch too.
On Saturday night, Sexton kicked four penalties and a conversion to help Racing to a 19-16 win against Bayonne in torrential downpour. Speaking after the game, the 28-year-old said the conditions were more than familiar: "The lads didn't stop teasing me about it. It's true that tonight was typical weather at home. From the outside, it can't have been a good spectacle."
Bayonne's home crowd was particularly vocal towards the referee as several penalty decisions went Racing's way, and Sexton told Midi Olympique that the French public certainly "play the role of the 16th men by putting pressure on the ref."
He admitted that it's another aspect of French rugby that reminds him of home.
Asked if Irish crowds were more polite and respectful, especially as they don't boo opposition kickers, Sexton's reply was tongue-in-cheek.
"Have you ever been to Thomond Park? It's even worse when you're wearing the Leinster jersey."
Communicating with his teammates on the pitch amidst the din of the French supporters is an ongoing challenge for Sexton, who concedes that his progress with the new language has been slow so far. That hasn't stopped him trying though.
"I make a point of speaking in French, but it's not perfect. For now, I can't express myself the way I want. I can make myself understood at times, but not always. It's very frustrating! In the heat of the action, I sometimes struggle to find the right word, but I'm trying hard to learn. I hope that a month from now, I'll be able to give my first interview in French."
The presence of Ronan O'Gara continues to be a comfort for Sexton, who claims to "take great pleasure in working with him." As ROG suggested recently, the two lads have been spending lots of time together at training and socially.
"He's a very good friend. We're really close to each other. We spend a lot of time together off the pitch too. Four or five times a week, he puts on his boots and comes kicking with me."
Be part
of the team
Access exclusive podcasts, interviews and analysis with a monthly or annual membership.
Become a Member
Pic: INPHO/Harold Cunningham
While Sexton was a beneficiary of the IRFU's player management policy during his time with Leinster, he has quickly learned that the physical demands of the Top 14 are much greater. He acknowledged that there are "no easy games" in the French league when asked to compare it to the PRO12.
"[The Top 14] is an extremely tough and demanding championship. There is no downtime and it will be more demanding in terms of my recovery. In Ireland, I benefited from more rest. After four or five matches in a row, I knew I could take a break. Here, I don't have that luxury."
Those are not comforting words for Ireland fans who fear that Sexton will come into the international set-up fatigued from his efforts with Racing. However, the playmaker isn't focusing that far ahead and instead wants to improve his own performance level.
Racing have been struggling to score tries so far this season, touching down just five times in six games. Sexton is aware that the Parisians need to use their possession more effectively and insists they are working hard in training to fix the problem.
"I would like the team to be better in our use of the ball. It's a work in progress in training. Our first few games were rough drafts with loads of errors. I want Racing to play better than we are now, to play rugby of real quality."
Racing are eighth in the Top 14 table ahead of the visit of Bordeaux on Saturday evening. After much pre-season hype surrounding the signings of Sexton, Jamie Roberts and Dan Lydiate, supporters of the Paris-based club are now realizing that the new players will take time to click.
Sexton is aware of the obstacles that lie ahead but says he will do everything in his power to help Racing continue to climb the ladder.
"The Top 14 is so long and difficult that it's not smart to make over-ambitious plans. I will do everything I can to get my team to the highest possible position."