Jacques Brinon Jacques Brinon
JUST OVER SIX months after retiring in a blaze of glory, it seems as though Jonny Wilkinson got a little ahead of himself for the first time in his life last night.
England's World Cup-winning out-half was widely expected to be honoured with a knighthood in Queen Elizabeth's New Year's honours list and even tweeted out what looked like the gist of a humble acceptance speech.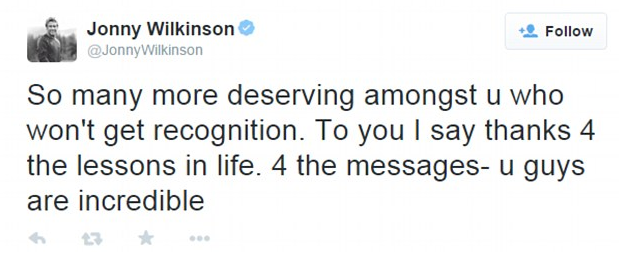 However, HRH obviously isn't as big a fan of Top14 rugby as everyone thought because rather than arising this morning as Sir Jonny, he remains just a simple OBE after being omitted from the Queen's list.
PA Archive / Press Association Images Happier times. PA Archive / Press Association Images / Press Association Images
The European and French champion with Toulon did manage to row back on his original (now deleted) Tweet to offer congratulations to all the non-perfect people who did make it on this year's list.
Maybe next year, JW.