SAT IN THE bar of a Belfast hotel in the wee hours following Carl Frampton's ring return, I was engrossed – if not at all surprised – by a tale regaled by a local family who were kind enough to allow a portion of the Irish boxing media avail of the spare couch next to their table.
The daughter, a 26-year-old schoolteacher, spoke of a bearded Irish boxer whose name escaped her, but one whom she'd met outside the SSE Arena hours prior to first bell. A thoroughly down-to-earth, decent sod, he had spent 10 minutes introducing himself and nattering away to beat the band before posing – 'like a lunatic' – for a couple of selfies and disappearing inside.
Neither Eamonn Carr of the Evening Herald nor Joe O'Neill of Irish-boxing.com nor this writer needed heed the photographic evidence to discern the Irish fighter in question.
Very few of them have beards.
"It was just one of them nights where I was sitting in the dressing room and I knew I was going to fuckin' war," says Jono 'King Kong' Carroll, who not two hours after delighting these complete strangers climbed through the ropes and obliterated another one – a resilient Mexican named Humberto de Santiago.
"I knew it wasn't going 12 rounds.
"See, I'm 25 now, whereas before, really, it was all about getting fit: I'd let myself go between fights so when I'd be in the gym, I'd be working really hard just to get fit again. I'd be working on fast shots.
"Now, I'm in the gym all the time. As soon as I signed with MTK, I just haven't stopped, you know? In my contract it basically says: 'stay fit all year round if possible.' I take that very seriously.
"I'm in the gym, I'm practicing all new things all the time, so instead of just working on having a high work-rate and fitness, I'm practicing power now – certain things, like twisting into my shots and stuff like that.
But not even that, like. I'm at that age now where me 'man strength' is coming into play. It's a weird thing, but the older I'm getting, the more powerful I feel. Even me hands: I have to wrap my hands properly now, and it takes me fucking half an hour or 40 minutes to do it, because I'm banging so hard me knuckles are bruised, you know? The power is definitely there now.
Presseye / William Cherry/INPHO Jono Carroll (left) in action against Humberto De Santiago Presseye / William Cherry/INPHO / William Cherry/INPHO
A rousing and resounding victory saw the Finglas native add the IBF Intercontinental super-featherweight title to his IBF European strap, gaining a top-15 world ranking with the same organisation while improving his professional record to 15 fights, 15 wins.
His career is poised for takeoff, now.
This strikes as all the more remarkable when you consider it was 'King Kong' himself who, like so many of his generation, took to the skies five years ago in search of the kind of purpose which can become excruciating in its absence, packing gloves only as an afterthought.
He arrived in Australia aged 20, where gigs in personal training and construction work allowed him to make ends meet. It had been a life decision made totally on a whim.
"Basically, I was at home and I was training for the 2012 Olympics," he recalls. "That was me goal, and I was doing really well.
"I actually dropped down from 60 kilos to 56, which was John Joe Nevin's weight, and I fancied my chances against Jon Joe Nevin to tell you the truth. I'd never even fought in a Senior bout, but that's how confident I was.
"But before all of that, I'd actually broken me hand. That had kept me out of the ring for a year and a bit because I'd just turned 18 at that stage, so I was going out partying with all of the lads, and I kept getting into silly fights and scraps.
"To be honest, I was hanging around with the wrong crowd.
"I kept breaking me hand and breaking me hand; I never really gave it a chance to heal. I was getting frustrated, basically, and I just needed to get away from my surroundings.
"I was speaking to a friend of mine – a good family friend – who was over in Australia for Christmas. Her brother was over there, they were on the beach and everything, and I was just thinking: 'ah, that looks deadly. I'd love to go over.'
"So she says: 'well, why don't ya? My brother will get youse a job' – a good family friend, she is – 'he'll put you up.' And she was telling me how much I'd be making over there.
"Two days later – no, the next day, I think, she rang me and said: 'listen, he said he'll get you a job. He's spoken to his boss.' It was like 800 quid a week I'd be earning, and I could stay in his house rent-free until I found me feet, so it was a no-brainer.
"The next day she rang me again and she goes: 'right, if I book you a flight, will you get on it?' And I'm like: '100%.'
She booked me a flight for the very next week. Everything just all happened at once, you know? A week later, I basically just told my whole family, I says: 'look, I'm going to Australia. I want to start working, and I'm not doing anything here.'
"My family were all really supportive of it."
And while Carroll would subsequently depart these shores in search of a fresh start, he brought with him an old vice – his urge to fight – having been once more bitten by the bug not 48 hours before boarding his flight.
"Just before I went over, I was sparring…not Aaron McKenna, but his older brother, Gary, in the Ballymun Boxing Club. I was just doing him a favour, helping him out ahead of the Seniors.
"He actually went on to reach the Senior finals that year. I got on really well in that spar even though I'd been out of the ring for a year-and-a-bit and I had no fitness.
"I was off to Australia two days later, but I still had that buzz, then, having boxed again and done so well. And when I was over in Australia and saw on Facebook that Gary had made it to the Senior final and everything, I was like, 'fuck me, I did well against him.'
"So I decided to go back to the gym when I got over there, and I told your man who ran it that I'd won two All-Irelands when I was younger. He put me in sparring with a professional – I think the guy was getting ready for a third or fourth pro fight – and I'll say it, man: I absolutely played with him.
"Your man who ran the gym says: 'would you not go pro, mate? You've a good pro style.' I told him my story, that I'd wanted to go to the Olympics, but that the whole point of me trying to get to the Olympics was just to get a better pro deal when I turned over.
"He says: 'well, why don't we give you one amateur bout here, and then we'll turn you over?' The rest, I suppose, is history.
"Funnily enough, actually, that amateur bout in Australia: they absolutely robbed me blind! I battered your man, dropped him in the second round – absolutely annihilated him. And they gave it to him.
"It was horrible, because I'd trained really hard for it and punched the head off him. But I just walked over and picked the trophy up, and went to every corner of the ring celebrating. The whole crowd cheered me on.
I was wearing my Irish vest, too, so that might have been why the judges robbed me, but I also found out later on that the guy I fought – his dad was one of the Australian High Performance coaches. I'm sure that played its part.
"I was really annoyed," Carroll continues. "I went back to the gym the next day and I was smashing the bag. But it was great, too, because I realised I never wanted to feel that feeling again. So when I went pro, I made sure I'd put 110% in. I told myself that, at the very least, I need to be able to outwork fellas.
"You'll see that in my fights even today: I punch more in every single round. It doesn't matter if I'm wrecked, I'll always have a higher workrate."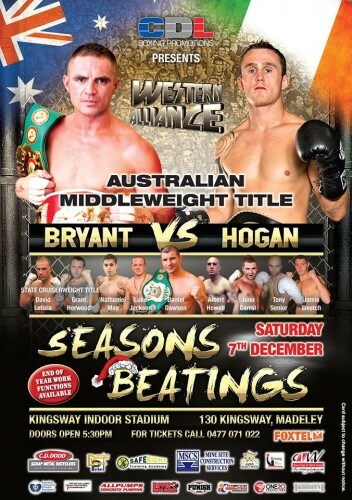 Jono Carroll's second fight in Australia took place on the undercard of compatriot Dennis Hogan's Aussie title victory in December 2013
Carroll had two professional bouts in Australia – the first in December 2012, the second 12 months later. Both were beak-wetting victories.
Still, a stagnant domestic scene Down Under coupled with a lack of sufficient backing meant fights would be scarce, and a decent pugilistic career difficult to forge.
But it wasn't for these reasons Carroll would ultimately put a halt to his OZ odyssey in 2014: family took precedence over his accrued trades, and on his return to Ireland, it was again family which ignited his passion for trading leather.
"I came home for me sister's wedding. I was after missing the birth of her child, so I wanted to come home for the wedding at least.
"I was on my second-year Visa, and I think it would have cost me five grand to stay over, and it cost three or four grand to come home. I didn't have the money to do both.
"We enjoyed the big wedding bash and then I just went back training, this time with me Da – he's a trainer in Ballymun Boxing Club.
"I was sparring with amateurs, just messing around, and he goes: 'why don't you go up to Paschal [Collins] in the Celtic Warrior?'
"He brought me up there and I did four rounds with Stephen Ormond and I was fucking exhausted.
"The thing is, I had never really taken boxing seriously; I had always loved just 'fighting'.
To be honest with you, I was actually smoking a lot of weed at the time. The truth is I had been smoking weed since long before I left, and all the time I was over in Australia, and even when I came back.
A phonecall from England would change all of that, however, and afford the Dunshaughlin resident an altogether more beneficial Sky-high.
"I had two weeks of sparring Stephen Ormond in Paschal's gym", says Carroll, "and I asked Paschal to take me on. And he said: 'no, I have enough people and enough on me plate, but you can keep coming back sparring Stephen whenever you want.'
"I'm like, 'okay', so I keep going, and then the next week Paschal comes up to me and he goes: 'listen, I'm after getting a phonecall from Matchroom, and they're wondering do I have anyone at 60 kilos. There's a fight with Declan Geraghty going.'
"And I said: 'yeah, I'll do that no bother.' I was at super-feather but I told him I'd fight at lightweight no hassle.
"I'd sparred with Deco a lot in the amateurs so I knew him, and I had no problem taking that fight.
I went home and told me Da that I was going to fight Deco, and he says: 'don't take that fight! Don't take that fight! He's after having like six fights or something already this year, and you've not had one! You've had two years off! You've literally had one fight a year in Australia' – I'd only had two pro fights ever at the time, and he was like: 'you were only playing boxing over there! You were only playing boxing!
"Me being stubborn, I was like, 'I don't give a fuck – I'm having the fight.' I love when people tell me I can't do something.
"And honestly, from literally that day, I stopped smoking weed and started to take boxing seriously.
I had four weeks to the fight, and for three weeks – literally – every single jog I did I was getting sick, coughing up tar, coughing up black lumps from the years of smoking and whatnot. It was horrible. Horrible.
"Went in, had that fight, and everyone knows how it went."
Every Irish boxing enthusiast recalls Carroll-Geraghty fondly, certainly, but if you're a more casual observer, their November 2014 Dublin derby on Matthew Macklin's undercard at the 3Arena might have slipped your radar: after weeks of vicious verbal exchanges, the forgotten Carroll, still a two-fight novice from his Australian stint, went toe-to-toe with the heavily-fancied 'Pretty Boy' [6-0] to engender a spectacular Irish Fight of the Year.
Carroll's hand was raised after Geraghty, who swears to this day that he led on points, was disqualified in the fourth and final round for headbutting Carroll during an exchange against the ropes – this just 10-or-so seconds after he was deducted a point for illegal use of his elbow.
His loss was Carroll's gain, and then some.
"And then two weeks after that, I got Prizefighter," says the victor of a fight which would transpire to birth one of Irish sport's most vitriolic rivalries.
"Same again, me Da was like: 'NO, YOU'RE NOT READY FOR THAT! YOU'VE ONLY HAD FOUR-ROUNDERS: YOU CAN'T DO THREE FUCKIN' THREE-ROUND FIGHTS ON THE SAME NIGHT!'
"And same again, hard-headed as I am, I said: 'FUCK OFF! I'M DOING IT!'
"I'd literally only gotten stitches out on the Monday before Prizefighter – I'd gotten them after the Deco fight.
"I went in then and won that."
That he did, but he's selling the achievement short.
A now-famous incident in a Paddy Power store in Dunshaughlin puts Carroll's pre-tournament chances into perspective: a friend of the fighter, on attempting to collect his winnings from a 50-bob punt, was told by the cashier: 'that Jono Carroll fella is after cleaning us out!' and asked to travel to Ashbourne to cash his bet.
At 8pm on 6 December 2014, Carroll was a three-fight rookie. Three hours later, 'King Kong' departed York Hall at London's Bethnall Green as a 6-0 conqueror of Prizefighter having registered victories over both a former European champion and a current British champion – all of it live on Sky Sports.
He earned £32,000 for his troubles.
"It was only really after Prizefighter that I actually stopped and thought: 'you know what? I can actually make a living out of this, all right!'
I got offered the contract from Sky and all that. To be honest, it all just happened to me. And it's funny, because the reason why I actually went to Paschal's gym in the first place, when I first maybe dreamed of being a fighter who could make a bit of money, was that I wasn't happy with my sister's living conditions at the time. I promised her I would do the house up and whatnot – the one she was living in. Winning Prizefighter meant I could live up to that promise.
He paid for her belated honeymoon, too.
"It's a crazy oul' story, but I believe everything happens for a reason. It was like I had someone looking over me. Every decision that I made seemed to work out for me and pay off. It was all high risk, low reward, but it all turned out nicely."
All of it stemmed from his defeat of Declan Geraghty a month beforehand.
Since then, both he and Geraghty (now 15-2) have inked managerial deals with Matthew Macklin, the former boxer below whose 3Arena headline scrap three years ago they waged such a memorable war.
Following three years of feverish anticipation and frequent animosity, an inevitable rematch was confirmed for this month's Frampton Reborn card only for Geraghty to withdraw through injury just 10 days out from the bout.
As is their wont where this rivalry is concerned, things got a bit ugly.
Your the biggest wanker I ever met in my life I'll take your bet no problem but your off my radar for now because you pulled out like a little bitch that you are. You done all the talking last time and now u pulled out so I'm done with talking come back when you found your balls

— jono carroll (@jono_carroll) November 8, 2017
With Geraghty ruled out of their Belfast clash, Carroll embarked on the final week of a weight-cut – as well as the generally torturous experience that is fight week – void of any certainty that he would take to the squared circle the following Saturday.
More pertinently, he feared his partner, Gemma, and his baby daughter, Fíadh, would inadvertently fall foul of the tempestuousness of his chosen craft and be forced to endure the bleakest of Christmases.
Thankfully, Mexico's Humberto de Santiago answered the call at the eleventh hour.
Exclusive Six
Nations Analysis
Get Murray Kinsella's exclusive analysis of Ireland's Six Nations campaign this spring
Become a Member
"People don't realise: without that fight – if it hadn't have went ahead – I wouldn't have been able to pay next month's rent," says Carroll.
"I train over in Spain, so you're paying for flights, paying for sparring partners – all that adds up. It's a couple of grand when you actually sit down and add it all up.
"And then, obviously, you just have normal-life expenses. Like, I have a family.
I was out of pocket a lot, and if I didn't get that fight, I wouldn't have had enough to pay rent. I wouldn't have had enough to get my dog out of the little doggy place he's in while I'm away – d'you know what I mean?
"I wouldn't have been able to pay for Christmas! There was a lot of pressure on me with that fight: the whole week leading up to it, after Deco pulled out, I was starting to doubt that I was going to even get a fight.
"Lucky enough, my team at MTK is brilliant at what they do, and they got me a great opponent to step in. I only got the call for the replacement fight in the last couple of days. I only found out about an hour before it was released to you!
I didn't have any time to prepare for this fella – not that I cared, because I basically just needed a wage at that stage. I'm not thinking about a fight – I'm thinking: 'it's my baby daughter's first Christmas and I'm not going to have money to buy her a present.'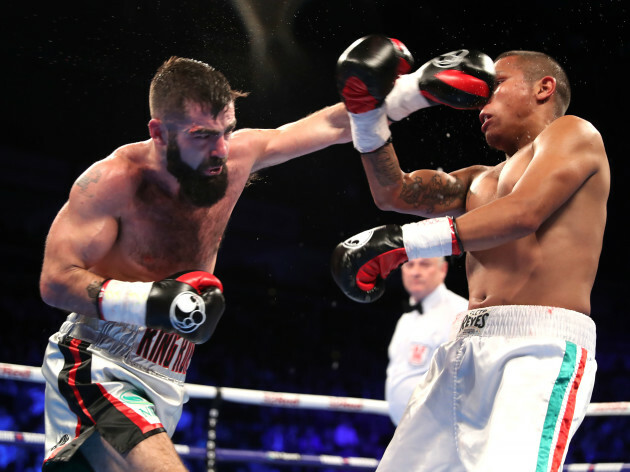 Presseye / William Cherry/INPHO Jono Carroll (left) in action against Humberto De Santiago Presseye / William Cherry/INPHO / William Cherry/INPHO
"I'm 15-0″, Carroll continues, "but I don't have massive sponsors that keep me ticking over all year. I have two good friends of mine that sponsor me per fight, but if I didn't have the fight, then I wouldn't have gotten the sponsorship.
"It's not like I can just go home. Going home to my family with no money for Christmas? Realistically, like…" He laughs aloud. "I was fucked if the fight didn't happen. Screwed!"
It's a pet peeve of many Irish fighters that we might see them rise to prominence, watch them on a primetime slot on TV and perceive them to be in fine financial fettle.
The realities of professional boxing are far more coarse: Carroll, who entered his BT Sport bout with De Santiago undefeated in 14 contests and an IBF European beltholder, is still at a career juncture where he's required to move his own tickets.
Postponements or cancellations, then, such as the fate which befell his scrap with Geraghty, invariably leave him – and indeed most fighters of a similar status within the sport – out of pocket.
"I had a lot of people pulling out, obviously, when the fight with Declan didn't go ahead. I was after selling a lot of tickets at that stage, and the tickets weren't cheap either: a lot of people were paying maybe £150 to get good seats, and it's only a couple of weeks before Christmas, so a lot of these people are pulling out.
"At one stage I had – I think it was 28 people, where one man had organised the whole thing from Finglas – and they pulled out in one go. And I'm thinking, 'aw, no way, like.' They ended up not coming in the end because my replacement fight was so last-minute.
"No one knew: people were texting me constantly going, 'what's the story?' And I was trying to be as professional as possible, because all week I was making weight. I wasn't eating – I was doing it correctly, obviously.
"But I'm trying to keep in a positive mindframe, and then I have so many people texting me to say they're pulling out.
So yeah, there was a lot of hate there. Well, no, not hate – hate's too strong a word. But there was a lot of anger towards Deco for pulling out – but mainly for pulling out so late. It left me in the lurch. It's taking food off my baby's plate. That's nothing to mess around with, you know what I mean?
"It was basically: 'I'm going to be either sweet for Christmas or absolutely broke.'
"Lucky enough – as I said, maybe someone's looking over me – but it all went well, I got another belt and I got paid. Happy days."
Presseye / William Cherry/INPHO Jono Carroll celebrates his victory over Humberto De Santiago Presseye / William Cherry/INPHO / William Cherry/INPHO
He's reticent to comment any further on his nemesis, addressing the prospect of a future fight between the pair – still high in demand amongst fans – only by suggesting that should we witness Carroll-Geraghty II next year, "you'll know I got paid a shit-ton of money for it."
He does, however, add the following:
"What I will say is the whole reason why you saw a different animal in the ring the other night was because I was prepared to knock someone out. That's why you saw the power shots, the stoppage.
"I always say that I'm happy to go the distance, because when I face good fighters, at least I'll know in the back of my head that I can go the full 12 rounds if needs be.
"I could have stopped a few of my opponents in the past – not all of them by any means, but a few of them. But I wanted to know I could do the rounds – six rounds, eight rounds, and so on.
But I knew that night in Belfast that someone was getting knocked out – whether it was Deco or whether it was the guy I fought. I trained to knock someone out.
"I specifically worked on a lot of things with regards to power this time."
It's a fistic ferocity which he hopes to improve upon next year, but one which manifests not only in his mitts.
Just three years ago you might have found him rolling a joint, but there's a manic determination to Carroll, now, as he rolls with life's punches: he trains like a wildman, fights like a bad man, and celebrates like a madman.
This inherent lunacy, almost none of it feigned, bodes well for a social media-soaked boxing era during which stardom will be determined largely by a fighter's ability to separate his or herself from the pack of fame pursuers.
And yet there's no shortage of method to his infectious madness. He's cognisant of the need for patience as he paves his own path to the top.
"It's going to be a big year for me, 2018," says Carroll. "I'm ranked number 15 in the world now, so anything is possible – like, it's not impossible that I might fight for a world title next year.
"I'm kind of half-thinking two years, though – the next two years or so for a world title. I don't want to fight for a world title, win it, and then lose it again because I haven't got that experience.
"I genuinely believe I'll be a world-beater when I do eventually win the titles, and when I have them, no one will get them off me.
"I want to wrap the whole division up, not just get a few paydays. Don't get me wrong – a few paydays would be nice – I have to make sure my family is safe and secure – but at the same time, I want interesting fights.
Listen, when I'm in the ring, I don't mind going to war. I want to be exciting. I love Floyd Mayweather's style, but I'd fall asleep watching some of his fucking fights. I don't want to be that type of fighter.
"I want a good, short career," Carroll continues. "I don't want to drag this out like no bleedin' Bernard Hopkins. I want to make my money, do as much as I can, and then I want to get out of here with me brains intact.
"At the end of the day, it's a dangerous sport. I keep saying to me missus: 'I'm going to be retired by the time I'm 32.' And d'you know what? If I can, 30 will do me!
"And that's why I don't want to take any backward steps. I want to keep moving up the world rankings, have a couple of fights in America, and make a statement: 'there's Jono Carroll.'
"It'll be nothing if not interesting, anyway."
The42 has just published its first book, Behind The Lines, a collection of some of the year's best sports stories. Pick up your copy in Eason's, or order it here today (€10):