LAST UPDATE | May 7th 2018, 11:05 PM
20 YEARS AGO, Justin Fashanu left a gay sauna in Shoreditch in east London, walked across the street to a dilapidated garage that doubled up as a car-park and hanged himself.
He was 37 years old.
By that stage, his jumbled life had got too much. He had been 'out' for eight years, becoming the first professional footballer to go public about his homosexuality. But, by that stage, the football had become secondary to everything else.
Fashanu always cherished the spotlight and longed for headlines. But by the 1990s, football really stopped being the source of them. He became a figure of fun and he was more than willing to play along.
There was the time, after he'd signed for Torquay, that he sold the story of his supposed relationship with Julie Goodyear, the actress who played Bet Lynch in Coronation Street ('My Bet On The Side' was the memorable headline that accompanied the splash). He hinted at bisexuality. Everything was coy. But it was all lies.
Then there was his attempt to rake in £300,000 for an exclusive with The Sunday People about how he'd had a sexual relationship with two cabinet ministers from John Major's Tory government. But, when police received a tip-off to say Fashanu could help with the investigation into the suspicious death of MP Stephen Milligan and called to speak to him, he was spooked and revealed he'd made everything up to try and make some cash.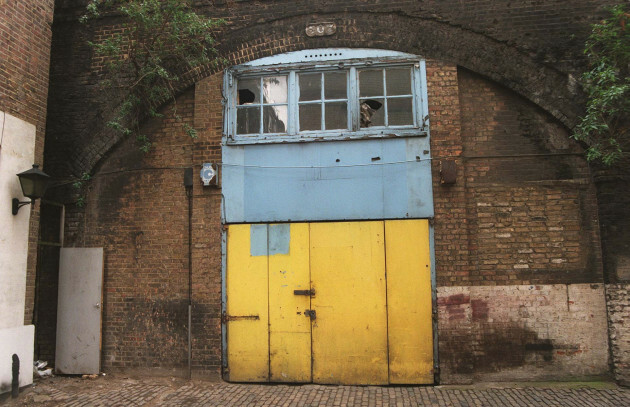 Paul Treacey It was at this dilapidated garage in 1998 where Justin Fashanu died by suicide. Paul Treacey
Afterwards, he was sacked by Hearts and never played in the UK again.
At the time of his death, the joking really had stopped. There was a warrant for his arrest in the United States, police having charged him with three counts of sexual assault against a 17-year-old boy. Fashanu was in Maryland when the incident occurred, arriving there months earlier to coach the city's new professional team. But, after questioning, he fled the country.
In his suicide note, he professed his innocence.
Being gay and a personality is so hard, but everybody has it hard at the moment, so I can't complain about that. I want to say I didn't sexually assault the young boy. He willingly had sex with me and then the next day asked for money. When I said no, he said 'you wait and see.' If that is the case, I hear you say, why did I run? Well, justice isn't always fair. I felt I wouldn't get a fair trial because of my homosexuality."
At the inquest into his death, the coroner, Dr Stephen Ming Chan, summed up his account with the following statement:
"All in all, it was a very tragic end for a man who had made a success of his life."
But Fashanu was a relentlessly complex figure who had bounced from country to country and club to club for the bones of a decade. Despite being 'out', he still carried the burden of a hugely traumatic childhood, the cliched trappings of fame and the pent-up anger of injury essentially robbing him of his prime years as a footballer.
The last place he had seemed relatively settled, content and in good form was Canada.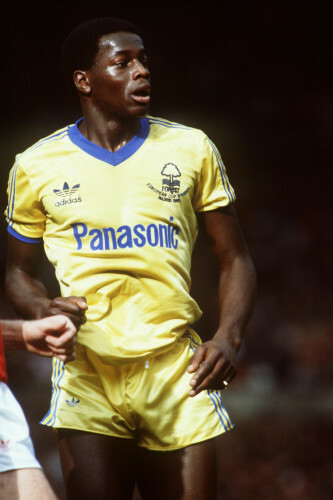 Peter Robinson Fashanu pictured in action for Nottingham Forest in 1981. Infamously, after a £1m transfer, he struggled under Brian Clough. Peter Robinson
In 1988 – seven years after his magnificent performances for Norwich had resulted in Brian Clough paying £1m to bring him to Nottingham Forest – he signed for the Edmonton Brickmen of the Canadian Soccer League.
Len Vickery had been hired to take control of a group consisting mainly of raw, unproven youngsters but Fashanu's arrival signalled an upturn in the club's fortunes.
"It was early days in the CSL season," he says.
"I had the unenviable task of trying to work with the group and we were competitive, even though results weren't great. The team was put together by Joe Petrone and Mel Kowalchuk, who was the manager of the Edmonton Trappers, who played in the minor leagues at the time. So there was a connection with the baseball group. Through his baseball contacts, Mel talked up the soccer team when he was in Los Angeles. The people down there said, 'Well, there's an ex-English First Division player here – Justin Fashanu – and you should talk to him.'"
Fashanu had endured a nightmare at Forest. As much as stories of him frequenting local gay bars irritated and bemused Clough in equal measure, there was also a huge personality clash. Clough was the definitive presence. Fashanu, opinionated and outspoken, threatened that. It was only going to end one way. But, Fashanu later did well at Notts County and the upward curve seemed to continue at Brighton before he suffered a knee injury so severe that doctors advised him to retire. Instead, he headed to the US for surgery and played some low-key games in LA to help him get his fitness back.
Then, he got the call from the Brickmen.
Getty Images Getty Images
Vickery, a recent arrival to Canada from England, knew the affect Fashanu's arrival would have on the fledgling CSL and the team. He was a big draw. It meant media, headlines, the spotlight. Everything Fashanu loved. Though he also wanted increased responsibility.
"Justin brought along a very strong goalkeeper in Bobby Amman so that brought a little bit of senior content into the team," Vickery remembers.
"But Justin wasn't just satisfied with playing. He wanted to run the whole affair. So I got ousted a little bit in favour of Justin but he asked me to stay on as a coach to work with him and we were with the team for a couple of years.
He still ran into problems with the knee after he joined us. I'm not sure if it was his first or second season with us but he needed another operation on it. And things didn't go too well with that one either because he ended up with an infection, which put his rehab back a little bit. But he was still putting himself out there and hobbling around as an out-and-out striker and, of course, given the level he played at, he was a major factor in the CSL and actually increased the level of the young players around him considerably, because of his experience."
In 1989, Fashanu struck 17 goals and was voted as the league's Most Valuable Player as he was crucial to Edmonton making the championship semi-finals. It was a rare personal accolade and would be his last.
"I think he enjoyed it in Edmonton," Vickery says.
It wasn't Los Angeles but I think he enjoyed the opportunity to try something more than just playing for a team and being expected to perform. He wanted to get involved in the local soccer community and, of course, he was a larger-than-life character. He was able to galvanise all of the key soccer groups in Edmonton for the short time he was here which – until recently – nobody else has managed. In recent times, with FC Edmonton, they brought the soccer community together but Justin, in his own right, was able to do that. I do remember having one meeting in a local hotel and he brought in all the presidents of the local associations and what Justin had in spades was that he was a tremendous communicator – full of enthusiasm, very charismatic and he was able to bring the soccer community together. So, not only was he sorting things out on the field with a very young group of players but he was also doing it off the field as well."
The knee continued to pester and frustrate. Fashanu had to come to terms with it though it's hard to know if he ever did. Instead, it was more likely added to the list of troubling, traumatic things that he preferred to pretend didn't exist.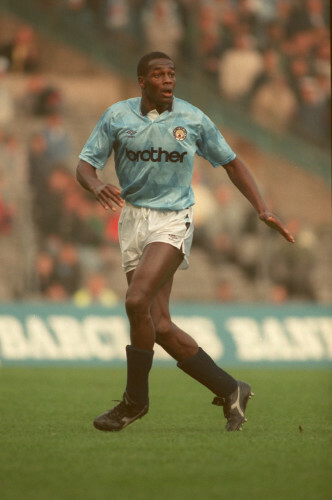 Neal Simpson News of Fashanu's form in Canada reached Manchester City and he was signed by them in late-1989. But, it was a short-lived affair. Neal Simpson
"I'd be theorising but I'm sure – as with anybody – those kind of injuries, when you're in the prime of your athletic career, can only be a major downer," Vickery says.
He struggled with them but you wouldn't know from his demeanour during those tough times. I'm sure it had to have brought him down a little bit. He wanted to be out there and playing at a level he was accustomed to back with Norwich or Nottingham Forest or whoever. He did try other teams after he left Edmonton. He was at Man City for a little bit, for example. He did play – but I'd have to say sparingly – for those other teams. I'm sure the injury situation made people a bit wary of what they had with Justin."
In late-1989, he made two substitute appearances for Mel Machin's side. It was a triumphant return to the top-flight, but it was fleeting. It was clear that no high-profile team would take the insurance risk, given the issues with his knee. And so began the nomadic stage of his career: short-term stints in Canada (again), Sweden, Scotland, New Zealand and the US was the best he could do.
And the focus switched too. Football wasn't the motivator anymore. It was about keeping the show going – with him as the lead character – no matter what it took.
Exclusive Six
Nations Analysis
Get Murray Kinsella's exclusive analysis of Ireland's Six Nations campaign this spring
Become a Member
Vickery was fond of Fashanu. There was no bad blood. There were no unpaid loans. No scar tissue of any kind. Perhaps he's just one of the lucky ones or maybe it was because Fashanu genuinely enjoyed his time in Alberta.
"He loved the North American lifestyle – something I can appreciate," Vickery says.
He landed in LA and that was the place he should've been, being a larger-than-life character. So he enjoyed it there. But equally he enjoyed it in Edmonton because the level of pressure wasn't as great as what he would've experienced back home playing at the highest level. But he had an opportunity to do more than just be a performer on the field. He took it upon himself to try and pull all the groups together in Edmonton for the greater good.
"We got on very, very well. I have nothing but the fondest memories of Justin and it's unfortunate how things unfolded and how he came to such a tragic end. I saw all the best sides of Justin and he had lots. He should always be remembered for some of that – not for, perhaps, the tragic way he passed away."
Vickery acknowledges there were rumours about Fashanu – who still hadn't publicly come out at that stage – and his off-field behaviour during his time in Edmonton. But, it never became a problem for the organisation.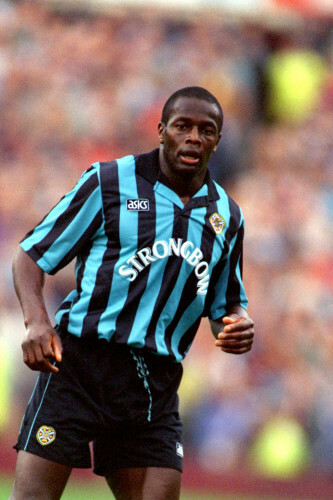 Jeff Holmes Fashanu was sacked by Hearts in 1994, having completely overstepped the mark to try and stay in the spotlight. But there are those - like Len Vickery - who prefer to remember a different version of him. Jeff Holmes
"I think he had some demons," he says.
He never came out in those days but, of course, he must have been struggling with those things. The rumours might have followed him from LA to Edmonton and, previously, from England to LA, I'm not sure. He was very discreet. You would never know. It wasn't plainly obvious. There were some things, perhaps, that might have been indicators at the time. But unless you were looking for them, you probably wouldn't even know. My wife and I had a fantastic relationship with Justin and we would never have known going by his day-to-day demeanour and how he carried himself and so on. But, of course, those rumours were always following him."
When news of Fashanu's death filtered through to Edmonton in 1998, Vickery was stunned.
I have no idea where I was. I do remember it hit me for a loop. And then as the story unfolded, it wasn't very pretty.
"But, you have to put the whole story into perspective. He and his brother were orphaned at a young age. They were placed into a Bernardo's home. He and John were brought up by an older couple outside of Norwich but their birth mother was still around. They grew up and got to play soccer and did exceptionally well. They had a bit of a rough beginning and leaned on each other for support, even though they had a very good foster family.
But even in those days, there weren't many black footballers. Anywhere. From one end of England to the other. He broke in exceptionally well with Norwich and then the big-money moves came and he almost immediately began to run into conflict with dealing with the notoriety, the increased money and the huge expectations. If you're the youngest £1m player in England, there are huge expectations on you."
20 years on from his death, it's hard not to dwell on the person Fashanu became. But, there are plenty – like Vickery – who choose to remember a different version.
"I will always remember the best qualities of Justin," he says.
Besides being an incredible soccer player – who had to deal with the strife of some fairly significant injuries – he was larger-than-life, full of enthusiasm, incredible communicator, personable and a good friend to everyone who was there for him."
"That's how I'll choose to remember him."
If you need to talk, please contact:
Samaritans 116 123 or text 087 2 60 90 90 or email jo@samaritans.ie
Aware 1800 80 48 48 (depression, anxiety)
Pieta House 1800 247 247 or email mary@pieta.ie (suicide, self-harm)
Teen-Line Ireland 1800 833 634 (for ages 13 to 19)
Childline 1800 66 66 66 (for under 18s)  
The42 is on Instagram! Tap the button below on your phone to follow us!