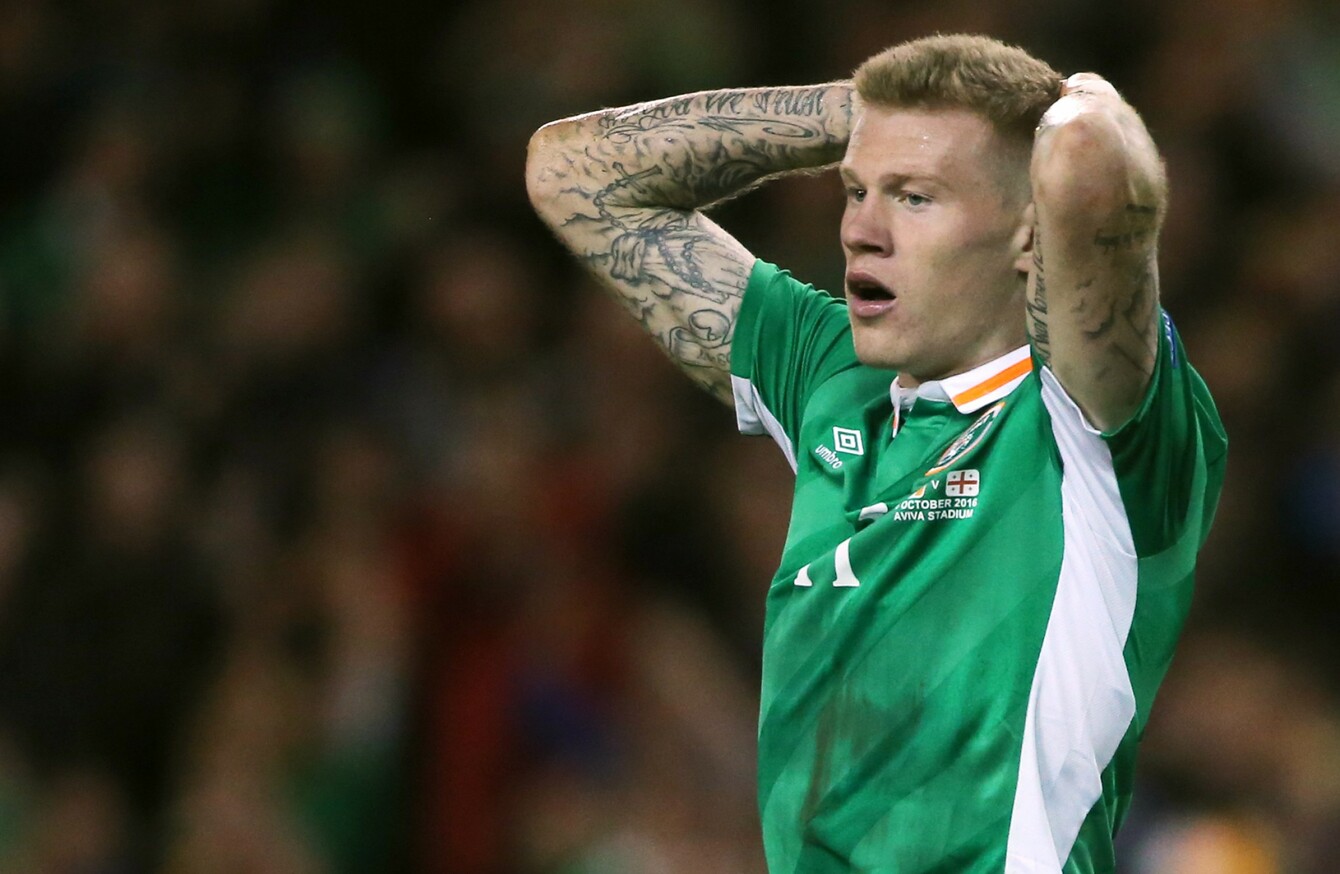 Image: Niall Carson
Image: Niall Carson
IRELAND ASSISTANT BOSS Roy Keane reverted to humour when asked about the Boys in Green's latest injury victim, James McClean.
Having just spoken at length about the much-publicised issues with Everton and James McCarthy, Keane gave a wry response when asked about the back injury suffered by the West Brom winger at the weekend.
"Apparently he was doing some work at his club, he was suspended for the weekend. Lads sometimes go in (to training) and do a bit extra. I suppose the plus was he didn't get injured on our watch," Keane joked, in a sly reference to the Koeman saga.
However, the overall picture for Ireland is no laughing matter at the moment.
Shane Long, Daryl Murphy, Cyrus Christie, Stephen Ward, James McCarthy and Stephen Quinn have all been ruled out of the trip to Austria through injury, while John O'Shea is doubtful.
Ireland look particularly light in attack as a result, and so McClean's absence would be a further blow in that regard, particularly given how well the West Brom player did against Moldova in the last qualifier, as he claimed a match-winning brace.
We remind him every time we work with him. James has got to be more of a goal threat. And he's obviously maturing. He's learning about the game and getting games in the Premier League, and unless you're a real idiot, you have to improve as a player (playing at the top level).
"He has stepped up in the last few games, he's been more of a threat. He's obviously put the ball in the net and had one or two chances before that.
We keep reminding James particularly when he's playing wide and the ball is on the other side: 'Get in the box.' What was encouraging for me, at least he's getting in the positions. If he can finish them off like he did last game, fantastic. But they're encouraging signs for James."
The Derry native has gone for a scan on the injury and an update on his progress is expected later today, with Keane admitting the situation is far from ideal.
I don't like when I hear players getting tweaks in and around the back — it's not a good area. If you said to me, 'he got a kick near his ankle,' that's fine. But back tweaks, I don't like the sound of it."
The outlook seems far less worrying for Leeds midfielder Eunan O'Kane, who sat out training yesterday with a groin injury not thought to be too serious.
"He didn't play for three years. Now he's played three games in a few weeks and picked up a groin strain. It's a joke," Keane smiled.
"I reckon he should be alright tomorrow or the day after. And O'Kane's doing well, it's nice to see him get some games under his belt."
Speaking to a group of reporters, Keane also offered further thoughts at the ongoing debate regarding Everton and James McCarthy, with the manager accusing the club of double standards.
"Most club managers are reluctant to have players going away to play international football now, even if they're (only) doubtful, which I find frustrating," he said.
Anytime these clubs are selling their players, they go: 'He's an Irish international.' That adds in a few million. They're happy to say that but then they complain when they come and play. Give us a break.
"Lots of players have missed international matches and been fit a few days later, and we've had to take our medicine on that side of it. But this idea that we overload them couldn't be further from the truth.
"When I was manager at Sunderland when players were going away for international duty I was delighted. Obviously I was happy to see the back of them for a few days.
They're representing their countries and representing their clubs. You think Real Madrid and Barcelona get upset when their players travel? If you're at your club and you have 20 players staying behind, you go: 'My God, we are struggling.'"
The Man United legend also dismissed the notion that certainly players lack the commitment required to play international football.
Of course the players are committed. The lads have different character traits, they show it in a different way. This is nothing against the players because James has played many times for Ireland and we know it's been touch and go.
"If it's touch and go, sometimes you have to lean with the player's (decision) and he says: 'Yeah, I'll go for it.' James has done that a number of times, Seamus Coleman has done it a number of times. Seamus turned up the last few games and hadn't played for a while. There wasn't too much of a problem then."
The42 is on Snapchat! Tap the button below on your phone to add!