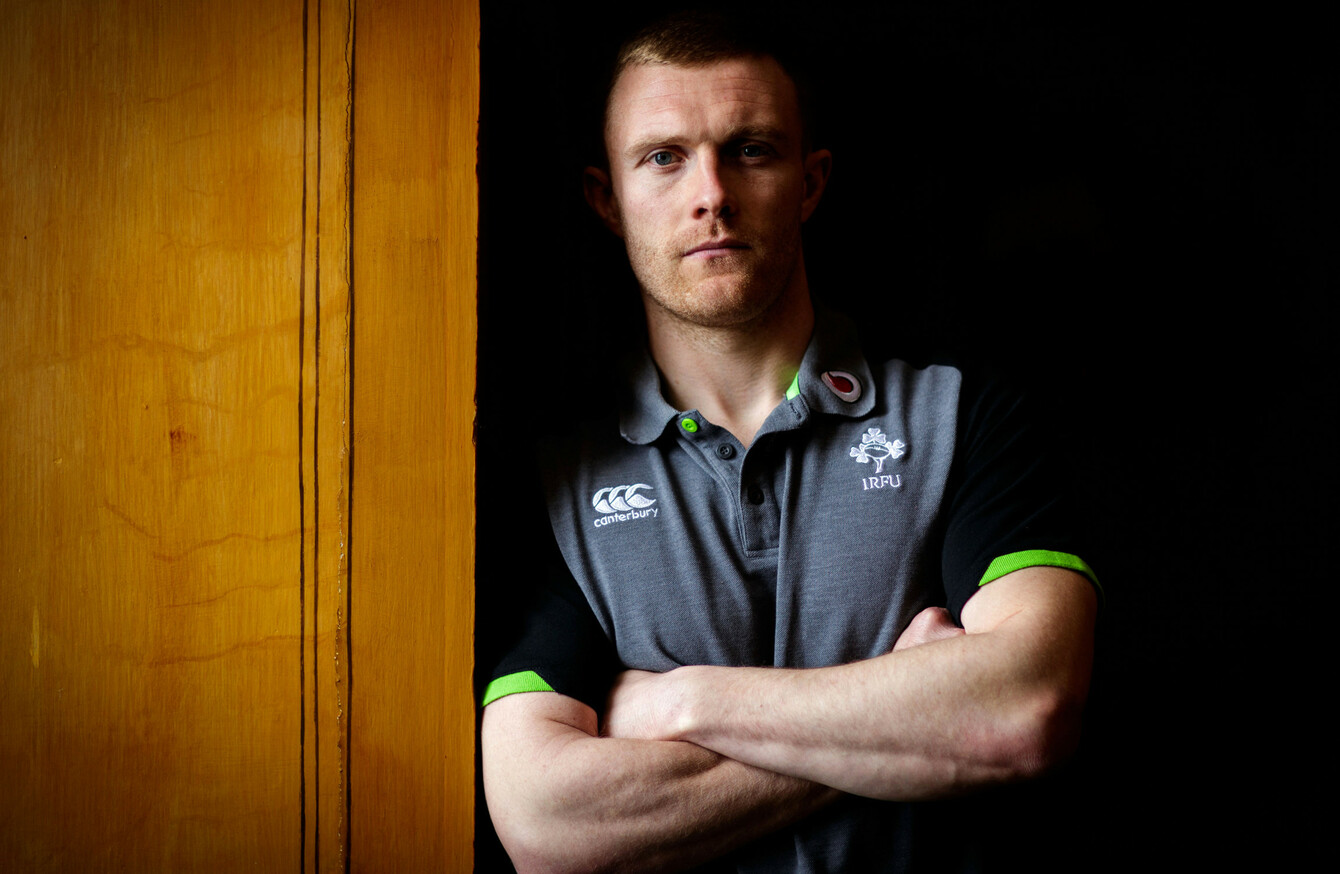 Image: Bryan Keane/INPHO
Image: Bryan Keane/INPHO
KEITH EARLS SAYS this week is the biggest of his career, and he will lean on a little unconventional help to help make it a successful one.
The Limerick man has been in sensational form on Ireland's wing during this Six Nations campaign, but personal form alone won't leave him satisfied when the tournament ends on 17 March.
Despite Earls continually being among Joe Schmidt's favoured starters in the back three since the Kiwi took charge in 2013, injury denied him a part in both the 2014 or 2015 Championship successes.
With groin and knee trouble punctuating his time as a professional, it would be easy to look on Earls' career as one blighted by injury, but of late the Munster stalwart has spoken about the importance of perspective, how harrowing events in nations like Syria make moaning about time in the physio room seem nonsensical.
He has also chatted openly about his personal search for the smallest advantages. This isn't the usual 'marginal gains' push, it has been something as simple as wearing the warm-up gear he is most comfortable in to eye training to aid his pursuit of high balls.
And in a snow-coated Carton House today, Earls brought up his consultations with mentalist and self-styled 'brain hacker' Keith Barry as another example of the efforts he is making to ensure his mind is functioning at optimum levels.
"As I am getting older I am trying to find the one-per-cents between diet and stuff, the psychology and the visualisation," says the wing.
"I have been working a bit with Keith Barry as well, just trying to get them one-per-cents, which seems to be working.
"I don't want to get into the detail, but he knows the brain better than anyone and just in terms of visualisation and stuff like that."
Earls goes on to add that, rather than any one element being a magic bullet, it's a combination of factors which have laid the foundations for his form. He certainly appears to have found the recipe for success.
"It's down to everything, diet, looking after myself, having the balance of family life and work and then working on the mental side with him. Enda (McNulty) is here as well and working with him, combining it all together (is beneficial)."
He adds: "I'm enjoying rugby. The last 18 months is probably the most I have enjoyed rugby since I was about 13 years of age.
"When you're enjoying something and it doesn't seem like work you enjoy it a lot more. It's what a lot of us do. It is our job, but we think it is everything, which it isn't."
That sort of mindset undoubtedly feeds in to Earls' approach to this weekend's crucial encounter with Scotland.
The Munster flyer scored Ireland's first try against Scotland in Murrayfield last year, but will have had unwanted flashbacks to the way Vern Cotter's men were able to cut through Ireland in the wide channels.
Having seen Wales make hay on Ireland's left wing last week, there is concern among supporters that this could be the Achilles Heel to derail Ireland's latest Grand Slam bid.
For Earls fear isn't a factor:
"I don't think we're going to fear them, well, we won't fear them," says Earls, correcting himself to a state of certainty.
"They've got Hogg and Maitland, Tommy Seymour, Huw Jones has been flying it as well. They can play it up, they can go through the middle, they can play wide as well. It's just up to us to learn as much, get everything out of the training and thrash things out, sort it out, so we can be nice and tight all over the field.
Obviously, it will be a lot more homework to do. Trying to figure out, seeing if we can find small clues in their game, see where they're going to go with their maps. We're going to have to be switched on for the 80 minutes. They can play whatever game they want."
"They've had some massive results in the past couple of seasons, beating Australia in Australia, they ran New Zealand close in November and obviously Glasgow have won cups in the last few seasons. Gregor Townsend's come in and the Scottish team are on the up, they're surprising a lot of people and playing some amazing rugby."
Earls touches on what sounds like a party line when he says there is always pressure in playing in front of a packed house in the Aviva Stadium. But there's no getting away from the fact that the prizes on offer by St Patrick's day (or before) make the two weeks ahead potentially career-defining.
"It's the biggest week," counters Earls, narrowing the focus from two matches to this weekend's fixture alone.
"It is the biggest week of my Irish career, yeah. It is a massive match for us and the pressure of playing in the Aviva…we have a good record there but the Scots are on a high at the moment."