IN HER DAYS as a secondary school student, Kerrie Ann Craddock an ample space to roam free in P.E class. Cashel Community School had four pitches for camogie, football and [mostly] hurling.
Craddock contented herself on the basketball courts but and is now teaching in an east London school that does not have a patch of grass in sight. Little wonder, then, that she eventually found an outdoor sport to escape the sense of big city combustion.
Having played for Leinster, Ulster and Saracens, for the best part of a decade, Craddock finally made her Ireland Women debut this year and will travel with Phillip Doyle's squad to France on Sunday ahead of the 2014 World Cup.
Craddock told TheScore.ie: "I got three caps in the Six Nations. One of them was against England at Twickenham and another was the Italy win at the Aviva Stadium. Not a bad introduction to international rugby."
The Tipperary native moved to London at the age of 18 and began playing rugby at university as she studied to become a teacher. Early signs of talent led to an approach by Saracens. She combines her rugby with a full-time job as a P.E teacher and Head of Year.
Fellow Ireland teammate Hannah Casey is also on the Sarries books while Lynne Cantwell and Jackie Shiels play for the Richmond team that pipped their London rivals to the Premiership title last season.
At the age of 29, it took an invite to play with Ireland Exiles, against Leinster and Munster, to bring the prop into the senior Irish set-up. Craddock said:
I watched every one of Ireland's games at World Cup 2010 as it was on here in England. Sitting in the stands, I thought to myself 'I should be out there'.
Craddock's determination to break into the national team saw her contact Lee Ottey, who she knew from her local gym. Ottey is the strength and conditioning coach of the Team GB handball team that competed at London 2012. "He provided me with work-out and training regimes and rugby programs. Thanks to him, I was able to improve my body shape and power.
"Reaching the World Cup is a realisation of four years of hard work and dedication, which helped me to get where I want to be."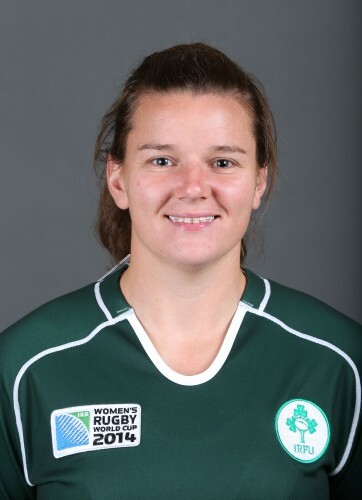 Cathal Noonan / INPHO Craddock is eager to get started in her first ever World Cup. Cathal Noonan / INPHO / INPHO
Now that Craddock has begun to establish herself in the Irish squad, the next goal in sight is helping her team defeat the USA in the World Cup opener on 1 August. "We're in a good position to have a real go at this tournament but we are well aware of the talented sides taking part.
"Canada, I feel, are really strong while you have New Zealand, France, Australia and an England team that have a deep pool of quality players to call on. We cannot afford to look beyond the USA, though, and that is where all of our focus is on. Thoughts of New Zealand [on 5 August] can come after the opener but we need to win that first."