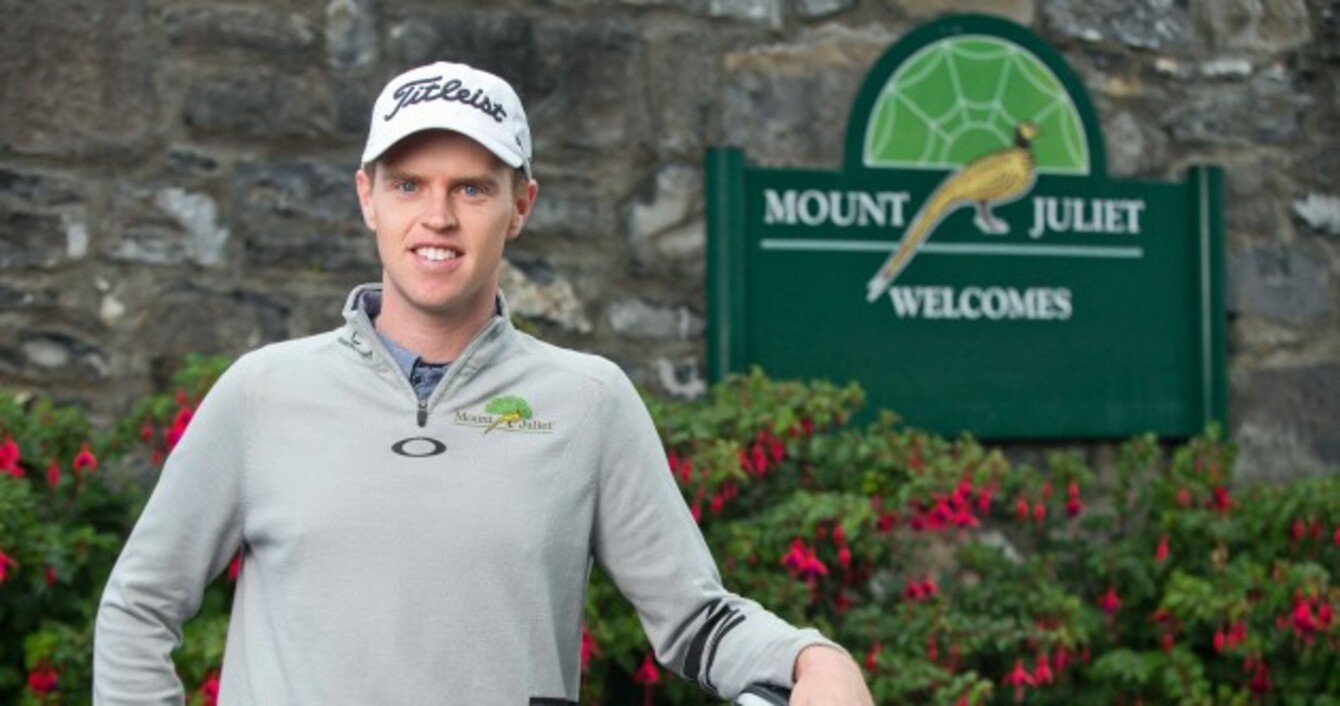 Kevin Phelan is one of Ireland's brightest golfing talents.
Image: Morgan Treacy/INPHO
Kevin Phelan is one of Ireland's brightest golfing talents.
Image: Morgan Treacy/INPHO
AS THE SEASON begins to wind down, Kevin Phelan can reflect on another progressive year on tour but whether it's regarded as a success or not will hinge on what happens over the next month.
Two top three finishes is an indication of a golfer becoming increasingly comfortable with his own game and the rigours of the professional circuit – but the immediate future remains uncertain.
After missing five successive cuts, most recently at the Alfred Dunhill Links Championship, Phelan has returned home to concentrate his efforts on securing a card for next year.
The 24-year-old will be one of several Irishman, including Paul Dunne, hoping to find form at the most opportune moment at the European Tour's Qualifying School in four weeks time.
An encouraging start to the year, including a brush with glory at the Trophée Hassan II in Morocco, infused Phelan with the self-belief and platform he needed to climb the rankings.
But maintaining that level of form and performance over the course of a long season is a challenge – particularly when you've no rigid schedule to work off.
In his 21 events across the European and Challenge Tours, Phelan collected €185,000 in prize money but soon found himself slipping from 43rd to 124th in the Race to Dubai standings.
It now means his year will extend into November as he makes that uncomfortable trip to Spain.
It's often said there's nothing quite like the feeling of winning at Wembley but it's also widely regarded as one of the worst venues in world sport to suffer disappointment at.
In golfing terms, the same could be said about the Catalunya Resort in Spain. The contrast between success and failure is vast and Phelan has experienced both.
"It's a strange week," he told The42 earlier in the week. "The stakes are so high for everyone and while you just have to treat it as another tournament, it's physically and physiologically exhausting.
"The course itself is quite hilly and with it being six rounds, it's very intense. You can't afford to let your guard down at any stage because the competition is fierce. You just have to be patient and commit to every shot.
"In other tournaments you're going out to win but at the Q-School it's just all about finishing inside the top 25 so the mindset is slightly different too."
Phelan entered the professional ranks towards the end of 2013 and the transition was seamless. He won his tour card for the following season with minimal fuss with a 17th-placed finish.
At such an early stage in his career, it allowed him to dictate where and when he played and gain a footing on the tour. But the competition is such that there's little time to adjust and get your bearings.
A level par finish in Spain twelve months ago confirmed what he'd feared throughout the 2014 season and the card he'd won so brilliantly had been relinquished.
"It was difficult at the start," he says of life on the tour. "It's become easier as the months pass and I get to know more and more people because they you can get into a routine – same hotels, same restaurants and it's not so daunting.
"I think when you don't make the cut or lose your card, people deem that as failure but you have to be patient. When it's not going well for you, that has to be put out of your end because I know I'm good enough – the results will come."
Phelan, who is currently 487th in the world rankings, moved to Florida in the early stages of his development and received the exposure and experience he needed to take his game to the next level.
He first came to prominence at the 2010 US Open, where he appeared as an amateur, and his standing within the game continued to soar thereafter as he enjoyed a prolific college career in the States.
Just as Paul Dunne has done, Phelan opted to play in the Walker Cup before signing professionally and another appearance at the US Open, where he finished in a tie for 62nd, gave him the impetus to produce an imposing performance at the tour school in November 2014.
What he would give for a similar outcome this time around.
"I'm playing very well at the moment," he continued. "My game is in a good place at the minute and I've become more and more comfortable with what I have to do.
"Over the last few months, the same mistakes have put me on the back foot but I can take a lot from this year already. I know my good golf is good enough to put me up there but it's about trying to bring that out with me more often."
Whatever happens next month, it's been an encouraging season for Kevin Phelan but he's reached a stage in his career when he wants to be competing with the big boys week in, week out.
After taking a couple of weeks off to fine-tune his game, you get the feeling he's primed to end the year on the ultimate high.
Mount Juliet Golf Hotel and Spa, Ireland's number one parkland course, this week announced its sponsorship of European Tour Pro Kevin Phelan.