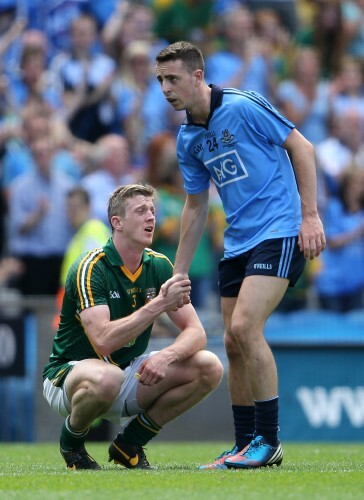 Cathal Noonan / INPHO Cormac Costello consoled Reilly at the end of the Leinster final - but some of the conversations since have been less forgiving. Cathal Noonan / INPHO / INPHO
MEATH CAPTAIN KEVIN Reilly has called for an end to the "nasty" personal attacks aimed at inter-county GAA stars.
The problem reared its ugly head again when a number of Cork players were targeted on social media and abused following the Munster final defeat against Kerry.
Some of the comments were so vitriolic that the Gaelic Players Association intervened with a statement that slammed them as "beneath contempt."
Reilly revealed that he has had a few "interesting conversations" himself since Meath's own provincial nightmare, a 16-point defeat against Dublin earlier this month.
And he insisted that there has to be a line drawn between legitimate criticism and abusive attacks on the game's amateur stars.
"I spoke to ex-Meath players afterwards and they'd a good way of dealing with it," Reilly said.
Without being personal, they said that it was a poor performance, it shouldn't have happened but it did and it's how you react to that.
"That's, in my opinion, the right way of doing it. Ok, you're criticising but it's almost constructive.
"These personal attacks on players, especially young players and inexperienced players, or sensitive players for want of a better word, and in some cases there are, people might take that to heart, they might take it personally and it's just not fair, especially as an amateur.
"You go back to work and having to listen to this, this personal insult and criticism of you as a person, don't mind as a player, is so wrong."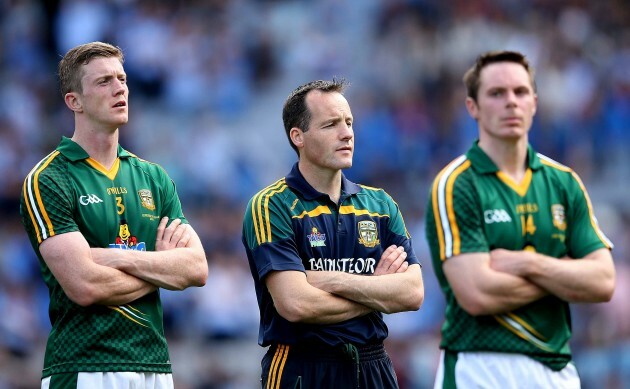 James Crombie / INPHO James Crombie / INPHO / INPHO
Reilly's plea comes on the heels of the "We Wear More" campaign launched by the GAA to protect and develop players' emotional well-being.
The idea — that beneath their jersey and their public profile, players can be vulnerable — is another aspect of the Association's commitment to good mental health.
I know people get carried away. You see it sometimes, especially when things aren't going well at football matches, but people have to see that there is a line, see that players don't go out to perform badly.
"They perform to the best of their ability on any given day. Sometimes it doesn't go right."
Reilly, who teaches PE and Biology, added: "You see cyber bullying issues in school, some of it can be very nasty. It is very similar after a game.
"People have so much freedom to write and say what they want and it is worldwide. There are very few filters there to protect players. They can interact with these players directly and there is nobody standing in the middle.
Most guys can deal with it but I don't think it is fair and when it turns personal and nasty, it is wrong.
And he encouraged players to continue to speak out about mental health issues.
"It might not be a physical issue but we all know that you can be down at times and things can get to you.
"The pressures are there of 80,000 people shouting for you and at you and it can be tough to deal with at times, especially with a performance like ours the last day."
The challenge now for Meath is to put the Dublin defeat to the back of their minds and focus on Saturday's Round 4B qualifier against Armagh, knowing that a win would set up a showdown with Donegal in the last eight.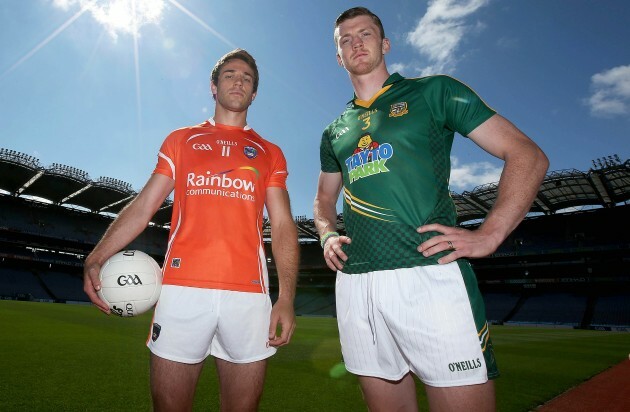 Donall Farmer / INPHO Donall Farmer / INPHO / INPHO
The immediate fallout after the Leinster final was dominated by biting allegations made against Eoghan O'Gara but Reilly — who was at the centre of the tussle that sparked the melee — is ready to move on.
"Yeah, look it was an unfortunate incident that happened.
"These things unfortunately happen in games. Scuffles happen. Ok, it's not in keeping with the nature of the game and it's wrong but it happens.
Both sides have gotten over it and moved on.
Come Saturday, he is expecting a "tough, physical encounter" against an Armagh side that have bounced back from their defeat against Monaghan in the Ulster semis.
"At the start of the year they were relegated in the league, but you just see the value of what a good run in the Championship can do for a team.
"They seem to be quite united, they are winning matches, which is the most important thing and with every game comes that little bit more confidence.
"Their confidence is going to be high and I'm sure they are looking forward to facing us on Saturday."