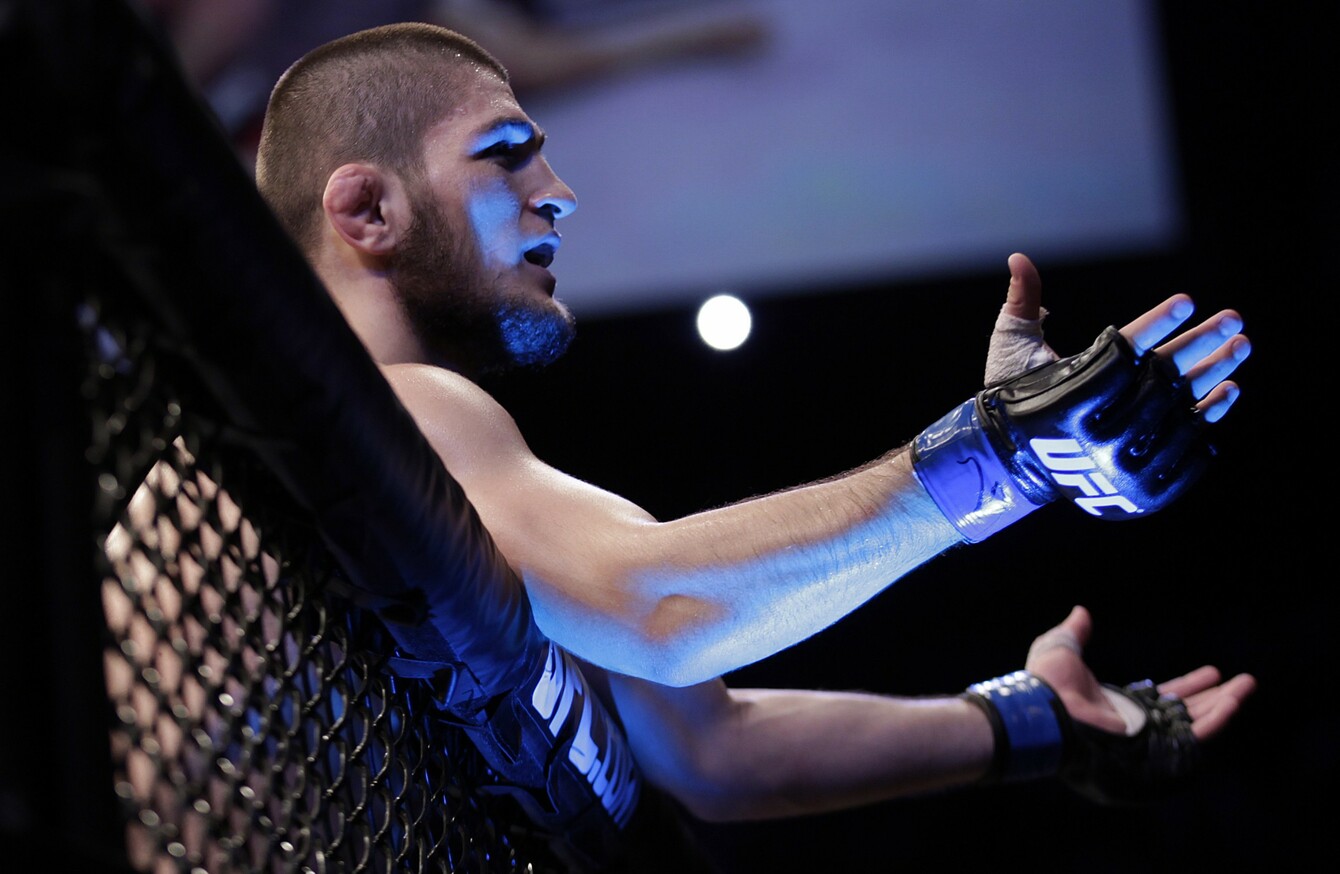 UFC lightweight contender Khabib Nurmagomedov.
Image: AP/Press Association Images
UFC lightweight contender Khabib Nurmagomedov.
Image: AP/Press Association Images
THE ANNOUNCEMENT OF Conor McGregor's next fight has been met with few complaints, but not everyone is rejoicing at the prospect of the Dubliner bidding to become the first fighter to hold two UFC belts at the same time.
It was confirmed this morning that the reigning UFC featherweight champion will face defending lightweight champion Eddie Alvarez in the main event at UFC 205 at Madison Square Garden in New York on 12 November.
With McGregor being permitted to keep his featherweight belt in the meantime, interim 145lbs champion Jose Aldo won't be happy that he'll have to wait even longer to avenge his 13-second knockout loss to the Irish superstar last December.
However, the other big loser from this scenario is Khabib Nurmagomedov, who's currently ranked as the number one contender in the lightweight division. In fact, Nurmagomedov was seemingly in line to be Alvarez's first challenger as recently as last week.
On Twitter, UFC president Dana White insisted that a bout between Alvarez and McGregor wasn't in the works for UFC 205. According to White, Nurmagomedov — not McGregor — would be facing Alvarez later this year.
The undefeated Dagestani fighter was subsequently under the impression that he was set to get a title shot. He even signed two separate bout agreements to fight Alvarez — one for UFC 205, the other for UFC 206 in Toronto on 10 December — but the defending champion made it clear that he was keen on the more lucrative clash with McGregor instead.
Nurmagomedov's immediate hopes of securing a shot at Alvarez died this morning, however, when Dana White revealed that McGregor will fight for the lightweight title in November. It's the fight that both Alvarez and McGregor wanted, but with just over six weeks to go until the event takes place, it would appear that the negotiations to make it happen didn't run smoothly.
White is likely to be quizzed on the turn of events at a press conference at Madison Square Garden tonight [11pm Irish time], but an understandingly angry Nurmagomedov — who holds a 23-0 record but has been restricted to just one fight in the last two-and-a-half years due to a series of injuries — believes he was used.
"I have two bout agreements that bullshit champ refuses to sign. I got used the whole time to make Conor and Eddie get on their knees and beg," tweeted Nurmagomedov, who later accepted a call-out from sixth-ranked lightweight Michael Johnson.
"When I signed agreement with UFC it was sport," Nurmagomedov added on Instagram. "Now it became a freak show, or I don't know how to call it right. Only thing that keeping me in this cracking sport, is that I don't want to stop on the halfway, I wasn't raised like this, not a quiter [sic]. I'll keep moving forward."