THE FOLLOWING PASSAGE is an extract from Form: My autobiography – Kieren Fallon with Oliver Holt.
I like chess. I would like to be really good at it. Being a jockey is like being a piece in a game of chess. In a race, all the other jockeys are the enemy. I can see them all. I know what they are all doing.
I know where they are going to move. I know what they want to do. They all want to wipe me off the board. They want to capture me. And the king is the winning post. I suppose that is my life view, too. I find people hard.
It's the way I was made, I suppose, the environment I grew up in, the way I'm wired. There have been plenty of occasions when I haven't done myself any favours, either. I've made enough mistakes of my own to last several lifetimes and there are plenty of people who will always say I was my own worst enemy. Maybe there's some truth in that.
It's enough for me to say that I like horses because they have never caused me pain. They have hurt me physically when they have trodden on me but that's different. What I mean is a horse has never let me down.
Horses have always brought me solace. What goes on in my outside life, I can shut it down when I am on a horse. When I am on a horse, I am happy. I am where I want to be.
I never felt when I went out on a horse and came out of the stalls that there was a gun to my head. I felt good with the weapons I had. That the horse was my army right there.
I had so much trust in that. I knew I was going to get 100% from the horse and it was going to do the best for me. I knew if I got in trouble, it was going to get me out of trouble. I knew that I could rely on it. I never felt like that with people.
I always loved animals. I grew up on a farm in County Clare with my five brothers and sisters, way out in the countryside in the west of Ireland.
I was born in February 1965, long before the motorway was built that runs down from Galway, 30 miles or so to the north, to the airport at Shannon, a similar distance to the south. We lived what I suppose you would call an isolated existence. There was a village, Crusheen, a few miles away with a little pub called Fogarty's and a shop and a garage but it would take us a while to walk down there.
We lived higher up, among the peat bogs and boulders and the green fields. We lived up a narrow little road, the kind that has grass growing down the middle of it. We walked up the mountain to our schoolhouse in Ballinruan every morning, climbing over the stone walls, running through fields, avoiding the bulls.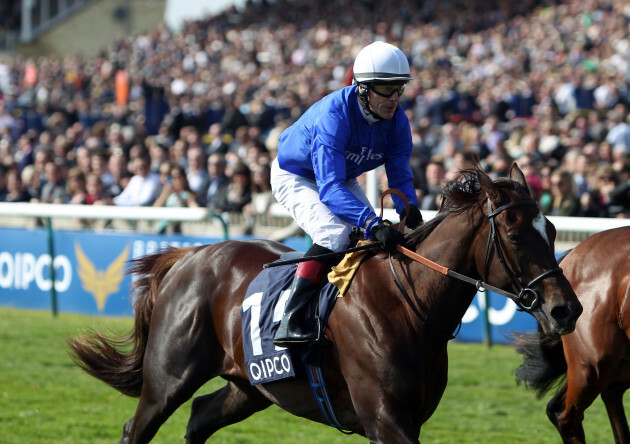 PA Archive / PA Images Elite Gardens ridden by Kieren Fallon wins the Makfi Future stars maiden stakes during day two of the 2014 QIPCO Guineas Festival at Newmarket Racecourse. PA Archive / PA Images / PA Images
We had a milking cow that was a pet. We had a bull that was a mean bastard. We used to feed calves and lambs out of a bottle if their mother died. We had a wild Connemara pony that nobody else could get near. It used to come to me and I could ride it without any tack. I could ride it bareback.
I could connect with horses even then. When you look into a horse's eye, you can see into its soul. You can tell their character straight away. You can bond with them before you get on them. I just feel at ease with them.
The bond you establish with a horse works for you in a race. If you can get a horse's confidence, you are halfway there. If a horse is strong or keen or difficult and you give them a pat or talk to them, you can get their confidence. Horses can be nervous. If you spook them, they're gone.
You try and get a horse to do something that he hasn't done before like get into a horse box or into the stalls and they can be stubborn. Some are mulish. Some will look at the stalls and you can see them thinking: 'No thanks, I don't want to run down there, I'll get my back end smacked, I'd rather eat grass.'
You get others who are claustrophobic and don't want to go in the tight space you're trying to squeeze them into. They get that scared they just want to get out of there. Most of them have better senses than humans. They can sense danger, for a start. I wish I had that instinct.
Young horses, if the trainer hasn't educated them properly around the gates, they don't know what they are supposed to do and then you have to cajole them and treat them gently, because if they have a bad experience first time out, they're not going to want to do it again. Horses always remember when bad things have happened to them.
I have always been comfortable with horses but I have never been comfortable with myself. Maybe that's another reason I loved racing. I was always on the move. There was no time for people.
There was no time for relationships. I was protected from people. If you're busy, it helps. You're moving on all the time, racecourse to racecourse, country to country. You don't have to interact. I made everything secondary to racing. If anything was affecting my racing, I shut it down.
I regret that now, obviously. I knew that the horses would sense it if I had had a row with my wife and I was in a bad mood, so I shut down that side of my life so the horse wouldn't feel it.
No time for my wife. No time for a life. Not outside racing. Say I'm in a 1pm race at Lingfield, you have to be there 15 minutes before. That's the deadline. You're stuck in traffic then. I liked driving.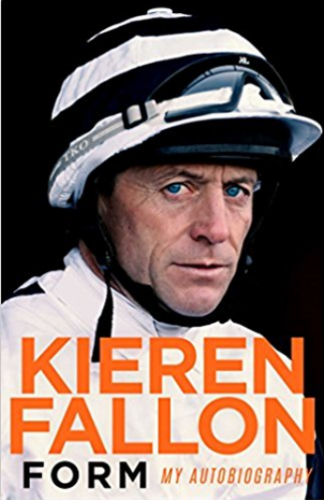 I had a driver but I drove myself because I thought I was a great driver. I used to drive quickly. I was a bit of a lunatic in a car. If I wanted to look at the form, I'd let my driver drive. If I was late, I would always drive. If I wasn't driving, I'd be eating my nails. I'd be flat out and if there was traffic, I'd be up the hard shoulder.
Crazy things, we used to do. In the trainer Jack Berry's book, he wrote that he had once spent 21 miles driving up the hard shoulder on the way to Carlisle because there was a jam and he had to get to the races. You do these crazy things. I'd be going flat out up the hard shoulder at 100 mph. Flat out.
I'd be running into the course with my bag to get on the scales. Crazy. But you don't think.
Then you're back in the car. If you're in the 9.30pm race at Newbury, it's nearly dark, it's 10pm before you've had a shower and you're in the car and you're trying to have a drink. I'd have a bottle of vodka, a carton of orange juice and a bucket of ice in the car waiting for me.
That was when I could have a drink. On the way home. It's the only time you get to relax. If some of the lads were with you, you'd share. If they weren't, sometimes I'd get through that whole bottle of vodka by myself in the two hours back home.
Exclusive Six
Nations Analysis
Get Murray Kinsella's exclusive analysis of Ireland's Six Nations campaign this spring
Become a Member
That started when I came down south when I was working for Henry Cecil in the late '90s and I was about to become Champion Jockey for the first time. It was just to unwind.
However many winners I'd ridden, I'd be thinking: 'That one in the eight o'clock, if I'd done this or if I'd done that.'
Then you try and get hold of your trainers and make your phone calls. You could have 12 or 14 rides in a day sometimes and you're having to get hold of all the trainers to tell them how their horses had run. 'They did this, they did that, thank you, whatever.' You get bollockings and you get congratulations.
I used to live about eight miles outside Newmarket in a nice big place with paddocks and ponies for the kids. But I never saw my kids. Racing is seven days a week. If I wasn't racing in England, I'd be riding in France or Ireland or somewhere. It was crazy and I could never see it.
But that was my life and for a short time, it turned me into one of the best jockeys in the world. I won the Derby three times, I won the 2000 Guineas, the 1000 Guineas and the Oaks and the Prix de l'Arc de Triomphe twice. I won 16 Classics in a concentrated span.
Between 1997 and 2003, when I won six jockeys' championships, I felt like I couldn't be beaten. I felt like I was going to be one of the best there had ever been and ever would be. I wasn't as popular with the wider public as Frankie Dettori, the great rival I always respected, but I was popular with the punters, who knew I always gave my all. That was one of the great ironies of my career, really.
Race-fixing allegations brought me down, but the punters knew I was the last person who would ever get involved in something like that. I was obsessed with winning, not with losing.
I was obsessed with it to the exclusion of everything else. I was obsessed with it to the exclusion of my family. Losing was anathema to me. I fought the accusations and I beat them but I couldn't beat time and I couldn't beat the depression that the struggle to clear my name and the realisation that I had lost my dominance as a jockey brought on.
It took me a long time to get to the top. I had a protracted apprenticeship in Ireland and in Yorkshire. I burned bright when I got there but I burned fast, too, and before I knew it, the light had gone out. I don't ride races any more but I do ride out every morning.
I ride up Warren Hill and gaze down on Newmarket below me. I will always ride. I'll ride even when I can't walk anymore. I'll always have horses.
Form: My autobiography – Kieran Fallon with Oliver Holt is published by Simon & Schuster. More info here.
The42 has just published its first book, Behind The Lines, a collection of some of the year's best sports stories. Pick up your copy in Eason's, or order it here today (€10):